Music without borders: Meet Petite Noir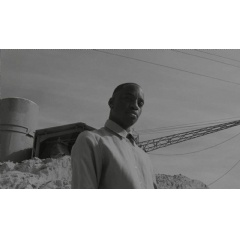 Out of the many accomplishments of Red Bull Music Academy over the last 20 years, perhaps itís most significant has been the creation of a truly global and trans-national network of musicians and artists. It stands to reason then, that one of its most recent projects concerns an artist directly concerned with creativity over and above the constraints of genre and nationality.
Under the moniker Petite Noir, the artist Yannick Ilunga draws on pan-African symbolism and heritage to create #noirwave - a sui generis style open to collaboration, driven by optimism and resolutely genre agnostic - that has received its best expression to date in the visual ep for La Maison Noir, produced by Red Bull Music Academy and directed by Ilungaís creative partner Rha Rha.
In a world exclusive, this film will form the basis of their new show at SonarDŰme presented by Red Bull, bringing the world of #noirwave to life. Ahead of the show, we caught up with Yannick to discuss the concepts behind Noirwave and his approach to collaboration. We also asked him for a playlist of influences to accompany the interview, which you can listen to here:
Hi Yannick. For the uninitiated, what is #noirwave?
Noirwave is a movement with its roots in music but its vision fixed firmly on the creative future. Responding to current cultural movements centred in Africa - arising against a backdrop of international anxieties concerning borders, nationhood and globalisation - Noirwave offers followers a citizenship which rejoices in freedom of movement, physically and creatively. Noirwave recognises identities developed across diverse experiences and cultures - but forged through a contemporary African flame. Nodding to the legacy of the Pan African movement - working to unite all people of African descent - Noirwave does not seek to rewrite the African narrative, but to offer a new one: one that represents the true contemporary experience across this great continent today, and beyond.
As I understand it, #noirwave relates to the immigrant experience, or anyone who feels like they donít belong. With Brexit and the rise and populist isolationism across the world, how do you remain optimistic?
For me, I feel like the world is moving towards people finally realizing that the whole entire world belongs to us and that we should be able to roam around it freely.
It is impossible for a human being to not be from anywhere on earth. It is humans therefore that insist on these non-existential boundaries on ourselves. Why? Because of money, power, and control.
There has never been a time in my family history where people have never moved, therefore it has also felt normal to me. So for me, anything in my life right now is a blessing. Iím happy to be alive and to do what I love, and be able to travel while doing so.
While your music crosses many genres, at its heart is the drone and repetition of darkwave and 80ís post punk. What attracts you to this music in particular?
What attracts me to this, is the emotion and the vulnerability of it. It goes deep and cuts deep. It actually helps me to take my frustrations out. Music, Singing, and vibration make good stress relievers.. especially when the intent is there.
A lot of the people youíve worked with can be considered outsiders in their own field - Danny Brown, Tala, Saul Williams. Are you drawn to artists that are difficult to categorise?
Yes, I am. I love it because that represents Noirwave. The outsiders. The underdogs that have now become the main dogs. We are no longer outsiders. We are no longer underdogs. We are the main thing now and the way we express ourselves acts as a platform to shine.
On La Maison Noir, you cast your professional and personal journey as that of an epic folk hero. Do you think popular culture is missing new myths or stories with strong black lead characters to believe in?
Yes, I do. I think that we need more actors, more musicians that donít talk about killing and degrading women, more heroes, more black love, etc..
But weíre slowly starting to rise.
Are you inspired by the rise of experimental artists coming from all over the African continent recently? Yes, I am and I am happy to be a part of it! This is the new generation of music and the experimental artists are holding the industry on our backs because everyone else is not ďexperimentingĒ enough or taking risks. So they end up not caring about the art.
Can you talk us through the playlist youíve put together? Are there any tracks in particular that you had to include and why?
My playlists consist of tracks that I love and music from friends. I love my friendsí music. I love the global sound and influences.
I love Rema. He is a real talent and I was shocked to find out his age! His music is out of this world and he knows how to make the listener submit to his vision.
I love Sho Majozi. Sheís definitely on the UP and UP from South Africa. She is a star and it is beautiful to see someone with so much power and focus!
Jean-Daniel - Vitalo is a banger. JD is an amazing artist from DRC - Democratic Republic of Congo and is def a rising star. He will be huge! MARK MY WORDS!
( Press Release Image: https://photos.webwire.com/prmedia/7/242487/242487-1.jpg )
Related Links
WebWireID242487

This news content was configured by WebWire editorial staff. Linking is permitted.
News Release Distribution and Press Release Distribution Services Provided by WebWire.