Is AEON The New Superfood Supplement?
AEON is a humic and fulvic acid supplement containing over 80 beneficial nutrients such as antioxidants, electrolytes, trace minerals, probiotics, prebiotics, enzymes, amino acids, natural detoxifiers and more.

Fulvic and humic acid are complex naturally occurring substances which have substantial proven health benefits verified by thousands of published studies.
Vancouver, BC, Canada –
WEBWIRE
–
Monday, June 17, 2019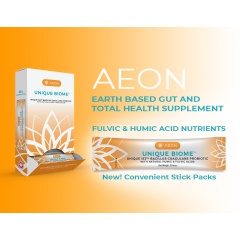 AEON:Humic & Fulvic Acid Supplement, the Evolution of Shilajit
Improving Gut Health and Immune Function. Fulvic acid and other humic acids contain nutrients that improve gut health via trace minerals, prebiotics and probiotics.
The team at INVIKTVS is thrilled to announce the launch of AEON, a new superfood supplement that is derived from ancient botanicals. It was once a health & wellness health tonic reserved for Chinese Royalty dating back to the Ming Dynasty, and for special Ayurvedic practitioners over 3000 years ago. It is now available in a concentrated and purified form that everyone can take.
AEON contains over 80+ beneficial ingredients and has been demonstrated by science to provide immense health benefits and help increase longevity.
What is Aeon?
AEON is a 100% pure humic and fulvic acid supplement derived from Canadian sources. These two powerful organic acids take millions of years to form and only under perfect conditions and geological influences. They are found in special rare earth deposits and created in extremely small quantities.
Evolution of Shilajit
Local people in the Himalayan region and Ayurvedic medicine aficionados have used a similar product called shilajit for thousands of years to treat symptoms of cognitive decline, stress and aging. It's antioxidant, anti-inflammation and gut health benefits are also well known in these communities.
Unfortunately, many shilajit products have been demonstrated to contain harmful mycotoxins, heavy metals and to contain only trace amounts of humic and fulvic acids. In fact, shilajit has been previously banned in Canada because of this.
Also, users often complain that shilajit is difficult to consume due to its messy tar like consistency, and the foul taste and smell.
AEON is better. It is the evolution of shilajit benefits. Made of 100% filtered purified humic and fulvic acids, AEON contains 400mg of active nutrients. Many of the top selling brands are only between 2.46mg - 150mg per dose.
As for ease of use, AEON has virtually zero taste and mixes instantly in water for quick and easy consumption.
Benefits Of Humic & Fulvic Acid
The benefits of AEON supplement are many but a key list of this "nutrient booster" includes:
Improving Gut Health and Immune Function
Fulvic acid and other humic acids contain nutrients that improve gut health via trace minerals, prebiotics and probiotics.
Helps Boost Digestion and Nutrient Absorption
Alleviate problems of constipation, bloating, diarrhea and food sensitivities.
Protects Cognitive Health
Studies show positive results of humic and fulvic acid in the treatment of Alzheimer's.
Detoxification
Humic and fulvic acids are able to bind and break down toxins and heavy metals that make their way inside your body through food and the environment.
Powerful Antioxidant
AEON can counter the effects of free radicals and help detoxify the body of numerous toxins.
Improve Energy
Many users taking AEON have reported improvements in energy levels most likely due to it's positive cognitive and gut health properties.
Skin Health
Studies suggest that humic acids can help improve symptoms of eczema, skin infections and rashes.
Pure Canadian Quality
AEON's source deposit –located in pristine areas in Canada– are internationally recognized as some of the most nutrient dense and purest in the world. AEON undergoes a patented 2-stage purification and extraction process that renders only the most active molecules. AEON has solved the difficult challenges of producing a nutraceutical grade humic and fulvic acid supplement.
AEON is the most pure, toxin-free and effective humic and fulvic acids available.
About Aeon
AEON is developed and produced in Canada at the INVIKTVS research lab, and has already noticeably improved the health and wellness of many. INVIKTVS' partnership with PhDs, scientists, nutritional experts, and universities make us extremely proud of our proprietary technological advancements, research and development of one of the best humic and fulvic acids. We are committed to providing the most advanced and completely bioavailable extracts on the market.
More information at: https://trueaeon.com
 
( Press Release Image: https://photos.webwire.com/prmedia/66397/242312/242312-1.png )
WebWireID242312
Contact Information

Paolo Medrano
President
True Aeon

This news content may be integrated into any legitimate news gathering and publishing effort. Linking is permitted.
News Release Distribution and Press Release Distribution Services Provided by WebWire.