ABB's MGS100 microgrid solution enables self-reliance for 65 Indian villages
ABB supplies MGS100 integrated microgrid solution to enable delivery of 100 percent renewable power and energy storage for up to 39,000 homes and shops in remote regions far from public utility infrastructure
Zurich, Switzerland –
WEBWIRE
–
Tuesday, May 14, 2019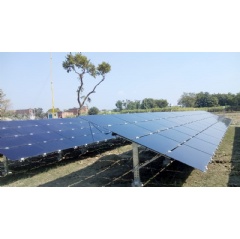 ABB, a pioneering technology leader, is writing the future of safer, smarter and more sustainable energy for 65 villages in India. Working in collaboration with Husk Power Systems to develop clean energy microgrids, the companies are using renewable energy to reduce household energy costs by up to 40 percent and improve productivity in 85 percent of factories and small businesses.
Many villages in the eastern part of India in Bihar and Uttar Pradesh are far from public utility infrastructure. They have unreliable power connection, with outages in the range of 12 – 16 hours per day and receive very poor-quality power with 20 – 40 percent voltage fluctuations.
These communities struggle to fulfill their basic energy needs relying on expensive and polluting energy sources; children studying at night in the light of kerosene lanterns, villagers traveling several kilometers to charge their mobile phone or small businesses such as rice mills, wire-nail manufacturing facilities or carpenter shops using diesel generators to power their business.
Husk Power Systems, a low cost-energy provider, recognized the importance of addressing the needs of these remote communities. It called on the expertise of ABB to help realize its objective of deploying 100 percent clean-energy hybrid-microgrids to provide reliable and affordable power, enabling sustainable growth in emerging markets.
Microgrids are small-scale power grids which can be operated independently from, or in parallel to, the main power grid. They are a sustainable and economically attractive method to electrify remote communities where expanding the main grid would be too complicated and expensive. Husk Power Systems is currently rolling out one new microgrid per week and is targeting 400 – 500 microgrid sites in India and Sub-Saharan Africa over the next four to five years.
The collaboration between Husk Power Systems and ABB is enabling the deployment of a high quality off-grid inverter that resolves the energy access problems of rural parts of the world. Husk needed an inverter system that could handle unpredictable loads, with wide fluctuations in voltage and current resulting from end customers using locally manufactured, non-standard machines.
"I am very pleased with the outcome of our collaboration with ABB that resulted in Husk deploying the MGS100 system at its hybrid microgrid sites in India. These systems are very compact and fairly easy to operate and maintain. This is required to serve remote locations in rural parts of India and Sub-Saharan Africa. We look forward to taking this collaboration to the next stage and deploying thousands of these systems across Asia and Africa.", says Manoj Sinha, Co-Founder and CEO of Husk Power Systems.
"The MGS100 integrates all components required for a sustainable microgrid in a single product. This includes converters, the system control panel, a communication box and the Power Distribution Panel (PDP)", says Giampiero Frisio, Managing Director at ABB for Smart Power. "It is ideally suited for these projects in India as it is designed to ensure stable operation in an unpredictable load environment."
Thanks to the newly installed microgrids including the MGS100, these rural communities now have access to reliable, sustainable solar power around the clock – even when there is no sun. A Husk hybrid microgrid provides 24/7 reliable and affordable power and enables savings of up to 40 percent in monthly household energy costs by replacing kerosene lamps and diesel generators with clean and energy efficient appliances like LED lights, LED TVs and electric motors for machines. Quality of living has dramatically improved with people purchasing fans for the hot summers, televisions and refrigerators.
More importantly, Husk Power Systems is able to serve small factories and SMEs (Small or Medium Enterprises) with 100 percent renewable and reliable power. A Husk Power Systems survey indicates that 85 percent of factories and SMEs increased their sales by adding productive machines within the first twelve months of connecting to Husk microgrids.
Mr. Ansari, who owns and runs Hindustan Furniture in one of the villages in India, used to manufacture five pieces of furniture per month with the help of a diesel generator. He said, "After getting access to 24/7 power from Husk, we are now able to manufacture fifty pieces of furniture per month - a tenfold increase in productivity."
Husk Power Systems is one of the world's leading distributed utilities. The company provides reliable power to rural communities and businesses, entirely from renewable energy sources – 24 hours a day, 7 days a week – at a price they can afford. It offers customers a flexible 'pay-as-you-go' energy service, using a mobile-enabled smart metering system. It provides low-cost energy that matches the growing needs of our customers; for households, community services and productive uses. Its grid-compatible solution can be rolled out quickly and cost effectively to support national electrification plans. www.huskpowersystems.com
ABB (ABBN: SIX Swiss Ex) is a pioneering technology leader with a comprehensive offering for digital industries. With a history of innovation spanning more than 130 years, ABB is today a leader in digital industries with four customer-focused, globally leading businesses: Electrification, Industrial Automation, Motion, and Robotics & Discrete Automation, supported by its common ABB Ability™ digital platform. ABB's marketleading Power Grids business will be divested to Hitachi in 2020. ABB operates in more than 100 countries with about 147,000 employees. www.abb.com
( Press Release Image: https://photos.webwire.com/prmedia/6/240725/240725-1.jpg )
Related Links
WebWireID240725

This news content was configured by WebWire editorial staff. Linking is permitted.
News Release Distribution and Press Release Distribution Services Provided by WebWire.