Gasoline Smuggling Wins LBS Photography Awards
Spanish photographer Antonio Aragón Renuncio recognised for photo-series depicting illegal trade in West Africa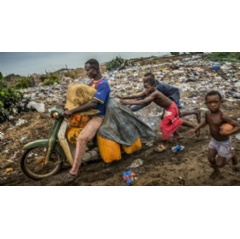 A man crosses the border between Benin and Togo with his motorcycle laden with gasoline. He has over 200 litres of fuel and is helped by a group of children at the Hila-Condji border post in Aného. Photo: Antonio Aragón Renuncio.
Antonio Aragón Renuncio is announced as the winner of the 2019 LBS Photography Awards. The Spanish photographer was chosen for his series 'Boraka. Gasoline Traffickers', which addresses the illegal practice occurring in Benin and Togo.
Gasoline smugglers cross the border between Togo and Benin each day, according to Aragón Renuncio. They number in the thousands and the practice is becoming more lucrative.
"This is permitted by the law enforcement agencies of both countries after payment of a bribe," he said. "More than 200 million litres of fraudulent gasoline enters Beninese territory illegally each year".
Aragón Renuncio said an estimated 150,000 barrels of oil are looted daily in Nigeria in order to feed the illicit traffic of Togo and Benin.
"Locally, this gasoline is known as 'boudè' - dirty gasoline - as it has not passed the filters of gas stations and as a result is much more damaging to the environment.
"While authorities try in vain to stop the illegal gasoline trade, it keeps getting stronger and brings devastating consequences - roadside accidents, fires, deaths, corruption of the law enforcement agencies and growing pollution.
"In 2016, while I was photographing gasoline trafficking on the Togolese coastline, just 30 kilometres away in Togo's capital Lomé, security forces imposed a 'curfew' to restrict the mobility of people during a celebration for the African Union Extraordinary Summit on Maritime Security and Safety and Development in Africa. At this summit, the search for solutions to trafficking illegal goods in the region was discussed," Aragón Renuncio said.
Speaking on behalf of the Jury, Michael Benson, Chair of the Judges, said: "The quality of the work submitted for the LBS Photography Awards this year made our task as the Jury a challenging one.
"It was after some debate that we arrived at a decision to award the winning entry to Antonio Aragón Renuncio for his 'Boraka. Gasoline Traffickers' series. It is a brilliantly affecting series with a topical narrative on the pressures for low cost fuel – a worldwide problem - and the continued disconnect between the daily lives of people in West Africa and those in positions of power."
Aragón Renuncio, who previously won UNICEF Photo of the Year in 2018, was announced as the competition winner at the opening night of the 2019 LBS Photography Awards exhibition at London Business School on 8 May.
The theme of the 2019 competition was 'When Worlds Collide'. More than 300 entries were received during the submission period.
A shortlist of eight entries, including the overall winner, was selected by a jury that included Mona Boshnaq (Photo Editor, The New York Times), Andrew Dunnett (Director, Vodafone Foundation), Michael Benson, (Founding Director, Candlestar/Photo London), Fiona Rogers (COO, Magnum Photos), and Saba Ahmed and Michelle Wiles (co-chairs, LBS Photography Club).
An exhibition featuring images from the eight shortlisted entries will be on view at London Business School from 9 – 12 May. Entry is free, however all visitors must pre-register to attend.
( Press Release Image: https://photos.webwire.com/prmedia/5/240486/240486-1.jpg )
Related Links
WebWireID240486

This news content was configured by WebWire editorial staff. Linking is permitted.
News Release Distribution and Press Release Distribution Services Provided by WebWire.