The Aspen Institute and Houston Public Library Issue New Report Detailing Strategies for Using Libraries to Build More Equitable, Resilient Communities
he dialogue leading to this report began in the months following the devastation of Hurricane Harvey, and highlights the unique role and potential of the public library system in Houston and nationwide
Washington, D.C. and Houston, TX –
WEBWIRE
–
Thursday, May 9, 2019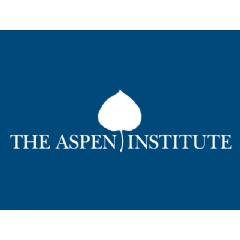 The Aspen Institute Dialogue on Public Libraries and the Houston Public Library released a report on how public and private stakeholders can more effectively use libraries to improve and enhance the lives of Houstonís residents. The reportís release was announced during Houston Mayor Sylvester Turnerís weekly press conference at City Hall.
The report unveils a set of opportunities and recommendations for building library partnerships citywide that include participation in the advancement of key community priorities that include new family-centered initiatives, workforce readiness, and libraries serving as civic and information hubs.
The Grand Opportunity: Creating Community, Equity and Innovation with Houston Public Libraries is the report of the Houston Dialogue on Public Libraries, a partnership between the Aspen Institute and the Houston Public Library that brought together a group of library, government, nonprofit, academic and business leaders to explore and champion new thinking on the role of public libraries in the city of Houston. The Houston Dialogue took place two and a half months after Hurricane Harvey struck Houston, and the Dialogue report comes out this week as the city celebrates the reopening of the McGovern-Stella Link Library Branch that is one of seven libraries damaged by the flood and the first to reopen.
The report shows how Houston Public Library can work with community partners to expand information services as well as strengthen the uses of social media and the cityís media infrastructure. This also includes leveraging the physical infrastructure of the library across the city to provide important touchpoints for access and engagement to develop important literacies (i.e. workforce, health, etc.) and financial and civic empowerment. The report adds to the considerable body of work conducted by city agencies and local partners to create a roadmap to strengthen opportunity, equity and innovative problem-solving across Houston.
ďThese stakeholders came together for the Houston Dialogue after Hurricane Harvey to gain a broader understanding of what our different organizations were doing to respond. And, more significantly, to generate ideas to help us work collectively to increase the information pipeline and improve the flow of communication between organizations. We all agreed that establishing an enhanced communication model would help us to be better prepared for the next crisis and could be helpful for addressing the smaller crises that individuals and families confront in Houston everydayĒ said Dr. Rhea Brown Lawson, Director of the Houston Public Library.
ďAt a time of very low public trust in institutions of all kinds, the high level of trust that people place in their public libraries makes the library an important asset in the city. The Houston Dialogue provides an excellent model for other cities to unlock the value in their public libraries,Ē said Amy K. Garmer, director of the Aspen Institute Dialogue on Public Libraries and the author of the new report.
The report highlights key insights from the conversation, which included the important role that public libraries can play in closing information and communication gaps among residents and addressing the needs of vulnerable populations and of Latino and immigrant communities in the city.
The report also calls for thinking creatively about community engagement, suggesting new and deeper partnerships to boost family literacy programs and across the cityís workforce continuum, with schools of social work at local colleges and universities, and with Houston Independent School District (HISD) and Houston media outlets.
With an emphasis on local empowerment and solutions, the report identifies six recommendations for libraries and their communities to work more effectively together, and three practical projects to get started on meaningful cross-sector collaboration. The six recommendations are:
Leverage the Houston Public Library as a trusted source of information
Use library infrastructure (virtually and physically) to provide important touchpoints for access and engagement to develop financial literacy and empowerment
Use the Complete Communities Neighborhood Advisory groups as a model and partner for information, communication, and engagement
Utilize smart collaborations in a portfolio approach
Connect libraries to schools of social work
Leverage the library as social infrastructure to foster greater connection among the cityís residents and student populations
The Houston Public Library plans to reconvene participants from the original Dialogue later this year to further strengthen relationships, and to explore and advance partnership and implementation built upon the framework developed at the Dialogue and reflected in the report.
About the Houston Dialogue on Public Libraries. The Houston Library was chosen by the Aspen Institute as one of five partners in a series of community-library dialogues nationwide. Thirty library leaders, state and local policymakers, business and civic partners came together on November 25-26, 2017 at the Julia Ideson Building in Houston to explore new thinking and practical solutions for using the infrastructure and expertise of public libraries to build more resilient families and communities in Houston.
To read the complete report, view the list of participants, and learn more about the Houston Dialogue on Public Libraries, go to: http://as.pn/houstonlibrarydialogue.
# # #
†The Aspen Institute Dialogue on Public Libraries is a multi-stakeholder forum to explore and champion new thinking on US public libraries, with the goal of fostering the transformation of public libraries for a more diverse, mobile and connected society. The Dialogue is managed by the Aspen Institute Communications and Society Program, which focuses on projects and initiatives that address the societal impact of communications and information technologies and provides a multidisciplinary venue for considered judgment on communications policy issues. Learn more about the Aspen Institute Dialogue on Public Libraries at http://www.LibraryVision.org.
The Houston Public Library (HPL) operates 37 neighborhood libraries, three HPL Express Libraries, a Central Library, the Houston Metropolitan Research Center, the Clayton Library Center for Genealogical Research, The African American Library at the Gregory School, and the Parent Resource Library located in the Childrenís Museum of Houston. With more than eight million visits per year in person and online, HPL is committed to excellent customer service and equitable access to information and programs by providing library customers with free use of a diverse collection of printed materials and electronic resources, Internet, laptop and computer use, and a variety of database and reference resources with live assistance online 24/7. For further information, visit the Houston Public Library at www.houstonlibrary.org, on Twitter @houstonlibrary, on Facebook† ̶† https://www.facebook.com/houstonlibrary/, or call 832-393-1313.
The Aspen Institute is an educational and policy studies organization. Its mission is to foster leadership based on enduring values and to provide a nonpartisan venue for dealing with critical issues. The Institute is based in Washington, DC; Aspen, Colorado; and on the Wye River on Marylandís Eastern Shore. It also has an office in New York City and an international network of partners. For more information, visit http://www.aspeninstitute.org.
( Press Release Image: https://photos.webwire.com/prmedia/5/240460/240460-1.jpg )
Related Links
WebWireID240460

This news content was configured by WebWire editorial staff. Linking is permitted.
News Release Distribution and Press Release Distribution Services Provided by WebWire.