Nespresso launches 'Reviving Origins' to bring back lost coffees
Lausanne –
WEBWIRE
–
Wednesday, May 8, 2019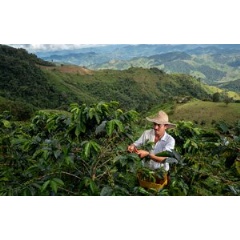 Nespresso announced the launch of Reviving Origins, a new programme to restore coffee farming in regions where it is under threat. Through its AAA Sustainable Quality™ Program, Nespresso is working with farmers in regions that have been blighted by conflicts, economic hardships or environmental disasters.
Nespresso is investing CHF10M over the next five years to revive the coffee industries in selected countries with the aim of encouraging rural economic development. The Reviving Origins programme is part of Nespresso's overall commitment to invest CHF500M from 2014-2020 in its sustainability program, The Positive Cup.
The announcement comes alongside the launch of new single-origin coffees from Eastern Zimbabwe and Caquetá, Colombia. These exquisite and rare coffees are virtually unknown, and have been slowly disappearing for decades. As a result of Nespresso's investment and the commitment of partners, coffee farmers in these two regions are starting to rebuild sustainable livelihoods, restore their local economies and bring much-needed development to their rural communities.
TAMUKA mu Zimbabwe and ESPERANZA de COLOMBIA will be available from May 2019 in 18 countries.
Jean-Marc Duvoisin, CEO of Nespresso comments: "Through our Reviving Origins program, we have an opportunity to bring back forgotten coffees, boost economic development in regions where there has been significant adversity and share a completely new taste experience with consumers."
Nespresso first discovered the potential of reviving a forgotten coffee when it ventured to South Sudan in 2011. The limited edition Suluja ti SOUTH SUDAN became the country's second export after oil, and helped to diversify the economic base of the world's youngest nation.
Building on that experience, Nespresso launched its AAA programme in Zimbabwe and the Caquetá region of Colombia (an area long inaccessible due to the conflict in the country). In 2018, announced plans to support the rebuilding of coffee farming in Puerto Rico after 80 per cent of its coffee farms were destroyed by hurricanes Irma and Maria in 2017.
Introducing TAMUKA mu Zimbabwe
In the late 1980s, Zimbabwean coffee farmers produced over 15,000 tons of coffee (U.S. Department of Agriculture); however, production almost came to a complete halt as a result of climate factors and economic instability in the country. By 2017, production levels were at less than 500 tons. In partnership with the global non-profit TechnoServe, Nespresso has worked with the local coffee farming community in Manicaland Province, eastern Zimbabwe, to establish sustainable farming practices, bringing expert trainers and new techniques to tackle issues such as coffee processing and tree management. This investment has helped to produce a higher quality Arabica coffee that will be available for a limited period in 18 countries.
"This project is not only bringing back some of the world's best coffee - it is bringing back economic opportunities in Zimbabwe's hard-hit rural areas," said William Warshauer, President and CEO of TechnoServe. "As a non-profit that takes a business approach to reducing poverty, TechnoServe is excited to partner with Nespresso and the farmers of Zimbabwe to build a brighter and more prosperous future."
TAMUKA mu ZIMBABWE is bursting with complex fruitiness and zesty, bright acidity, with notes of cranberry to red berries, and currant to grape. It has a creamy, smooth texture when you add milk, making it an ideal coffee for a Latte Macchiato. It's balanced and round and has sweet notes of caramel and toffee when mixed with milk.
Introducing ESPERANZA de COLOMBIA
Coffee almost disappeared in Caquetá, Colombia following 50 years of conflict, which meant many farmers abandoned their lands. Nespresso partnered with local farmers and the Colombian National Coffee Growers Federation to support the rebuilding of this industry. Through its AAA Sustainable Quality Program™ Nespresso's agronomists provided training and expertise on sustainable farming practices, quality development and environment and water management.
According to the Colombian National Coffee Growers Federation ""The Nespresso AAA Sustainable Quality™ Program has had a positive social and economic impact in the Caquetá region. It has allowed to generate new life opportunities for the coffee growing communities of San Vicente del Caguán and Florencia through the improvement of the quality of their coffee and the implementation of sustainable agriculture practices".
ESPERANZA de COLOMBIA is a mild coffee that is very light in acidity. It's beautifully balanced and rounded, and it has aromas of yellow fruits with a hint of a cereal note.
Documented by National Geographic
Nespresso commissioned world renowned National Geographic photographer Rena Effendi to document the impact of Reviving Origins in Zimbabwe and Colombia. The results are on display at a pop-up augmented reality photography exhibition in London, and online at the National Geographic website www.nationalgeographic.com/beyond-the-bean.
Rena Effendi, said of her travels to the coffee farms: "The strength of the human spirit never ceases to amaze me. These farmers have suffered terrible adversity but now I see a strong sense of hope. They are excited for the future and all the opportunities that coffee is starting to bring into their lives."
The Nespresso AAA Sustainable Quality™ Program
Nespresso works with farmers through its AAA Sustainable Quality™ Program, which aims to create long term, sustainable quality through direct relationships with farmers. Nespresso currently works with more than 100,000 farmers who benefit from hands-on support from agronomists as they learn how to develop their businesses. Working together, the agronomists and farmers look at the best growing and management practices for their crops, including technical assistance in agricultural practices to ensure quality. Through their participation in the AAA Program, the farmers are able to improve their coffee quality and achieve better productivity and standards in environmental and social welfare.
ENDS
About Nestlé Nespresso SA
Nestlé Nespresso SA is the pioneer and reference for highest-quality portioned coffee. The company works with more than 100,000 farmers in 13 countries through its AAA Sustainable Quality™ Program to embed sustainability practices on farms and the surrounding landscapes. Launched in 2003 in collaboration with The Rainforest Alliance, the program helps to improve the yield and quality of harvests, ensuring a sustainable supply of high quality coffee and improving livelihoods of farmers and their communities.
Headquartered in Lausanne, Switzerland, Nespresso operates in 80 countries and has more than 13,000 employees. In 2018, it operated a global retail network of approximately 800 boutiques. For more information, visit the Nespresso corporate website:www.nestle-nespresso.com.
( Press Release Image: https://photos.webwire.com/prmedia/6/240368/240368-1.jpg )
Related Links
WebWireID240368

This news content was configured by WebWire editorial staff. Linking is permitted.
News Release Distribution and Press Release Distribution Services Provided by WebWire.