First quarter 2019 results
Resilient earnings and cash flow, continued strategic progress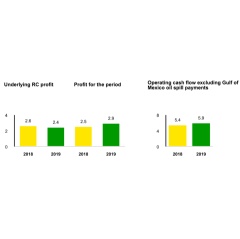 BP's performance this quarter demonstrates the strength of our strategy. With solid Upstream and Downstream delivery and strong trading results, we produced resilient earnings and cash flow through a volatile period that began with weak market conditions and included significant turnarounds. Moving through the year, we will keep our focus on disciplined growth, with efficient project execution and safe and reliable operations. -Bob Dudley, group chief executive
RC profit (loss), underlying RC profit, operating cash flow excluding Gulf of Mexico oil spill payments and working capital are non-GAAP measures.
These measures and Upstream plant reliability, major projects, inventory holding gains and losses, non-operating items and fair value accounting effects are defined in the Glossary on page 31. 
-Underlying replacement cost profit for the first quarter of 2019 was $2.4 billion, compared to $2.6 billion a year earlier. The result reflected the weaker price and margin environment at the start of the quarter, partially offset by strong supply and trading results.
-Operating cash flow, excluding Gulf of Mexico oil spill payments, for the quarter was $5.9 billion, including a $1.0-billion working capital build (after adjusting for inventory holding gains). Gulf of Mexico oil spill payments in the quarter were $0.6 billion.
-Dividend of 10.25 cents a share announced for the quarter, 2.5% higher than a year earlier.
New projects and marketing growth
-Reported oil and gas production for the quarter averaged 3.8 million barrels a day of oil equivalent. Upstream production, which excludes Rosneft, was 2% higher than a year earlier. BP-operated -Upstream plant reliability was 96.2%.
-Integration of US onshore assets acquired from BHP continues, with BP taking operational control in March.
-Three Upstream major projects – in Trinidad, Egypt and the Gulf of Mexico – have started production in 2019 and BP has taken final investment decisions for three more Upstream major projects.
-Downstream continued growth in fuels marketing reflected increased numbers of convenience partnership sites and expansion in new markets.
-Strong progress is being made towards BP's published targets for operational greenhouse gas (GHG) emissions, with reduced operational GHG emissions in 2018, good delivery of sustainable GHG emissions reductions, and methane intensity remaining on target.
-A $100-million fund to support new emissions-reducing projects in the Upstream was announced, as well as an agreement with Environmental Defense Fund to advance technologies and practices to reduce oil and gas industry methane emissions.
-----
Cautionary statement
In order to utilize the 'safe harbor' provisions of the United States Private Securities Litigation Reform Act of 1995 (the 'PSLRA') and the general doctrine of cautionary statements, BP is providing the following cautionary statement: The discussion in this results announcement contains certain forecasts, projections and forward-looking statements - that is, statements related to future, not past events and circumstances - with respect to the financial condition, results of operations and businesses of BP and certain of the plans and objectives of BP with respect to these items. These statements may generally, but not always, be identified by the use of words such as 'will', 'expects', 'is expected to', 'aims', 'should', 'may', 'objective', 'is likely to', 'intends', 'believes', 'anticipates', 'plans', 'we see' or similar expressions. In particular, the following, among other statements, are all forward looking in nature: expectations regarding the expected quarterly dividend payment and timing of such payment; plans and expectations regarding share buybacks, including to offset the impact of dilution from the scrip program; expectations regarding the underlying effective tax rate in 2019; plans and expectations to deliver disciplined growth, efficient projects, and safe and reliable operations; expectations regarding 2019 organic capital expenditure and depreciation, depletion and amortization charges; plans and expectations with respect to gearing, including for gearing to move toward the middle of the 20-30% targeted range in 2020; plans and expectations regarding Upstream projects including for five Upstream major projects to begin production in 2019 and to deliver 900,000 boe/d from new major projects by 2021; plans to make available up to $100-million over the next three years to support projects across the Upstream and expectations that the projects supported by the new $100-million initiative will deliver new emissions reductions; expectations regarding Upstream second-quarter 2019 reported production, seasonal turnaround and maintenance activities; plans to add 1,000 new BP branded retail station sites in China over the next five years; plans and expectations regarding expansion of capacity at BP's joint venture petrochemicals facility in South Korea; expectations regarding Downstream second-quarter 2019 refining margins, discounts for North American heavy crude oil and turnaround activity; expectations regarding the amount of the Rosneft dividend; plans and expectations regarding Lightsource BP, including for the Green Energy Equity Fund to invest a total of $330 million in Ayana Renewable Power; plans and expectations regarding the Other businesses and corporate 2019 average quarterly charges; and expectations with respect to the amount of future payments relating to the Gulf of Mexico oil spill. By their nature, forwardlooking statements involve risk and uncertainty because they relate to events and depend on circumstances that will or may occur in the future and are outside the control of BP. Actual results may differ materially from those expressed in such statements, depending on a variety of factors, including: the specific factors identified in the discussions accompanying such forward-looking statements; the receipt of relevant third party and/or regulatory approvals; the timing and level of maintenance and/or turnaround activity; the timing and volume of refinery additions and outages; the timing of bringing new fields onstream; the timing, quantum and nature of certain acquisitions and divestments; future levels of industry product supply, demand and pricing, including supply growth in North America; OPEC quota restrictions; PSA effects; operational and safety problems; potential lapses in product quality; economic and financial market conditions generally or in various countries and regions; political stability and economic growth in relevant areas of the world; changes in laws and governmental regulations; regulatory or legal actions including the types of enforcement action pursued and the nature of remedies sought or imposed; the actions of prosecutors, regulatory authorities and courts; delays in the processes for resolving claims; amounts ultimately payable and timing of payments relating to the Gulf of Mexico oil spill; exchange rate fluctuations; development and use of new technology; recruitment and retention of a skilled workforce; the success or otherwise of partnering; the actions of competitors, trading partners, contractors, subcontractors, creditors, rating agencies and others; our access to future credit resources; business disruption and crisis management; the impact on our reputation of ethical misconduct and noncompliance with regulatory obligations; trading losses; major uninsured losses; decisions by Rosneft's management and board of directors; natural disasters and adverse weather conditions; changes in public expectations and other changes to business conditions; wars and acts of terrorism; cyber-attacks or sabotage; and other factors discussed elsewhere in this report, under ""Risk factors" in BP Annual Report and Form 20-F 2018 as filed with the US Securities and Exchange Commission.
( Press Release Image: https://photos.webwire.com/prmedia/6/240087/240087-1.png )
Related Links
WebWireID240087

This news content was configured by WebWire editorial staff. Linking is permitted.
News Release Distribution and Press Release Distribution Services Provided by WebWire.