NERC celebrates impacts of major public engagement programme
NERC and the National Coordinating Centre for Public Engagement (NCCPE) have released a booklet to celebrate the outcomes of a major NERC-funded public engagement programme. The booklet highlights successes and learning points from the first stage of the Engaging Environments programme, to enable researchers at all stages of their career to plan and deliver high-quality public engagement activities.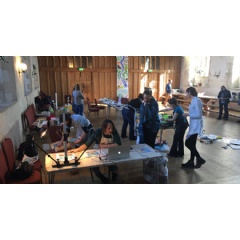 Getting creative at the Climate Stories workshop
"We are keen to ensure we develop our approach in light of broader development and by learning from outputs and feedback from this programme."
The booklet, titled 'Lessons from the NERC-funded Engaging Environments programme', summarises the six public engagement projects funded under the first stage of the Engaging Environments programme in 2017-18, and details a variety of insights gained into the successful design, management, and evaluation of similar projects.
The booklet is available as a free download to enable the wider research community to build meaningful public engagement into their research and try new approaches that go beyond traditional one-way dissemination.
Drawing on participants' experiences of engaging environments, the booklet provides advice on best practice and examples of how the funded projects successfully used these principles. Its key recommendations are:
Invest in consortium building
The ENCOMPASS project worked with Citizens UK to empower local communities to have their voices heard by policymakers on issues surrounding Birmingham's clean air zone, linking accessibility to sustainable transport with neighbourhood safety and green infrastructure.
Use and contribute to the evidence base for public engagement
The Future of Our Seas project used psychology and neuroscience to understand how some areas of environmental science come to be considered controversial. This helped early-career marine scientists to adapt their approach and find new ways to tell stories about their science, as well as building evidence to inform good public engagement practice.
Encourage researchers to step out of their comfort zone.
Climate Stories invited researchers to work with community groups to try new, creative ways to tell stories about their research, including songwriting, print making and theatre.
As well as the booklet, several other resources for researchers and public engagement practitioners were produced as a result of the Engaging Environments projects:

NERC invested £500,000 into the first stage of Engaging Environments in 2017. The investment supported six projects, including a scheme that improved the way researchers discuss climate change with the public, and a project that found ways to align environmental research with the concerns of various local community groups. The second stage of Engaging Environments invited collaborative teams formed in the first stage to bid for funding for a single, large-scale project, with £1·3 million awarded in April 2019 to the NERC community for Engaging Environments project.

Alison Robinson, Director of Corporate Affairs, Futures & Change for NERC, said:

"We are keen to ensure we develop our approach in light of broader development and by learning from outputs and feedback from this programme. All this will inform our thinking around future funding in this space. I would like to thank all those involved in these collaborations who have made Engaging Environments a success so far and look forward to the legacy that will continue."

Maddy Foard, Project Manager for NCCPE, said:

"NCCPE have found it immensely stimulating to act as a coordinating hub for this flagship public engagement programme, and we are really proud of the legacy the teams have created collectively. Bringing the funded projects together to create this shared resource ensures the rich learning is captured and can be used by the wider sector.

As well as reflections on the benefits of taking more collaborative approaches to engagement, drawing on and building the evidence-base for effective practice, and understanding the motivations, interests and needs of publics and researchers, this booklet also identifies some of the structural changes needed within research organisations if public engagement is to thrive."

The booklet is available to view below.

Engaging Environments - Lessons from the NERC-funded Engaging Environments programme - external link.

Notes

1. NERC is the UK's main agency for funding and managing research, training and knowledge exchange in the environmental sciences. Our work covers the full range of atmospheric, Earth, biological, terrestrial and aquatic science, from the deep oceans to the upper atmosphere and from the poles to the equator. We coordinate some of the world's most exciting research projects, tackling major environmental issues such as climate change, environmental influences on human health, the genetic make-up of life on Earth, and much more. NERC is part of UK Research & Innovation, a non-departmental public body funded by a grant-in-aid from the UK government.

2. The National Co-ordinating Centre for Public Engagement (NCCPE) is internationally recognised for its work supporting and inspiring universities to engage with the public. We work to change perspectives, promote innovation, and nurture and celebrate excellence. We also champion meaningful engagement that makes a real and valued difference to people's lives. The NCCPE is supported by UK Research & Innovation, the devolved higher education funding bodies, and Wellcome, and has been hosted by the University of Bristol and UWE Bristol since it was established in 2008.
( Press Release Image: https://photos.webwire.com/prmedia/7/240077/240077-1.jpg )
Related Links
WebWireID240077

This news content was configured by WebWire editorial staff. Linking is permitted.
News Release Distribution and Press Release Distribution Services Provided by WebWire.