re:publica 19 in Berlin: Lab1886 at Europe's biggest digital conference
Stuttgart/Berlin –
WEBWIRE
–
Thursday, May 2, 2019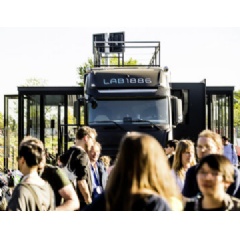 Lab1886 presents innovations and information in 13 sessions
Presentations, discussions, panels, expert talks and interactive workshops with topics from the digital world of tomorrow
Highlight sessions: "Too late; didn't react - Can Germany still get on board with digitisation?" with Susanne Hahn, Head of Lab1886 Global, and Christoph Keese, journalist, publicist and Managing Director of Axel Springer hy GmbH, and "Move fast & DON'T break things: How to cooperate for self-driving cars" with Yannic Heiling, Fully Automated Driving at Daimler AG, Claus Christmann, Robert Bosch GmbH, and Søren Halskov Nissen, Daimler Mobility Services GmbH
Lab1886, Daimler AG's innovation incubator, is again the main partner of re:publica 19. With the motto "tl;dr" (Acronym for "too long, didn't read"), Europe's biggest digital conference is taking place from 6 to 8 May 2019 at STATION Berlin. Lab1886 is presenting topics of future relevance In front of around 20,000 expected visitors from all over the world. On Daimler AG's path to becoming an integrated mobility service provider, Lab1886 has a key role to play. This is where new ideas are brought to market maturity, innovations implemented as quickly as possible and the company's transformation process intensively supported. "At re:publica we want to show just how much our company has changed in the last few years. Never before has it been so exciting to set innovations and new ideas in motion in the company. This is what we want to talk about with experts and thought leaders in the digital world", says Susanne Hahn, Head of Lab1886 Global.
In 13 talks Daimler AG is presenting different projects, transferring know-how and pitching itself as a potential employer to the international talents from the digital scene. Highlights include the round table with Susanne Hahn and the journalist and publicist Christoph Keese on opportunities and risks in Germany's digitisation. Then there is the panel with Søren Halskov Nissen, Daimler Mobility Services GmbH, Yannic Heiling, Daimler AG, and Claus Christmann, Robert Bosch GmbH, on cross-company alliances and their advantages in the development of fully automated driving. The appearance by tech entrepreneur and Lab1886 Brand Ambassador Guy Kawasaki will also be exciting. He is talking about the art of innovation as the engine and driving force of progress.
Ten sessions in the Lab1886 Truck show Daimler's innovation spectrum. This is where Lab1886 offers a stage for many of the Group's initiatives. The variety of topics ranges from the use of artificial intelligence in tomorrow's world via voice control as new User Interaction (UI) to the linking of Smart Home and Smart Mobility. A further focal point of these sessions is the work of Lab1886. For example, Michael Baumann is giving a talk on his journey from Group employee to the founder of a start-up.
Alongside the Lab1866 Truck, Daimler AG will also be presenting itself with its own interactive stand in the outside area. This is where projects are being presented and Lab1886 is demonstrating in the new re:cruiting area of the re:publica that it is an attractive employer shaping the future of mobility and using the opportunities provided by digitisation.
Highlights of Lab1886 at re:publica
"Too late; didn't react - Can Germany still get on board with digitisation?"
Susanne Hahn, Head of Lab1886 Global, and Christoph Keese, journalist and publicist, are discussing the risks and chances associated with Germany's digitisation and what will happen if Germany fails to catch up with the world leaders. Moderation: Ralf Glaser
Monday, 6 May, 12 p.m., re:publica Stage 3
Move fast & DON'T break things: How to cooperate for self-driving cars
Søren Halskov Nissen, Development, Services for Fully Automated Driving, Daimler Mobility Services GmbH, Yannic Heiling, Development, Fully Automated Driving, Daimler AG, and Claus Christmann, Development, Fully Automated Driving, Robert Bosch GmbH. Since 2017 Daimler and Bosch have been working together on the development of a fully automated vehicle fleet. The pilot will get under way later this year in San José, California. But what is needed in the car as well as the technology itself? How does the car come to the customer? How does the car know when it has to be where? What additional services are required for fully automated driving? The three partners will be discussing and answering these and many more questions, including those from the audience, in their panel at re:publica.
Tuesday, 7 May, 5 p.m., re:publica Stage T
Overview of Lab1886 sessions, Monday, 6 May, Lab1886 Truck:
1:45 p.m.: Voice is the new UI (Alex Dogariu)
3 p.m.: Human First, a Pathway into a Desirable Future (Alexander Mankowsky)
4:15 p.m.: Flying taxi – already a reality today! (Christian Bauer)
Overview of Lab1886 sessions, Tuesday, 7 May, Lab1886 Truck, re:cruiting area:
10 a.m.: Future Living Berlin – live in the future today (Sven Schmittbüttner and Dr Christin Kreutzburg-Sütterlin)
11:15 a.m.: Best of Both Worlds – How to found a start-up in a large corporation (Thomas Berthold, Jonas Huthmacher and Madeline Ebert)
1:45 p.m.: Mastering the E-Scooter Craze – From Hype to Sustainable Business (Ricardo Colon and Max Seedorf)
3 p.m.: THE NEXT GREEN THING – more sustainability on the STARTUP AUTOBAHN (Ralf Lamberti)
4:15 p.m.: The Art of Innovation (Guy Kawasaki)
5:45 p.m.: Working at the Lab (David Hailey), re:cruiting area
Overview of Lab1886 sessions, Wednesday, 8 May, Lab1886 Truck:
10 a.m.: From Group employee to start-up founder (Michael Baumann)
11:15 a.m.: Show Don't Tell - Creative Prototyping for Non-Designers (Laura Müller)
About re:publica
re:publica has been held annually in Berlin since 2007 and is the biggest conference on topics relating to the internet and digital society in Europe. More than 19,500 participants from 80 countries came to re:publica 18 in Berlin on three conference days in order to discuss current issues around the digital society. The re:publica participants constitute a cross-section of (digital) society. They include representatives of the worlds of science, politics, companies, hacker cultures, NGOs, media and marketing as well as bloggers, activists, artists and social media experts. In 2019 re:publica's motto is "tl;dr". This is the conference's way of acknowledging the complexity of the world and the many issues. It is dedicated to the long form, the small print, the footnotes, the power of research, the power of controversy and the urgency not to simplify the issues which split or unite the world. Daimler AG and Lab1886 are long-standing partners of re:publica and have been supporting the event since 2012.
About Lab1886
Lab1886 is an independent innovation lab within Daimler AG. It is where new business ideas, including outside the core business, are identified, incubated and brought to market maturity. The aim is to proceed faster from the idea to the product or business model. By realising a portfolio of innovations, Lab1886 helps Daimler AG to secure a sustainable and profitable future. Lab1886 combines the best of the start-up and corporate worlds. With Lab1886, Daimler is committed to cross-divisional and cross-company cooperation and swarm intelligence. Lab1886 has all the necessary resources and skills as well as ten years of experience in the implementation of new business models. This freedom allows employees to work in a focused way in flat hierarchies and a creative atmosphere. The innovation lab operates at four locations on three continents: Stuttgart and Berlin in Germany, Beijing in China and Atlanta in the USA.
( Press Release Image: https://photos.webwire.com/prmedia/6/240057/240057-1.jpg )
Related Links
WebWireID240057

This news content was configured by WebWire editorial staff. Linking is permitted.
News Release Distribution and Press Release Distribution Services Provided by WebWire.