Rijksmuseum exhibits donated Japanese Kabuki prints
The prints will remain on public display in the Rijksmuseum's Asian Pavilion until 13 October 2019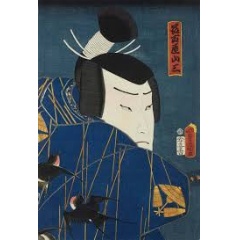 A selection of Japanese Kabuki-themed prints goes on show from today in the Rijksmuseum. The prints are part of a donation by Henk Herwig and Arendie Herwig-Kempers, who over a period of many years assembled an impressive collection of prints on the theme of Kabuki theatre. The Rijksmuseum is delighted to have the opportunity to house this collection, which is among the most eminent of its kind in the world.
Kabuki theatre
Kabuki theatre began in Japan around 1600, and rapidly grew to become one of the most favoured forms of popular entertainment in that country. There was great public appetite for plays about historical heroes, animals, ghosts, thieves and prostitutes – in the capital, Edo, Kabuki plays were performed daily from sunrise to sunset in several theatres. The government, however, regarded Kabuki theatre as a source of unrest, and in the mid-17th century women and young men were banned from performing on stage. From this point on, all roles, including those of female characters, were played by male actors. In the early 18th century, Kabuki theatre became a much-loved theme in Japanese printing, with celebrated printmakers portraying key moments from the plays, often in the form of diptychs or triptychs that were sold for a modest price as mementos after performances.
The Herwig-Kempers: a passion for Kabuki prints
Henk Herwig and Arendie Herwig-Kempers have been collecting Japanese prints on the theme of Kabuki theatre for the past 40 years. Their passion for this subject was sparked by a visit to a Kabuki performance in Paris – the city where they bought their first print. Their collection now comprises more than 1,500 mostly 19th-century prints, and they are donating the collection to the Rijksmuseum in parts, over a period of several years. The decision to make this gift was driven by a desire to keep the collection intact, while also ensuring it remains accessible, through the museum, to others who share their interest. Their choice of the Rijksmuseum as recipient was based on the benefits it offers with respect to both the care and accessibility of the collection. The fact that the museum has a dedicated curator of Japanese prints assures quality of care, and the collection will be made accessible to a broad audience via the Rijksmuseum website and in the Print Room, where researchers and aficionados alike will be able to study the prints.
Indispensable support
The Rijksmuseum connects people, art and history. The Rijksmuseum safeguards, manages, conserves, restores, researches, processes, compiles, presents and publishes on the national collection of the Netherlands. Gifts and bequests from private individuals, funding organisations, family trusts, foundations, the government and business are essential to these tasks. The Rijksmuseum is grateful for any and every form of support.
( Press Release Image: https://photos.webwire.com/prmedia/6/239801/239801-1.jpg )
Related Links
WebWireID239801

This news content was configured by WebWire editorial staff. Linking is permitted.
News Release Distribution and Press Release Distribution Services Provided by WebWire.