A Year with Children 2019 Opens April 26 at the Guggenheim Museum
Exhibition of Original Works by New York City Public School Students from Grades Two through Six Culminates a Year of Collaborative Learning
NEW YORK, NY –
WEBWIRE
–
Friday, April 26, 2019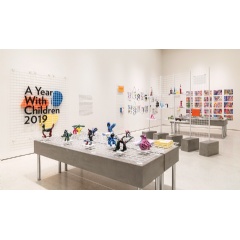 Learning Through Art (LTA), the Guggenheim Museum's pioneering arts-education program, presents the exhibition A Year with Children 2019, on view from April 26 to June 2 in the museum's Tower Level 7 gallery. The annual presentation, now in its forty-eighth year, showcases select artworks by students in grades two through six from the eleven public schools who participated in LTA during the 2018–19 school year. Representing each of New York City's five boroughs, more than one hundred creative and imaginative works, including collages, drawings, found objects, installations, paintings, poems, sculpture, and prints, will be on display.
PROGRAM OVERVIEW
Originally conceived as Learning to Read Through the Arts, the Guggenheim's LTA program was founded in 1970 by Natalie Kovner Lieberman in response to the elimination of art and music programs in New York City public schools. LTA encourages curiosity, critical thinking, and collaborative investigation at the museum, in the classroom, and beyond, serving nearly one hundred fifty thousand children over the last forty-eight years. In the 2018–19 school year, thirteen teaching artists facilitated seventeen residencies in twelve New York City public schools, working closely with classroom teachers to develop projects that promote visual literacy while making connections with ideas and themes related to the school's curriculum.
LTA immerses students in the creative process, prompting them to view themselves as artists. At the start of the academic year, each student is given a sketchbook and an artist's apron, imbuing a sense of ownership over their work. Throughout the program, teaching artists demonstrate practices and explorations similar to those that they use to spark their own creativity. Students' investigations are also inspired by the Guggenheim exhibitions they visit during the school year. In the 2018-19 academic year, these included the groundbreaking Hilma af Klint: Paintings for the Future; and R. H. Quaytman: + x, Chapter 34. Students also studied modernist artworks on view from the Thannhauser Collection and an exhibition of sculptures by Constantin Brancusi. When viewing art, students participate in inquiry-based discussions that elicit careful observation and interpretation.
The participating schools are: from the Bronx, PS 86 (Kingsbridge Heights); from Brooklyn, PS 8 (Brooklyn Heights) and PS 9 (Prospect Heights); from Manhattan, PS 28 (Washington Heights), PS 38 (East Harlem), Mosaic Preparatory Academy (East Harlem), and PS 145 (Harlem); from Queens, PS 219 (Flushing), PS 130 (Bayside), PS 144 (Forest Hills), and PS 317 (Rockaway Park); and from Staten Island, PS 48 (Grasmere).
EXHIBITION OVERVIEW
To guide the yearlong curriculum, classroom educators and teaching artists used "essential questions," such as "How can art empower communities?" These questions, linked to themes that were personally meaningful to students, were explored by looking at and making art.

LTA considers the classroom a learning lab where the power of arts integration and creative thinking can encourage the production of inspiring and technically impressive works of student art. Teaching artists used multimodal approaches to teach process and technique, incorporating text, music, games, and collaboration. By understanding the foundations of art, students were able to explore a wide variety of mediums, both traditional and experimental, and try out different approaches to problem solving.
A Year with Children 2019 is organized by Greer Kudon, Director of School Programs; Amy Boyle, Manager, Learning Through Art; Emmy Goldin, Associate Manager; Michelle Wohlgemuth Cooper, Education Associate; and Lara Tootleman, Education Coordinator.
Kim Kanatani, Deputy Director and Gail Engelberg Director of Education at the Guggenheim, commented, "The annual Year with Children exhibition is a culmination of the thoughtful and creative work that Learning Through Art facilitates in public school classrooms across New York City. For nearly fifty years, LTA has provided high-quality visual arts education that supports the curriculum while fostering individual expression and skill-based learning."
For more information about Learning Through Art, please visit guggenheim.org/lta.
HIGHLIGHTS
Mythical Me, PS 38, Manhattan
Grades 4 and 5; teaching artist: Rose Nestler
Student artists spent the year thinking about how their culture shapes their character. They looked at the work of Mexican artists Frida Kahlo (1907–1954), Diego Rivera (1886–1957), and Pedro Linares (1906–1992), who made figurines of mythical creatures called alebrijes. Inspired, they learned sculpture techniques to create their own spirit-animal sculptures. Students carefully considered which animals had similar character traits to themselves. To create these plaster sculptures, students created armatures that could stand on their own. They then painted their sculptures using colors and patterns that reflect aspects of their personalities and cultural identity.
Aspiring Architects, PS 219, Queens
Grades 2 and 3; teaching artist: Anna Martin
Second and third graders at PS 219 investigated the power of shapes and how they are the building blocks of the physical world. Students began the year studying basic shapes by finding them in their classrooms and the outside world. With this close looking and research as inspiration, students took on the role of architects and created blueprints and collages to develop their own museum concepts. As the year progressed, students applied their knowledge of architecture and design to create plans for a 3-D skyscraper. Throughout this process, students continued to revisit and think deeply about their essential question, "How do shapes shape our lives?"
Eyes on You, PS 86, Bronx
Grade 4; teaching artist: Jaffia Royes
Inspired by artist Yayoi Kusama (b. 1929), fourth-grade students at PS 86 explored how eyes can often reveal emotions. Students studied how eyes change shape depending on moods and expressions as they practiced drawing these different shapes in pairs or small groups. Using the Yale Center for Emotional Intelligence's Mood Meter curriculum (an initiative that helps students become more aware and in control of their emotions) as a foundation for these explorations, students identified a mood that they frequently experience and incorporated it into their artwork. Creating their own whimsical compositions involving eyes, students developed a deeper understanding of closed and open shapes as well as what it means to work in layers.
RELATED EVENT FOR A YEAR WITH CHILDREN 2019
Benefit for Learning Through Art
Thursday, May 30, 5:30-7 pm: Family reception
Tickets $150 each for adults, $75 each for children
7 pm: Private dinner with a special performance by Ephrat Asherie Dance 
For LTA supporters at the Teaching Artist Patron level and above
This family benefit reception provides key support for the LTA program and includes an exclusive viewing of A Year with Children 2019, featuring student docents from each school on-site to discuss their work and that of their peers. Enjoy kid-friendly light bites during a reception in the rotunda, as well as art activities on the ramps. The reception is followed by a private dinner for Teaching Artist Patron level supporters and above, with a special performance in The Wright restaurant by Ephrat Asherie Dance featuring excerpts from Odeon, an original dance and second collaboration between sister and brother team Ephrat and Ehud Asherie (choreographer and musical director, respectively). Set to the music of Brazilian composer Ernesto Nazareth, known for mixing early 20th century romantic music with samba and other popular Afro-Brazilian rhythms, Odeon takes a hybrid approach to movement and explores what happens when you bring together the extended family of street and club dances–including breaking, hip hop, house and vogue– remix them, pick them apart and challenge them to inhabit unfamiliar spatial and choreographic contexts.
The Leadership Committee and annual A Year with Children benefit raise important funds that make the LTA program possible. A limited number of tickets and ticket packages are available. Proceeds benefit the exhibition and LTA program. For more information, please call 212 423 3796 or contact Kate Stichnoth Randi at krandi@guggenheim.org.
Ongoing
Family Activity Guides
Daily, 10 am-4 pm
Families with children ages 4 and up
Pick up a Family Activity Guide from the Admissions desk to engage the whole family in fun gallery activities and discussions. Free with museum admission.
Saturday Sketching
Saturdays, 10 am-4 pm
Prepared materials with drawing prompts encourage visitors to explore Frank Lloyd Wright's architectural shapes and spaces, and to record their perspectives through drawing. Free with museum admission.
Open Studios
Sundays, 1-4 pm
Families with children ages 3 and up
Stop by the Sackler Center Studio Art Lab and create a work of art inspired by themes and materials from the Guggenheim's current exhibitions. Free with museum admission.
Family Activity Kiosk
Saturdays and Sundays, 10 am-4 pm
Families with children ages 4 and up
Borrow a Family Activity Pack with materials featuring fun conversation prompts and activity ideas to captivate the entire family.
FUNDING
Learning Through Art and A Year with Children 2019 are generously supported by Stavros Niarchos Foundation and the New York City Department of Cultural Affairs in partnership with the City Council.
Additional funding is provided by Guggenheim Partners, LLC; The Horace W. Goldsmith Foundation; The Seth Sprague Educational and Charitable Foundation; Gail May Engelberg and The Engelberg Foundation; The Keith Haring Foundation; Jacadi Paris; Dorothy and Elihu Modlin; the Sidney E. Frank Foundation; Con Edison; JPMorgan Chase; the Milton and Sally Avery Arts Foundation, Inc.; the Henry E. Niles Foundation, Inc.; and an anonymous donor.
The Leadership Committee for Learning Through Art and A Year with Children 2019 is gratefully acknowledged for its support.
The Sackler Center for Arts Education is a gift of the Mortimer D. Sackler Family. Endowment funding is provided by The Engelberg Foundation, the William Randolph Hearst Foundation, The Elaine Terner Cooper Foundation, and the Esther Simon Charitable Trust.
Educational activities and/or public programs are made possible in part by Ornellaia; The Freeman Foundation; JW Marriott; Stavros Niarchos Foundation; Katherine and Peter Kend, Annie and Gaines Wehrle, and Michael Wehrle in honor of Ebersole Gaines and Peter Lawson-Johnston; The Pinkerton Foundation; The Hilla von Rebay Foundation; The Kate Cassidy Foundation; and the New York City Department of Cultural Affairs in partnership with the City Council.
Funding is also provided by Guggenheim Partners, LLC; The Horace W. Goldsmith Foundation; The Seth Sprague Educational and Charitable Foundation; Gail May Engelberg and The Engelberg Foundation; The Keith Haring Foundation; Jacadi Paris; The Barker Welfare Foundation; Credit Suisse; CBRE; Cindy Chua-Tay; Dorothy and Elihu Modlin; and an anonymous donor.
Additional support from the Sidney E. Frank Foundation; Peter Bentley Brandt; Con Edison; JPMorgan Chase; Bobbi and Barry Coller; Lisa and Jeffrey Thorp; the Milton and Sally Avery Arts Foundation, Inc.; Maria and Valentin Fuster; The Kibel Foundation; and the Henry E. Niles Foundation, Inc.
The Solomon R. Guggenheim Foundation thanks the members of the Education Committee for their support.
VISITOR INFORMATION
Admission: Adults $25, students/seniors (65+) $18, members and children under 12 free. The Guggenheim's free app, available with admission or by download to personal devices, offers an enhanced visitor experience. The app features rich multimedia content on special exhibitions, the Guggenheim's landmark building, and artworks in the museum's permanent collection. Verbal Description guides for select exhibitions are also included for visitors who are blind or have low vision. The Guggenheim app is supported by Bloomberg Philanthropies.
Museum Hours: Open daily from 10 am to 5:30 pm; Tuesdays and Saturdays until 8 pm. Admission is pay-what-you-wish on Saturdays from 5 to 8 pm. For general information, call 212 423 3500 or visit the museum online at guggenheim.org.
( Press Release Image: https://photos.webwire.com/prmedia/6/239800/239800-1.jpg )
Related Links
WebWireID239800

This news content was configured by WebWire editorial staff. Linking is permitted.
News Release Distribution and Press Release Distribution Services Provided by WebWire.