Let The Nature Conservancy Help You Find Great Birds Around the Great Lakes
TNC preserves provide habitat for migratory birds to rest and refuel.
Lansing, MI –
WEBWIRE
–
Tuesday, April 23, 2019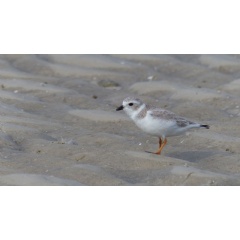 Piping plover walking along a sandy shore. © Angie Cole
Millions of birds will fly over the Great Lakes region this spring as they migrate north to their summer breeding grounds, but many populations of bird species are declining and in peril, according to ornithology experts at The Nature Conservancy.
Matt Williams, TNC's director of conservation in Indiana, writes in his book "Endangered and Disappearing Species of the Midwest" that in the past 50 years alone, more than one-third of our bird species have declined by at least 15 percent, with many suffering declines of more than 70 percent. In total, these declines add up to a loss of 1.5 billion individual birds in just five decades.
Williams said the population decline of numerous bird species is caused by loss of habitat to agriculture and energy expansion, collisions with vehicles and structures, encounters with feral cats, changing forest conditions and climate change.
"Birds are so much more than just checkmarks on a birder's life list," Williams said. "They're beautiful to watch, make music for our ears and provide benefits to all of us."
In addition to providing natural benefits, such as eating millions of insects, dispersing seeds and pollinating crops, birds are big business to the Great Lakes, too. Birdwatchers spend an estimated $80 billion annually on cameras, binoculars, travel and other hobby-related expenses.
"Places like Toledo sell out of all their hotel rooms this time of year because of spring migration," Williams said. "Tourism in the Great Lakes benefits greatly from birds."
"If you took all the attendance from every NFL game and added the total attendance from every NBA game in 2017, that total still wouldn't match the number of birdwatchers in the United States" he said, noting that professional football and basketball attendance is 39.3 million, and birders number 45 million.
Williams and TNC staff around the Great Lakes have worked together for decades to research, prioritize and protect priority habitat for birds to rest and refuel during their long migration in the spring and fall. In Michigan, birders may find more than 250 species of birds at TNC's Erie Marsh Preserve, including bald eagles, warblers and waterfowl. Other preserves that are considered birding hotspots include the John Arthur Woollam Preserve in the Upper Peninsula near Cedarville and the Zetterberg Preserve at Point Betsie near Frankfort.
"From the tiny ruby-throated hummingbird, weighing a fraction of an ounce, to the American white pelican, one of North America's largest birds with a nine-foot wingspan, now is the time to visit Great Lakes shoreline preserves where you can spy an amazing diversity of colors, sounds and behaviors during one of the world's greatest migrations," said Dr. Patrick Doran, associate state director of Michigan for TNC.
For more information and to see pictures, a list of local events, a map and a video about birding in the Great Lakes, visit nature.org/greatlakesbirds.
The Nature Conservancy is a global conservation organization dedicated to conserving the lands and waters on which all life depends. Guided by science, we create innovative, on-the-ground solutions to our world's toughest challenges so that nature and people can thrive together. We are tackling climate change, conserving lands, waters and oceans at an unprecedented scale, providing food and water sustainably and helping make cities more sustainable. Working in 72 countries, we use a collaborative approach that engages local communities, governments, the private sector, and other partners. To learn more, visit www.nature.org or follow @nature_press on Twitter.
( Press Release Image: https://photos.webwire.com/prmedia/5/239622/239622-1.jpg )
Related Links
WebWireID239622

This news content was configured by WebWire editorial staff. Linking is permitted.
News Release Distribution and Press Release Distribution Services Provided by WebWire.