#TheFirstSecond by the Soul Flyers: Wingsuit Brothers
The last gesture before departure, slipping on a mask or goggles, plunges us into our "bubble". This special, intimate moment, laden with experience and emotion, is "The First Second": it reveals the human factor underlying the athlete and outdoor enthusiast. Share this insider vision with Julbo...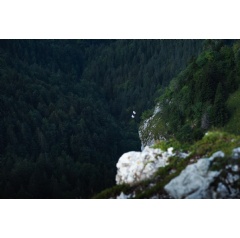 #TheFirstSecond by the Soul Flyers: Wingsuit Brothers 
« It's a massive adrenaline rush, an extraordinary energy!»
Soul Flyers #TheFirstSecond: Wingsuit Brothers: https://www.youtube.com/watch?v=ukWypquWVLo
Fred Frugen and Vince Reffet, the two faces of a super-famous team, achieve exploits in flight that defy the imagination. In this interview with both of them, they firstly explain the extreme aspect of base jumping, before revealing two quite different personalities. But as soon as they talk about their relationship, we discover a sense of total fusion: synchronicity, trust, commitment, fun and danger... In the Soul Flyers duo, everything brings them together.
The pictures of your jumps leave us speechless, but could you talk about them to us?
Vince:
Jumping off a cliff isn't normal – inhuman even! But in every project we do, there's always something a bit unusual. When we were preparing to jump at 4,000 m and fly back into a plane, a little butterfly passed right by us. When we landed, Fred said: "I saw a butterfly" and I'd seen it too! We talked about it at the time because we were so focused, but nobody saw it except us... We've flown with the planes of the French Air Force, over Mont Blanc, and jumped from the Burj Kalifa tower: it's good at those moments to have something to bring you back to reality!
Fred:
There's one very important thing: it has to be fun, we have to laugh and there's also the obsession to make progress, to get better. You fight, it's never easy, and you must never let go! With Vince, we've been freefly world champions six times, from 2003 to 2009. We won't let anything pass us by! Things that don't work aren't where we get our kicks! We do it because we love it, it's the ultimate trip. When you base jump, it's a massive adrenaline rush, something incredible, like a trance, it blows your mind!
Vince:
It's an extraordinary energy, you jump and then you can do whatever you want: it's the perfect way of de-stressing!
Do you have to have similar personalities to be a double act like yours?
Fred:
I grew up in a family of parachutists, so jumping out of a plane was normal.
Vince:
Whereas for me anything to do with thrills, like fairground rides for example, wasn't my thing at all. I could never get over a certain amount of fear. I got my PAC (skydiving license) through a bit of pressure from the people around me, friends of my father. The first time the plane door opened, I was terrified! If we each described our characters, we're definitely opposites. I'm a bit more of a dreamer, whereas Fred's more scientific, more grounded and more reflective.
Fred:
Vince is a real livewire, he's like a military machine, he's unstoppable! For "A Door in the Sky", he came downstairs one morning in his underpants and said: "I dreamt we jumped off a cliff and then flew inside a plane." I told him: "You're crazy!"
But the closeness between you means you must have a pretty intense relationship, right?
Vince:
We've spent more time together than with anyone else... We can pull each other to the top but also slow each other down when one of us goes a bit too far. It's thanks to Fred that I'm still alive today! It gives me goose bumps, and even tears in my eyes because it's such an amazing thing. Being the best on your own doesn't make sense, but being the best as a double act is priceless! What could be better than getting up in the morning and seeing your best buddy and doing something awesome together?
Fred:
We just have to look at each other and we know exactly when the other one's going to jump, where he's going to jump and how he's going to jump. The strength of being a double act is that we get better together.
The moment you jump off the cliff, you push off with your feet, right then that's your jump, a fraction of a second when you're alone. No sooner than you're in the air though and you're immediately thinking, OK, where is he?
There are two of us!
( Press Release Image: https://photos.webwire.com/prmedia/7/239575/239575-1.jpg )
Related Links
WebWireID239575

This news content was configured by WebWire editorial staff. Linking is permitted.
News Release Distribution and Press Release Distribution Services Provided by WebWire.