Planning Beyond Earth Day
How will you make your mark on Earth Day and beyond? Here's how we are…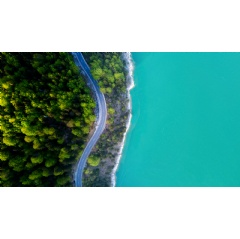 CREDIT: Jacobs
Every year on April 22, Earth Day unites more than 1 billion people in 190+ countries to take part in what is the largest civic-focused day of action in the world. As the world faces some of the toughest environmental challenges of our time, at Jacobs our people are focused on finding better ways to create an enduring legacy – whether working together on our projects, in partnership with our clients and suppliers, or taking steps as individuals to make a positive difference. We are innovating to create smart and sustainable solutions that help our clients make their communities and programs better.
"For Jacobs, sustainability is about making a positive difference for clients and communities around the world, solving complex challenges in ways that help people, places and organizations thrive," said Chair and CEO Steve Demetriou. "It's also about inspiring our people; nurturing the next generation to create better solutions than we might imagine today, to shape a better future for tomorrow."
Guided by the United Nations Sustainable Development Goals to provide global context, we recently reviewed and strengthened our sustainability priorities, taking Jacobs' global sustainability strategy to the next level. Our PlanBeyond™ strategy provides our framework for planning beyond today for a sustainable future. Enabling us to not only to improve our own sustainability performance but also better address our clients' global challenges, by advancing innovations that improve resource efficiency, resiliency, social value, economic development and conservation.
"PlanBeyond is our roadmap for integrating sustainability into every aspect of how we do business and how we help our clients, as we build on our efforts to be responsible stewards of the natural world,"said Catriona Schmolke, Jacobs Senior Vice President and Global Head of HSE, Security & Sustainability.
The PlanBeyond framework is organized around three core pillars of people, places and partnerships, with each focused on specific areas with clear goals. In 2018, for example, we reached 1000 trained Positive Mental Health Champions across the globe. Our award-winning "mental health matters" strategy focuses on promoting positive mental health and wellbeing across our business, employees and their families. The strategy delivers focused training, tools and techniques to enable a support network of volunteer employee champions that offer early intervention and interim support for employees while directing employees to the appropriate professional options. One of our PlanBeyond people goals is to train 1,500 Positive Mental Health Champions across our business by 2020 including 50% of our senior management team.
In 2018, Jacobs launched an effort to reduce single-use plastic (SUPs) consumption that eliminated 400,000 disposable plastic gloves from the waste stream across multiple client sites. Our PlanBeyond 2020 places goals include the elimination of SUPs in our offices.
Jacobs also recently received a Climate Leadership Award for Excellence in Greenhouse Gas Management.CH2M, now Jacobs, exceeded its five-year commitment to reduce operational greenhouse gas emissions, achieving a 29% reduction from 2012 – 2017. Our next step in this area is a 20% reduction in travel-related carbon emissions by 2022.
Our partnerships goals see us building on our client and supplier collaboration, using our knowledge, skills and experience to enable positive change.Solutions include scientifically- and technologically-advanced approaches like cloud-based flood modelling, geo-location mapping, natural infrastructure, digital intelligence and biosecurity systems.
What if we showed you how we're safely managing one of the world's largest remediation programs, aimed at protecting the Columbia River which crosses parts of seven U.S. states and one Canadian province?  How the world's largest groundwater recharge wetlands are restoring the ecological functions of the historically degraded onsite lakes and wetlands? And what if we showed you how the island of Kiribati is reclaiming 300 hectares, or the equivalent of about 300 American football fields, of swampy inhabitable land and transforming it into an urban development resilient to predicted 2200 ocean levels?
During the last decade, Jacobs has managed the environmental cleanup of the Central Plateau at the Hanford Site, using tools such as 4D imaging and robotics to safely perform one of the largest environmental protection programs in the world. The cleanup work is helping to protect the Columbia River which supports some $198 billion annually in food, water, habitat, flood risk reduction, recreation and other natural capital benefits.
Jacobs provided design, permitting and other services during construction of the multi-award-winning, 175-acre groundwater recharge 4G Wetlands system in Florida – the largest of its kind in the world – to revitalize and restore the ecology of the Upper Floridan Aquifer, which supports more than $7.5 billion in agriculture and provides drinking water to 10 million people.
One of the most significant and complex remediation projects ever to take place in the U.K., the award-winning 19-yearAvenue Coking Works Remediation program  transformed 98 hectares of heavily polluted industrial land into a place that can now be enjoyed by the community, with woodland and new habitats for wildlife.
Jacobs supported the environmental restoration of Windara Reef, Gulf St. Vincent, South Australia. The first-of-its-kind shellfish reef restoration project delivered improved water quality (due to the filtration powers of oysters), higher biodiversity and new opportunities for recreational fishing, which boost the local tourism economy.
The Kiribati land and urban development project is the first large scale climate change adaption development of its kind for small island nations. Jacobs led the feasibility study and conceptual land use plan to address resilience issues impacting the atoll, including rapid urbanization, limited water supply and ecosystem services, to transform inhabitable land and build resilience to predicted rising ocean levels.
Our innovative restoration strategies for addressing the impacts of decades of military training created a safe environmental footprint for the Commonwealth of Puerto Rico which is now part of the Vieques National Wildlife Refuge. The refuge houses a variety of natural resources, including subtropical dry forests, lagoons and coral reefs, and endangered species such as sea turtles, manatees and brown pelicans.
Interested in learning more about how Jacobs transforms intangible ideas into intelligent solutions for a more connected, sustainable world? Visit www.jacobs.com/what-if or watch our Earth Day message from Chair and CEO Steve Demetriou.
( Press Release Image: https://photos.webwire.com/prmedia/5/239524/239524-1.jpg )
Related Links
WebWireID239524

This news content was configured by WebWire editorial staff. Linking is permitted.
News Release Distribution and Press Release Distribution Services Provided by WebWire.