The Ryan Foundation Gift Opens Doors for West Texas Centers' New Headquarters
Big Spring, Texas –
WEBWIRE
–
Thursday, April 18, 2019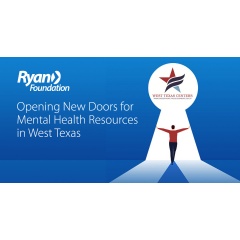 West Texas Centers (WTC), one of the state's 39 community centers providing mental health and intellectual developmental disability (IDD) services, has announced its new administrative headquarters located in Big Spring, made possible by a philanthropic gift from The Ryan Foundation. The new building will be known as the Amanda and G. Brint Ryan Center.
"In 23 counties across West Texas, WTC serves those with Medicaid, the uninsured, and those often overlooked, with funds from state general revenue, a variety of grants, and other governmental payer sources. We combine those resources to stretch every dollar for the benefit of our patients and their families," said Chief Executive Officer of West Texas Centers Shelley Smith. "With The Ryan Foundation joining us in our vision to reach people with mental illness and IDD, we are better able to provide services to those most in need in a more functional, productive, and contemporary work environment."
This investment in West Texas Centers allows the relocation of the facility and its services into a new, state-of-the-art building with more than 15,000 square feet along 4th Street, between Johnson Street and Nolan Street. The building will be developed by Caprock Holdings, LLC, a real estate development venture of G. Brint Ryan, which has been active with the reinvigoration of several businesses throughout Big Spring and beyond, creating economic development and growth opportunities for the county seat.
"West Texas Centers was running out of space to serve its patients and grow its team in Big Spring," said Chairman and CEO of Ryan and Big Spring native G. Brint Ryan. "Supporting this important healthcare institution with a larger and modernized facility to serve the community means eligible residents of Big Spring who struggle with mental health issues will have local access to the care they need."
According to Smith, the investment in West Texas Centers enables the organization to expand its outreach to veterans and people struggling with substance abuse issues in WTC counties.
"As a non-profit 501(c)(3) organization, virtually every dollar donated goes to the services for those in need, which is about 500 people with mental health needs and 65 with IDD issues in Big Spring every month," said Smith. "On behalf of my Board and my team, we can't begin to express the gratitude we have for The Ryan Foundation, Caprock Holdings, and people like Mr. Ryan who continue to care for those in their hometown. The Ryans' generosity and desire to help others with less will enable West Texas Centers to positively affect the lives of thousands and their families for years to come."
About West Texas Centers
West Texas Centers (WTC) is home to 15 mental health centers and 23 other community locations reaching rural populations across 23 counties in Texas. The organization supports and serves people with mental illness and intellectual and developmental disabilities, so they can begin on a road to wellness and lead more productive lives in their communities. In addition to serving those struggling with mental health issues and IDD, the Center operates an Early Childhood Intervention program, known as Little Lives ECI, for children ages 0–3 years old and their families. For more information, visit www.WTCMHMR.org or on Facebook at "WestTexasCenters." WTC proudly serves the people of Andrews, Borden, Crane, Dawson, Fisher, Gaines, Garza, Glasscock, Howard, Kent, Loving, Martin, Mitchell, Nolan, Reeves, Runnels, Scurry, Terrell, Terry, Upton, Ward, Winkler, and Yoakum counties.
About The Ryan Foundation
Formed in 2011 with a charter to help organizations that address health, poverty, and education, The Ryan Foundation supports key beneficiaries and other important community outreach organizations across the United States. Founded by Ryan, the world's largest firm dedicated exclusively to business tax services, The Ryan Foundation is based on one of Ryan's five values, "Generosity Matters—I share success with colleagues, clients, and the community."
About Ryan
Ryan, an award-winning global tax services and software provider, is the largest Firm in the world dedicated exclusively to business taxes. The Firm provides an integrated suite of federal, provincial, and international tax services on a multijurisdictional basis, including tax recovery, consulting, advocacy, compliance, and technology services. Ryan is a seven-time recipient of the International Service Excellence Award from the Customer Service Institute of America (CSIA) for its commitment to world-class client service. Empowered by the dynamic myRyan work environment, which is widely recognized as the most innovative in the tax services industry, Ryan's multidisciplinary team of more than 2,500 professionals and associates serves over 14,000 clients in more than 50 countries, including many of the world's most prominent Global 5000 companies. More information about Ryan can be found at ryan.com/canada. "Ryan" and "Firm" refer to the global organizational network and may refer to one or more of the member firms of Ryan International, each of which is a separate legal entity.
( Press Release Image: https://photos.webwire.com/prmedia/5/239436/239436-1.jpg )
Related Links
WebWireID239436

This news content was configured by WebWire editorial staff. Linking is permitted.
News Release Distribution and Press Release Distribution Services Provided by WebWire.