Half of 'sandwich generation' have under 35 minutes a day to themselves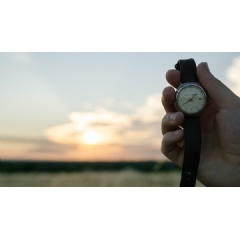 Research commissioned by Aviva shows almost four million UK adults are 'sandwiched' between a dependent child and an adult relative who requires care.
Almost half of those in the sandwich generation have four hours or less for themselves each week – less than 35 minutes a day.
Around one third of time-poor 'sandwich generation' adults feel that caring duties have negatively impacted their mental health and quality of life.
Aviva's Interim Chief People Officer says it's "crucial" that employers do more to support workers who are also carers.
Nearly two million UK adults have barely half an hour of free time a day, because of the dual challenges of caring for younger and older relatives.
A study by Aviva into the so-called 'sandwich generation' has found that the pressure of caring for a dependent child and another sick, disabled or elderly adult family member is having a major impact on wellbeing.
Almost half (47%) of people questioned said they have a maximum of four hours a week to themselves – equivalent to less than 35 minutes per day – while almost one in 10 (7%) said they have no free time whatsoever. Around two fifths of people questioned (42%) said they spend at least 10 hours a week caring for family members.
An ageing population and a shift towards becoming a parent later in life means that an ever-increasing number of people are sacrificing their wellbeing, their finances and their time to look after those around them.
The rising cost of living and difficulty getting on the housing ladder also means that children are often dependent on their parents for longer.
There are 3.4 million 20 to 34-year-olds in the UK who are still living with their parents – an increase of 25% over the last two decades, according to Office for National Statistics data.
The polling carried out by YouGov on behalf of Aviva also found:
Just two in five adults (38%) who provide care to both a child and an older relative are aware of the financial support that might be available to them.
Exactly half the people who identified as being part of the 'sandwich generation' said they had not earmarked savings specifically for the costs associated with caring.
The majority of people questioned (57%) had neither critical illness cover nor life insurance.
Aviva's  Interim Chief People Officer, Caroline Prendergast, said: 
"Millions of people are juggling careers and caring duties – often with responsibilities at both ends of the age spectrum. This can be physically, emotionally and financially exhausting and all too often has a serious impact on the carer's wellbeing. 
"It's estimated that three in five people will become a carer at some point in their lives, so this isn't something that can be ignored.
"If businesses are to retain talented, skilled people in work and look after their wellbeing, it's crucial they consider how they can support them. Otherwise, there is a real risk that, like one in five working carers, they may leave the workforce in order to provide care." 
Sarah Brennan, from Bristol, works as a Risk Manager for Aviva. She has been a single parent to her son since he was seven weeks old. He is now 18 but her mother is 85 and requires extra support.
She said: "Now my son is 18, he is largely independent, but my mum increasingly needs my help, so she has been living with us for the last four years.
"I love having them both around but there are times when there are demands coming from all sides. There aren't enough hours in the day and the pressures of two generations relying on you can take its toll.
"For me, flexibility at work isn't a choice or a luxury – it's essential. Without it, I'd probably have had to leave work to be there for my mum and son. So, I feel very fortunate that Aviva has taken steps to support people like me, in my situation"
Aviva has a range of schemes and benefits to help employees balance their work and their personal lives. These include:
Additional support to colleagues who are carers, such as flexible working options and a carers' network. Aviva's carer policy offers 35 hours' paid leave per holiday year for emergencies or planned medical appointments.
A "Mid-life-MOT" for employees aged 45 and over, which provides guidance on how to manage wealth, work and wellbeing at a crucial stage in life.
A global equal parental leave policy, giving any parent employed by Aviva the same amount of paid and unpaid time off when a new child arrives, regardless of gender, sexual orientation or how they became a parent (birth, adoption, surrogacy). In the UK, this means up to 12 months of leave, including six months at full pay.
------
All figures, unless otherwise stated, are from YouGov Plc.  Total sample size was 6,707 adults of which 534 (7.9%) identified as 'sandwich generation'. Applying this at an all-population level, there are 45,812,000 people in the UK aged 16-70, which means a total of 3,619,148 people in the 'sandwich generation' (7.9%). UK population figures based on ONS Mid-year estimates 2017.  YouGov fieldwork was undertaken between 1 - 6 March 2019.  The survey was carried out online.
Notes:
Aviva provides life insurance, general insurance, health insurance and asset management to 33 million customers.
In the UK we are the leading insurer serving one in every four households and have strong businesses in selected markets in Europe, Asia and Canada. Our shares are listed on the London Stock Exchange and we are a member of the FTSE100 index.  
Aviva's asset management business, Aviva Investors, provides asset management services to both Aviva and external clients, and currently manages over £331 billion in assets (as at 31 December 2018). Total group assets under management at the Aviva group are £470 billion (as at 31 December 2018).
Aviva helps people save for the future and manage the risks of everyday life; in 2017, we paid out 98% of all our claims across all our markets and insurance products. We paid £34.6 billion in benefits and claims in 2017.
By serving our customers well, we are building a business which is strong and sustainable, which our people are proud to work for, and which makes a positive contribution to society.
( Press Release Image: https://photos.webwire.com/prmedia/6/239410/239410-1.jpg )
Related Links
WebWireID239410

This news content was configured by WebWire editorial staff. Linking is permitted.
News Release Distribution and Press Release Distribution Services Provided by WebWire.