Automotive at the Edge: Intelligence to Build Self-Driving Cars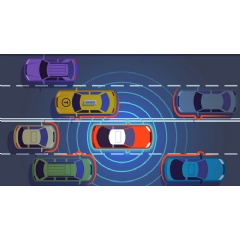 Innovators in the evolving automotive ecosystem converged at the recent Autotech Council meeting, hosted by Western Digital, to share their visions for a self-driving future. What their prototypes and solutions had in common was a shift toward processing at the edge and the use of artificial intelligence (AI) and machine learning to enable an autonomous future.
Read on to hear from automotive innovator Tensyr, who is using intelligence to build self-driving cars.
How do all the sensors, cameras, and other hardware on autonomous vehicles communicate to react to real-world driving conditions?
The glue that might hold all of these automotive pieces together is software. Automobile manufacturers are starting to incorporate software that enables autonomous driving. While some larger enterprises have the resources to develop self-driving vehicles in-house, other businesses have to get crafty to get by.
Suneil Mishra is one of them. As the leader of Strategic Marketing at Tensyr, he sees a gap from research and development to mass-market production of autonomous vehicles. Startups focused on AI, ML, and computer vision systems for these vehicles take different approaches. This variety makes creating a standard platform — similar to a vehicle assembly line — a challenge for automakers.
To combat this issue, Suneil and his team are working on a robust production framework for self-driving automobiles. At the core of this framework? The pillars of safety, efficiency, security, adaptability, and productivity. With these values in mind, Tensyr uses a software platform that helps builders of autonomous vehicles find the right mix of hardware.
Finding the Right Vehicle HardwareSuneil Mishra, Tensyr | Autotech Council 2018: https://www.youtube.com/watch?v=gqN3BFrphRA
For autonomous vehicles, different components from OEMs, suppliers, and other vendors present a design challenge. To make sense of these parts, Suneil and his team have integrated their development framework with a runtime engine. This system helps self-driving vehicles read and react to real-world road conditions safely and efficiently. With it, autonomous vehicles may soon start to ramp up production.
Rain, Snow, and Other Tough Driving Conditions
People don't always drive down the sunny roads of Arizona. That's why startups are developing their autonomous vehicles through rigorous road testing in Michigan, where rain, snow and sleet are everywhere. In the real world, self-driving vehicles need software to work in many different types of driving environments. This processing takes a high amount of computing power. Instead, Tensyr is hard at work developing an embedded system for autonomous vehicles that consumes less power without sacrificing processing capabilities.
Autonomous vehicles may be the mode of transportation for the future. But, to reach mass production of self-driving cars, it'll take a production framework that's safe, efficient, and reliable.
The Evolving Automotive Ecosystem
Tensyr believes a software platform is needed to bring together the ecosystem of new parts and suppliers in the autonomous evolution. There are literally thousands of problems to solve in the evolving automotive ecosystem! Find out more about changing automotive industry in Oded Sagee's recent blog, "An Industry Disrupted: The Changing Automotive Ecosystem" and video here:
Oded Sagee, Western Digital | Autotech Council 2018: https://www.youtube.com/watch?v=zmTnNFuzZ_Q
Learn More About Data in Automotive
· You can join us at the Autotech — Connected Cars and the Passenger Economy event on April 11, 2019, in Milpitas, California
· For a recap of the 2018 Autotech Council meeting hosted by Western Digital, read Garima Mathur's blog
· Find out how Edge Processing can actually save lives in this new report from Accenture and Western Digital, "How Edge Processing May Save Your Life, And You Wouldn't Even Know It"
· Download the Infographic
· Hear the latest trends from Automotive industry events
· Automotive Q&A with Martin Booth
( Press Release Image: https://photos.webwire.com/prmedia/7/238129/238129-1.png )
Related Links
WebWireID238129

This news content was configured by WebWire editorial staff. Linking is permitted.
News Release Distribution and Press Release Distribution Services Provided by WebWire.