Second-Place Finish for Roczen at Seattle Supercross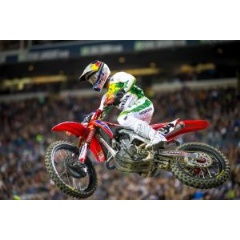 Credit: Honda
After posting top-five finishes at the first nine AMA Supercross rounds of the 2019 season, only to slip to a pair of eighth-place results at the last two races, Ken Roczen was pleased to turn in a solid second-place showing in Seattle. The Team Honda HRC rider started well and soon advanced to second behind Marvin Musquin, eventually finishing with a deficit of just 2.3 seconds. Along the way, Musquin jumped a series of jumps under a waving red-cross flag, and although he was subsequently docked seven points for the infraction, rules stipulated that he keep the win, leaving Roczen the still-inspired runner-up.
Cole Seely enjoyed a strong start and ran at the leaders' pace for the first part of the race, then slipped back as he began to tire. In the end, he finished ninth.
NOTES
On Friday, Team Honda HRC's Ken Roczen and Cole Seely both participated in Press Day, when they put in a couple of sessions on an abbreviated version of the track and did interviews with the attending media members.
Following Press Day, Roczen and Seely braved rush-hour traffic to join GEICO Honda's RJ Hampshire and Cameron McAdoo for an appearance at Lakewood dealership South Bound Honda, where they were greeted by a huge group of enthusiastic fans. The shop went the extra mile, creating replica CRF450R and CRF250R team bikes to display each rider, and even raffling off a Roczen-replica CRF50F.
While CenturyLink Field is an open stadium, the pits there are actually located indoors, and since regulations prohibit bikes from being started in the closed space, the mechanics did a fair amount of pushing bikes back and forth through the course of the day.
Seattle is known for its frequent precipitation, and gloomy weather forecasts had many worried about a repeat of last year's muddy event. In the end however, conditions were cool but dry.
The Seattle track's dirt contained a large quantity of rocks this year, prompting Team Honda HRC to install plastic Cycra handguards on the CRF450R race bikes of Roczen and Seely.
Roczen posted the fastest time during the daytime program's first timed qualifying session, a 46.489", while Seely was ninth at 47.379". They slipped three and one spots, respectively, in the second session, with 45.803" and 46.415" times.
Roczen and Seely were both slotted in the first 450SX heat race, and Roczen rode great, starting in second place before passing the leader early on and riding to an impressive victory (the quicker of the two heat-race wins). Seely ran fifth in the early going but climbed a spot to finish fourth.
The Seattle round represented a return to the 250SX West Region following a stint in the East, which meant RJ Hampshire and Cameron McAdoo took the baton from GEICO Honda teammate Chase Sexton. Unfortunately, the duo had a wild ride in the main event, inadvertently making contact with one another on the start straight and again in the first turn before both went down, leaving them with ground to make up. Hampshire advanced as high as the top five but ended up sixth, while McAdoo made it up to eighth.
Much of the talk in the Seattle pits centered around the long, deep section of whoops, which were a challenge to complete without making a mistake or losing momentum. "I didn't think much of them at first," Roczen said. "Then when I hit them on my first lap I got squirrely and almost went down. They were on the gnarly side. I kind of saved myself in practice—hit them as many times as I had to to get down a good lap, and then I just went around them or rolled through them or jumped them. I skimmed them for over half of the main event, and that's where I kind of gained a little bit on Marvin. Then I almost threw it away one time, and from there I started jumping because I had a little room behind me. Overall, I thought the track was pretty cool."
Once again, Honda had more bikes than any of the six manufacturers in the 450SX main event, with seven CRF450R race machines (31.8%). In addition to the two Team Honda HRC racers, other qualifying Red Riders included MotoConcepts' Mike Alessi and Justin Brayton, TPJ's Ben Lamay and Austin Politelli, and BWR's Carlen Gardner.
Brayton was involved in a dramatic, lap-one, multi-rider incident that saw him tumbling through the air without his bike before landing hard, leaving him with an injured left knee.
With winner Musquin being docked seven points for jumping during a red-cross flag, Roczen's situation in the title chase improved, but only slightly since he still only received second-place points. He still sits fourth in the standings, but he's now four points behind third-place Eli Tomac instead of six, and 23 behind leader Cooper Webb instead of 27. Meanwhile, Seely advanced one position, to 10th.
March 30 will mark the 13th straight week of racing for AMA Supercross, with Houston playing host, and Team Honda HRC will be visiting Katy, Texas, dealership Wild West Motoplex the night before the race, beginning at 6 p.m.
QUOTES
Ken Roczen
"Today was a lot better for me. I'm still not 100% with whatever is going on with my body, but the feeling that I had on the bike was good all day. It was the same for the races—I just tried to go out there and have fun, and I rode really well. I had a good heat race with the win and then got a good start in the main. The track was super technical, especially with the whoops, which were very tough. I had a good battle with Marvin [Musquin] for a second. He jumped on the red-cross flag, which opened up the gap for a bit, but overall, going from where we were the last two weekends and not feeling great to racing like we did today and feeling a lot better, it was a huge step in the right direction. I think we're all pretty happy with how it ended up this weekend; it's a big monkey off our back!"
Cole Seely
"I finally put myself in a good position to run up front this weekend. Honestly, I'm not in the best shape right now and the training I didn't get to do last year because of my injury is really catching up with me. I lost a lot with cardio and strength and I'm feeling the impact of that now. I'm doing what I can during the week but it's hard to build strength and build endurance during the season and not feel too flat on the weekends. Of course, I'm doing my best; I've had some speed and finally got to show that. It's a hard pill to swallow fading that far back, but at the same time, it's the position that I'm in right now. I've never had a year like this where I'm building throughout the entire season. It's hard and it's different, but we're going to keep pushing and keep fighting."
Erik Kehoe: Team Manager
"This was a much better weekend. Kenny's feeling better, and in the end there were a lot of positives to take away from the race; one of those is that the starts were better for both guys. For Kenny, I think it helped his confidence, and I think he's feeling a lot better after tonight; he feels like he's back where he needs to be. Cole showed speed early on and just needs to keep working on that—on his confidence and believing that he deserves to be up front at the end of the race."
Oscar Wirdeman: Mechanic (Ken Roczen)
"This weekend was a big step forward for us. Practice was good with Kenny going fastest in the first session. They changed the track a little for the second practice and it was faster, but he didn't improve his time so we qualified fourth overall, which is still good for us. The heat race was super solid; Kenny was going good in the whoops and felt great. Of course, we were still worried going into the main because that's always the hard part. His jump wasn't that good, but he made some great passes early on—then there was the crash. Kenny followed the rules and Marvin jumped, so he probably lost three or four seconds, which opened up the gap. Kenny was still blitzing the whoops and able to catch up a bit, but after a few laps he had to start jumping and Marvin was able to open the gap back up; they were yo-yoing, but Marvin was just a little bit stronger. In the end, Kenny closed the distance some and it was a great result for us. We lost by two seconds, and I guess it was kind of bittersweet, because Marvin lost some points and we almost had the win. Even if that incident didn't happen and we still finished where we were, it would've been a super-solid night. It was probably one of the best weekends this year, actually; we didn't change anything on the bike all day. Obviously Kenny is still fatigued, but he crushed it."
Jordan Troxell: Mechanic (Cole Seely)
"The day was okay. Practice was pretty standard for Cole; he struggled with a couple of things, but we'd made some progress with the bike and himself throughout the week. It was good to battle with some guys in the heat race, and then for the main event I think he got one of the better starts he's had in a while. He was able to kind of run with Kenny and match the leaders' pace for about the first half of the race, but then struggled a little after that. On paper, the overall result is not the greatest, but unfortunately, that's kind of how the rest of the season has gone. What it doesn't show is the first half of the race, where he was actually up there and running the pace. We've just got to find the positive and start to build a little confidence off of that, and of course we'll try to make it last a little bit longer next weekend."
Press contact:
Mandie Fonteyn // Jonnum Media // mandie@jonnummedia.com // +1 (951) 537-0454
450SX Results
Marvin Musquin
Ken Roczen
Eli Tomac
Cooper Webb
Joey Savatgy
Dean Wilson
Blake Baggett
Zach Osborne
Cole Seely
Tyler Bowers
450SX Championship Points (after 12 of 17 rounds)
Cooper Webb 262
Marvin Musquin 248
Eli Tomac 243
Ken Roczen 239
Blake Baggett 200
Dean Wilson 180
Joey Savatgy  159
Chad Reed 151
Justin Brayton 144
Cole Seely 142
( Press Release Image: https://photos.webwire.com/prmedia/5/238119/238119-1.jpg )
Related Links
WebWireID238119

This news content was configured by WebWire editorial staff. Linking is permitted.
News Release Distribution and Press Release Distribution Services Provided by WebWire.