Christie's to Offer The Robert B. and Beatrice C. Mayer Family Collection
New York  –
WEBWIRE
–
Monday, March 25, 2019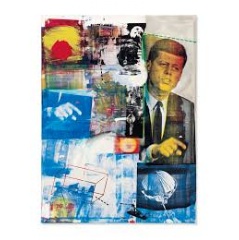 ON VIEW IN HONG KONG FROM 27-31 MARCH
Christie's is honored to have been entrusted with The Robert B. and Beatrice C. Mayer Family Collection, a monumental selection that ranges from icons of Pop Art to Impressionist and Modern Art and Chinese Ceramics. The collection will be offered across several auctions commencing with Christie's 20th Century Week this Spring and will include a dedicated selection of 11 lots which will lead directly into the Post-War and Contemporary Art Evening Sale. Highlights will also be sold in the Evening Sale of Impressionist and Modern Art on May 13th. The collection will be represented by 43 lots in the month of May at Christie's New York. Combined, this grouping is expected to exceed $125 million. Further lots will be offered over the course of 2019, and additional information will be made available closer to the sale dates.
The Robert B. and Beatrice C. Mayer Family Collectionrepresents a remarkable moment in the history of twentieth-century art. Acquired with uninterrupted enthusiasm across a quarter century, the Collection is renowned not only for its masterpieces, but also for the mastery with which it was realized—a pioneering pursuit of the new that positioned Robert B. Mayer and his wife, Beatrice 'Buddy' Cummings Mayer, as watershed figures in the evolution of Contemporary art. "I collect because I believe that I am building for posterity…." Mr. Mayer declared. "I collect because I believe it adds dimension and perspective to my way of life…. I collect for the thrill of discovery."
Sara Friedlander, International Director, Head of Department, Post-War and Contemporary Art, New York,remarked: "The Robert B. and Beatrice C. Mayer Family Collection is an extraordinary feat within the realm of American collecting. With true integrity of purpose, Robert and Buddy Mayer created a lasting legacy in fine art: in their patronage of emerging artists, they helped secure the success of some of the twentieth century's most important figures; in seeking to share their collection with others, they inspired successive generations to think, act, and give with creativity and resolve. Their collection is comprised of works that exemplify their extraordinary taste, and their keen desire to embrace and facilitate change, both in the art world, and within the socio-economic climate of their community in Chicago. No work characterizes this sentiment better than the collection's top lot, Rauschenberg's extraordinary Buffalo II. Completed and acquired shortly after the assassination of John F. Kennedy, this work is a remarkable representation of Post-War America, a moment in which the country was rapidly evolving and the work that was being produced challenged every preconceived notion of fine art. The radical nature of this painting is what the Mayers looked for in each work that they acquired, and this quality is self-evident throughout their collection."
After graduating from the University of Chicago in 1941, Mayer took up work at his uncle Maurice Rothschild's Chicago department store, where he was tasked with sweeping the floors. Ambitious and with a natural gift for sales, he was soon appointed to the men's haberdashery department. In the years that followed, Mayer swiftly rose through the ranks of Maurice L. Rothschild & Co., and was eventually named president of the firm in 1957.
In 1942, Robert B. Mayer was enlisted in the U.S. Army. Mayer's time in the Second World War was punctuated by a remarkable exploration of European art and artists. In Europe, Mayer found solace from the ongoing conflict by acquiring examples of art from across the ages, including works that he purchased directly from Pablo Picasso and Henri Matisse while on leave in the south of France.
The collector's return to America heralded the beginning of another great life journey, as a blind date with the Montreal-born Beatrice 'Buddy' Cummings led to a devoted partnership of nearly thirty years. Buddy Cummings was the daughter of the pioneering food entrepreneur Nathan Cummings, who transformed a small bankrupt grocery firm into the tremendously successful food corporation—later known as the Sara Lee Corporation. Educated at the University of North Carolina at Chapel Hill, Buddy Mayer was a practical, straightforward woman with a sharp wit and a dedication to family. During the Second World War, she volunteered with the Red Cross Home Service Program and tended to the families of service members in some of Chicago's poorest neighborhoods. Throughout her life, Buddy Mayer's spirited drive would earn her a reputation as a woman committed to empowerment.
Like many collectors of the era, the Mayers initially focused on acquiring classic Impressionist and European Modernist works. By the late 1950s, Robert B. and Buddy Mayer had assembled a robust selection of European painting and sculpture, Chinese ceramics, and African and Oceanic figures. Yet, as Mrs. Mayer later noted, "By the early 1960s, Impressionism had outpaced our pocketbooks," prompting the couple to look toward the art of the present day. As active, engaged members of their community, the Mayers foresaw vast changes occurring in art, particularly in the United States. What followed in 1960 was the Mayers' first substantive acquisition of Contemporary art: Larry Rivers' The Last Civil War Veteran, 1959-1960 ($300,000-500,000), a painting merging Abstract Expressionism and the nascent Pop movement within a uniquely American tableau. Within a few years, The Mayers would establish themselves among the earliest proponents of Pop art.
The couple were keenly attuned to the era's turbulent political and social landscape, and actively sought out opportunities to make a difference. Buddy Mayer traveled from Chicago to Mississippi in support of the Civil Rights Movement, sleeping in the home of a local agricultural worker and tutoring children on African-American art and artists. In 1965, her husband purchased Robert Indiana's The Confederacy: Mississippi at an auction to benefit the Coalition for Racial Equality.
As the Mayers expanded their collection, they began to recognize the effects of their efforts. The Collection, Marla Hand observed, "elevated contemporary art in Chicago at a time when the city's exposure to current trends was limited." In 1964, Robert B. Mayer, alongside prominent local collectors including Lewis Manilow, Randall Shapiro and Edwin Bergman, met to consider how to better present contemporary art in the city. Three years later, the fledgling Museum of Contemporary Art Chicago opened, housed in a single-story space formerly occupied by a bakery and the photography studios of Playboy magazine. As a founding trustee and treasurer of the board, Mr. Mayer was a leading force in the success of the MCA in its formative years.
Following the passing of her visionary husband in 1974, Buddy Mayer also became an MCA trustee; in the decades that followed, she focused her energies on accessibility and educational programming. Today, the Robert B. and Beatrice C. Mayer Education Center is home to the MCA's world-class arts education initiatives. "Disadvantaged children have the right to exposure to culture and visual arts and a world beyond their immediate world," Mrs. Mayer affirmed. As she grew older, Buddy Mayer grew even more resolved to provide individuals of all abilities and ages with the opportunity to lead vibrant lives, ultimately becoming one of Chicago's leading proponents for accessibility.
Leading the collection is Robert Rauschenberg's Buffalo II, 1964 (In the region of $50 million). One of the largest of Robert Rauschenberg's iconic Silkscreen Paintings, Buffalo II is a blockbuster painting, which unites the worlds of art and politics. At over eight-feet-tall this imposing canvas is filled with an ostensibly incongruent range of images ranging from the iconic to the mundane. Dominated by a large photograph of the then Senator John F. Kennedy, Rauschenberg assembles an eclectic range of motifs that, for him, define America; famous politicians, the space race, the military, iconic consumer products and patriotic symbols of America are interspersed with more innocuous images of the urban landscape and more personal objects. A pioneer of the silkscreen technique (along with Andy Warhol who had begun using the technique just a couple of months earlier), Rauschenberg appropriates images he collected from newspapers and magazines—along with his own photographs—to produce a portrait of a country during the social and political upheaval of the 1960s.
Yet this painting is much more than an historical snapshot of the 60s, it also marks a pivotal point in Rauschenberg's development as an artist and bears witness to his own investigations in what it means to be an artist. By bringing together pre-existing images from popular culture with an array of drips and painterly gestures, Buffalo II also acts as a bridge between the now declining dominance of Abstract Expressionism and the new burgeoning world of Pop. Many smaller examples of the artist's Silkscreen Paintings are included in major museum collections, making this one of the last major examples to remain in private hands. Exhibited at the XXXII Venice Biennale in 1964, Buffalo II was part of group exhibition of young American painters for which Rauschenberg was awarded the coveted International Grand Prize in Painting.   
Painted by one of the foremost figures of American Pop Art, Kiss III, 1962 (in the region of $30 million) is a pivotal work from one of Roy Lichtenstein's most lauded bodies of work. Painted the same year as the artist's inaugural solo exhibition at the legendary Leo Castelli Gallery in New York, works such as this began pulling from the pages of comic books and enlarging the sampled imagery with meticulous detail. While effectively reproducing extant imagery, Lichtenstein was clear that his works should be viewed for their formal qualities rather than their enticing subject matter. Clearly depicted with bold black outlines, on the surface Kiss III depicts a man and woman sharing a close embrace. Both figures have their eyes closed as the man's large hand presses down on the woman's shoulder. Their lips are planted in a passionate kiss that is echoed in the energetic shapes making up the explosive background. In 1961, Lichtenstein broke with his earlier practice and began to reproduce the visual qualities of printed ephemera. Among his subjects were works based on advertisements and comics that featured war stories and romantic themes (of which Kiss III is a prime example). "At that time," Lichtenstein later recounted, "I was interested in anything I could use as a subject that was emotionally strong – usually love, war, or something that was highly charged and emotional subject matter to be opposite to the removed and deliberate painting techniques.
 Andy Warhol's Liz, 1963 (in the region of $20 million) is an iconic tribute to one of the major silver-screen goddesses in the artist's Pop pantheon. Painted at the height of Elizabeth Taylor's fame, Liz is a unique painting from a group of thirteen colorful portraits of the actress that Warhol executed in the fall of 1963. In this cerulean blue portrait, Warhol immortalizes the actress as an embodiment of the cult of celebrity. Closely related to the candy-colored Marilyn paintings that he executed in the previous year, Liz shows Warhol's genius for color in full force. The brilliant blue background offsets Taylor's luminous skin, as well as her trademark scarlet lips and violet eyes, magnifying the most characteristic features of her celebrated beauty. Although Warhol employed the mass-media technique of screen printing, he brought a high level of personal involvement to the Liz series, carefully embellishing her skin, eyes and make-up with hand-applied paint.
About Christie's
Christie's, the world's leading art business, had global auction, private and digital sales in 2018 that totalled £5.3 billion / $7 billion. Christie's is a name and place that speaks of extraordinary art, unparalleled service and international expertise. Christie's offers around 350 auctions annually in over 80 categories, including all areas of fine and decorative arts, jewellery, photographs, collectibles, wine, and more. Prices range from $200 to over $100 million. Christie's also has a long and successful history conducting private sales for its clients in all categories, with emphasis on Post-War & Contemporary, Impressionist & Modern, Old Masters and Jewellery.
Alongside regular sales online, Christie's has a global presence in 46 countries, with 10 salerooms around the world including in London, New York, Paris, Geneva, Milan, Amsterdam, Dubai, Zürich, Hong Kong, and Shanghai.
*Please note when quoting estimates above that other fees will apply in addition to the hammer price - see Section D of the Conditions of Sale at the back of the sale catalogue.
*Estimates do not include buyer's premium. Sales totals are hammer price plus buyer's premium and are reported net of applicable fees.
( Press Release Image: https://photos.webwire.com/prmedia/6/238086/238086-1.jpg )
Related Links
WebWireID238086

This news content was configured by WebWire editorial staff. Linking is permitted.
News Release Distribution and Press Release Distribution Services Provided by WebWire.