Allianz People Fact Book 2018 A Lesson in Learning
With Artificial Intelligence, Big Data and other technological developments transforming the business landscape, how is Allianz preparing its workforce for emerging skill needs? Allianz People Fact Book 2018 provides some answers…
Munich –
WEBWIRE
–
Tuesday, March 19, 2019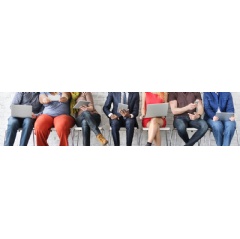 "It is not the most intellectual of the species that survives; it is not the strongest that survives; but the species that survives is the one that is able best to adapt and adjust to the changing environment in which it finds itself."
This simple truth from Charles Darwin's epochal book 'Origin of Species' is not just for living beings. The survival and growth of companies too depends on their ability to adapt to changing needs – especially when it comes to the skills of their workforce.
According to the World Economic Forum's Future of Jobs report, 'ubiquitous high-speed mobile internet; Artificial Intelligence (AI); widespread adoption of Big Data analytics; and cloud technology' will drive business growth between 2018 and 2022. Against this backdrop, proficiency in newer technologies as well as analytical and critical thinking, creativity, innovation and comfort with different working styles are skills that will gain more importance.
Mindful of the needs of the Fourth Industrial Revolution, Allianz has set the ball rolling with several initiatives.
What are these initiatives? How is Allianz preparing its workforce for the future? The Allianz People Fact Book 2018 gives a snapshot...
Changing face of business
Love it or hate it, you cannot stop digitalization.
"It's more than a process, rather a phenomenon changing the way we live and work," says Allianz Chief Human Resources Officer Aylin Somersan-Coqui. "Taking a time horizon of four-five years, we have been working to identify the skill gaps that could emerge in the near future."
Last year, three large entities of the group developed estimates of their 2022 workforce needs. This year, they will begin implementing various elements of their plans for upskilling and recruiting. More entities will follow in the next couple of years as strategic processes and tools are deployed into the human resources teams across the group.
A central 'digital skills library' captures the new skills needed for each 'talent segment', which is a set of roles, across the group. Learning solutions relevant to position are then deployed to employees. Plus, 12 learning journeys are offered via Allianz's LinkedIn Learning platform for enhancing group-wide digital skills.
Many dimensions
Digitalization – the simple word doesn't quite capture the multitude of topics it covers. From hard technical topics such as AI, machine learning, Big Data, analytics and Internet of Things (IoT), FinTech, Blockchain, robotics, enterprise and IT architecture to methodologies like design thinking and agile and even collaboration and entrepreneurship mindset, diverse topics fall under the digitalization umbrella.  
Understandably, you need a multi-pronged approach to engage each and every employee in the process. "To encourage self-learning, we rolled out LinkedIn Learning across the group in January last year. As many as 44 percent of the courses on the platform cover digital upskilling," Somersan-Coqui adds.
Allianzers embraced the opportunity – more than 40,000 employees signed up and a whopping 1.7 million learning videos were watched in 2018. More importantly, 60 percent of the programs completed on LinkedIn Learning were related to the company's future skill requirements.
On a more localized level, Allianz has several in-house functional academies incorporating digital trends into their training programs.
Allianz Operations & IT Academy offers 32 development programs on strategic initiatives such as digitalization and transformation as well as functional trainings on topics including business analysis and transformation, information security and robotic process automation. Several soft skills trainings cover the art of collaboration and communication.
Last year, 122 bronze and 12 silver certifications were awarded by the academy.
The programs attracted as many as 13,500 virtual learners in 2018. The academy is targeting 25 percent more participants this year, with 25 percent more courses and 10 new development programs.
Allianz P&C and Health academies integrate the various aspects of technological trends into their courses on underwriting, claims and risks, among others. The P&C Academy recently launched a data and analytics training for employees of some entities. In addition to teaching the basics of modern analytical techniques, the 14 eLearning courses also detail how Allianz uses these tools to improve customer service and make better business decisions.
This is just the tip of the iceberg.
Four digital sessions annually, a number of workshops, 'Learning Days', and offline and online trainings are under way across the group to help employees take the next step on the skills ladder.
Learning across levels
Traditionally, new skills were seen as something that only junior professionals needed to acquire.
Those days are behind us.
Intern or manager, senior or junior, CXO or consultant, professionals across the board have to be constant learners not just to keep their thinking cells fit but also to navigate the fast-changing landscape effectively.
Last year, Allianz's Leadership Academy offered the Allianz Leadership Development program (ALDP), the Allianz Management Program (AMP), Strategy Campus' and functional development programs to over 300 senior professionals.
The 'IT Literacy for Top Executives' program is aimed at helping top executives internalize the idea that business and IT are now two sides of the same coin. How can technology and AI unlock business value? How can you best manage IT projects using new methodologies? How can you put strong data security systems in place? These and many other questions on the integration of IT into business are answered through this program.
"We will need all hands on deck to help drive Allianz's biggest transformation in history into a digital, data-driven insurer," says Allianz Chief Operating Officer Christof Mascher. "Building a global skill set among our employees is essential to our digital transformation. As the borders between functional areas are disappearing all our people need to be IT-literate and prepared."
To complement in-house programs, Allianz has partnered with universities and other expert agencies to train employees in best practices. Among these are tie-ups with Berlin-based European School of Management and Technology, and a reputed media group to train high-potential employees.
Allianz People Fact Book 2018 – the highlights: https://www.youtube.com/watch?v=_h0g9JCMCoM
Forward march
Globally, the Allianz group has over 142,000 employees, with Germany, France, America, England, Italy, Australia, India, Spain, Austria and Brazil having the largest headcount, according to the latest Fact Book.  
Validating the growth mindset at Allianz, employees have embraced the opportunities to learn. Last year, about 70 percent of employees had three full days of training. In total, Allianz spent 646 euros per employee on trainings.
In the 2018 Dow Jones Sustainability Index, the company remains the benchmark organization in the Human Capital Development category with a rating of 100 percent for the second straight year.
Fit for the future, fit for growth. 
The Allianz People Fact Book 2018 is the official and most comprehensive report on the Allianz workforce.
About Allianz
The Allianz Group is one of the world's leading insurers and asset managers with more than 92 million retail and corporate customers. Allianz customers benefit from a broad range of personal and corporate insurance services, ranging from property, life and health insurance to assistance services to credit insurance and global business insurance. Allianz is one of the world's largest investors, managing around 673 billion euros on behalf of its insurance customers. Furthermore our asset managers PIMCO and Allianz Global Investors manage more than 1.4 trillion euros of third-party assets. Thanks to our systematic integration of ecological and social criteria in our business processes and investment decisions, we hold the leading position for insurers in the Dow Jones Sustainability Index. In 2018, over 142,000 employees in more than 70 countries achieved total revenues of 131 billion euros and an operating profit of 11.5 billion euros for the group.
These assessments are, as always, subject to the disclaimer provided below.
Cautionary note regarding forward-looking statements
As with all content published on this site, these statements are subject to our cautionary note regarding forward-looking statements: 
Disclaimer 
Cautionary note regarding forward-looking statements
This document includes forward-looking statements, such as prospects or expectations, that are based on management's current views and assumptions and subject to known and unknown risks and uncertainties. Actual results, performance figures, or events may differ significantly from those expressed or implied in such forward-looking statements. Deviations may arise due to changes in factors including, but not limited to, the following: (i) the general economic and competitive situation in the Allianz Group's core business and core markets, (ii) the performance of financial markets (in particular market volatility, liquidity, and credit events), (iii) the frequency and severity of insured loss events, including those resulting from natural catastrophes, and the development of loss expenses, (iv) mortality and morbidity levels and trends, (v) persistency levels, (vi) particularly in the banking business, the extent of credit defaults, (vii) interest rate levels, (viii) currency exchange rates, most notably the EUR/USD exchange rate, (ix) changes in laws and regulations, including tax regulations, (x) the impact of acquisitions including and related integration issues and reorganization measures, and (xi) the general competitive conditions that, in each individual case, apply at a local, regional, national, and/or global level. Many of these changes can be exacerbated by terrorist activities.
No duty to update
The Allianz Group assumes no obligation to update any information or forward-looking statement contained herein, save for any information we are required to disclose by law. 
Privacy note
Allianz SE is committed to protecting your personal data. Find out more in our Privacy Statement.
Further information
( Press Release Image: https://photos.webwire.com/prmedia/7/237693/237693-1.jpg )
Related Links
WebWireID237693

This news content was configured by WebWire editorial staff. Linking is permitted.
News Release Distribution and Press Release Distribution Services Provided by WebWire.