A Brief History of Nike Air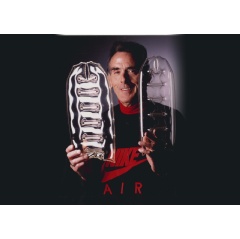 Marion Franklin Rudy -Credit: Nike, Inc.-
"40+ years 500+ utility asset patents Approximately 7000,000 combined-square-feet of dedicated U.S. manufacturing"
Air in the Seventies
Born in Ohio in 1925, Marion Franklin Rudy was an aerospace engineer, and left his career in the late '60s to pursue creative solutions for other industries. Among his more audacious ideas: placing tiny air bags in the soles of athletic shoes to soften impact. He pitched his air-bag innovation to 23 shoe companies; all rejected him. Then, in 1977, he presented his vision to Phil Knight. The Nike co-founder took an air-cushioned prototype for a test run around the Beaverton campus, and returned to his office intrigued — Rudy's shoe had an unprecedentedly smooth ride. Nike had found Air.
Air, of course, is rooted in running. The first shoe to feature Air cushioning was 1978's Tailwind, a running shoe. Before the concept of creating hype was even a thing, the Nike marketing staff decided to release a limited number of Tailwind shoes prior to a broader launch. Shoemakers at Nike's first R&D lab in Exeter, New Hampshire, cranked out 250 pairs of the highly technical shoe, which were sent to six Hawaiian running stores for the Honolulu Marathon. The shoes sold out within 24 hours, despite an unprecedented $50 retail price.
It wasn't just hype that kept Air on runners' feet. Also in 1978, researchers at the University of Tennessee in Knoxville asked 10 runners to run on a treadmill in the Tailwind. They found that the athletes used less energy running in the Air shoes than running in conventional running shoes.
Runners and science had validated Air. What was left in the mid-'80s was to capture the attention of even more joggers. That's when design, coupled with ample audacity, came in.  
Air in the Eighties
Nike had risen to the pinnacle of sports design during the '70s with a straightforward, utilitarian approach to product — all-purpose and high-performance shoes that had never been made before. At some point in the '80s, that sort of plateaued. People were looking for something different, not just in what Nike was doing, but all around the world.
Music was changing. Disco had gone away. I'm not even going to describe how it was shifting, because I had three little daughters at the time, and I wasn't listening to much music. But I knew some weird stuff was going on. 
The same thing was happening in art and design. The mid-'80s was a period of transition from a more formalized hierarchy to a looser, street-based, more inspirational form. We at Nike were part of that wave, and I just happened to be a designer doing it from a footwear perspective when nobody else was.
It was a happy accident that the transition was happening just as Nike was losing a little mojo. There was a bigger appetite for trying something new and different, and that was squarely connected to the creative sparks all around us. 
Those creative sparks led to visible Air and other innovations, set the stage for 30 years of reinvention of Nike's most ubiquitous cushioning platform and, perhaps most importantly, truly connected sport engineering and design culture for the first time. 
Air in the Nineties
Big windows. Forefoot Air. Full-length Air! Tuned Air. These were some of the astounding changes to both the make and aesthetic that put the Max in Air during the '90s, and its evolution mirrored the tenor of the decade.
The era had a new soundtrack. Hip-hop was expanding, Brit-pop dominated the charts and new iterations of dance music were speeding up BPMs and helping to welcome sportswear into raves around Europe. 
Streetwear was born — or at least hit stride — in the '90s convergence of sport and culture. The audacious look of Air Max models, from the 90 to the Air Max Plus, helped lead a transformation in dress, each shoe equally big, bold and colorful.
New technologies were also changing the way people interacted. The World Wide Web became a reality in 1991, and by the time the iMac hit in 1998, the emergent platforms (including an inventive, digitized auction service in 1995) shifted how people created communities and bought and sold goods. This digital revolution helped sneaker collecting transition from a word-of-mouth niche lifestyle to a global phenomenon. 
Air Today
While its history is rich, Air's story is never about then. Longstanding borderline-cultish crushes on specific models mean Air, in almost every iteration, is about the now. And the continual reinvention and imaginative spirit behind it means that the platform is never far from what's next.
Creating the Nike Air Max requires cooperation, camaraderie — an esprit de corps. 
The process begins with Air Manufacturing Innovation. The folks there get to imagine possibilities — the forms, feels and structures of Air — and spark inspiration for future design. Their engineering breakthroughs allow other teams to unlock the keys to a softer, bouncier, more flexible ride.
This launches a cascade of creativity, involving all facets of Nike's design organization — color, concept, digital, footwear, graphic, material, print, pattern and several more disciplines — to drive innovation for Air Max shoes, such as the new Air Max 720. Tapping ingenuity from every discipline, and ensuring those ideas gel together, is essential for an ideal final product, says Courtney Dailey, Nike VP of Color Design. "For example, color needs to strike a balance between amplifying the tech and making its own statement."
The synergistic approach and unrivaled teamwork allow Nike to push new paradigms again and again. For Air, it means fresh shapes, news sensations and a continuously bold future.
Most simply, Air is always at the vanguard — a defining element of the zeitgeist from '87 to infinity.   
( Press Release Image: https://photos.webwire.com/prmedia/5/237627/237627-1.jpg )
Related Links
WebWireID237627

This news content was configured by WebWire editorial staff. Linking is permitted.
News Release Distribution and Press Release Distribution Services Provided by WebWire.