Carlos Torres Vila: "BBVA Works to Help Build a More Inclusive and Sustainable Society"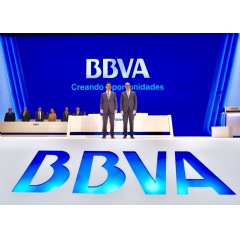 Carlos Torres Vila and Onur Genç, at the 2019 BBVA Annual General Meeting in Bilbao. -Credit: BBVA-
Carlos Torres Vila delivered his first speech as Group executive chairman at BBVA's Annual General Meeting, held today. Speaking at the Euskalduna Palace in Bilbao, he shared his vision of BBVA's role in the new global context.  "BBVA works to help build a more inclusive and sustainable society" and "to help its clients achieve their goals in life and in business". All this, thanks to the commitment of our employees, "whose work allows us to continue to grow in results and deliver sustainable, industry-leading profitability."
BBVA's Group executive chairman began his speech sharing his vision on "the future of banking and the challenges we face, and how this interpretation is reflected in our strategy."  These challenges are both environmental – such as the fight against climate change – and also social in nature – "achieving inclusive economic growth."
In this context, what is banking's role? According to Carlos Torres Vila, "the future of banking lies in financing the future." In his opinion, this is a "responsibility that new generations are demanding every day: to act really thinking about the future that we want to leave for our children." According to the chairman, "Today, more than ever, banks must be organizations abiding by a purpose and strong values."  For BBVA, this purpose is very clear:'To bring the age of opportunity to everyone.'
"At BBVA we want to define the new way of banking that the communities we serve are calling for and need. We aspire to be the link between society and the future, to connect communities to the opportunities," he said. "BBVA creates opportunities not only for its customers, but also for its employees, its shareholders, and for society as a whole," he explained.
In his view, we need more inclusive societies, capable of using natural resources in a sustainable way. "At BBVA we want to be drivers of change," he added.  For this reason, in 2018, the bank helped promote the Principles for Responsible Banking under the auspices of the United Nations and unveiled its Pledge 2025: to mobilize €100 billion to fight climate change and contribute to sustainable development.
Carlos Torres Vila also stressed how BBVA's initiatives —including the OpenMind community, the BBVA Open Talent fintech competition and BBVA's financial education programs— help create wealth through knowledge. The Group's chairman also underlined the remarkable contributions the BBVA Foundation and the BBVA Microfinance Foundation have made to society.
Second, he referred to the customers. "Thanks to technology, we can help our customers make the best decisions regarding their money." The result is a user-friendly value proposition, as customers can access services anytime, anywhere and any way they choose.
In this regard, "In 2018 we reached a pivotal milestone: to surpass the threshold of 50 percent of digital customers." These customers interact more often with the bank, and are more satisfied and engaged. In 2019, the bank expects to have half of its customers banking via mobile. In his opinion, "more evidence that we are on the right path" is that both BBVA Spain and Turkey's mobile banking applications were ranked as the best in the world, according to the consulting firm, Forrester Research.
Third, he devoted a few words to the bank's employees. Carlos Torres Vila praised the commitment of the more than 125,000 individuals who work at BBVA. "A diverse group, with 54 percent women. The goal is to increase diversity even more – not just for gender in all organizational levels, but also in terms of place of origin, education and generation because diversity is a valuable asset."  BBVA employees "have embraced the new ways of working," according to the chairman. Indeed, the bank is leading the implementation of the agile methodology in the financial sector, and some 30,000 of its employees are already applying its principles in their work. Regarding the bank's employees, he also noted their values: 1) the customer comes first; 2) we think big; and 3) we are one team.
Fourth, the BBVA Group executive chairman underscored BBVA's ability "to fulfill our purpose, delivering sustainable returns to our shareholders," despite the complex environment. In 2018, the Group's attributable profit grew by 51 percent yoy, driven by recurring revenues and cost containment efforts, in addition to capital gains from the sale of BBVA Chile. "Thanks to these outstanding results, we continue to deliver value to our shareholders," with growth of over 10 percent of tangible book value per share, including dividends. In addition, he noted that, with a ROTE (return on tangible equity) of 14.1 percent and a ROE (return on equity) of 11.6 percent, "We are leaders among our competitors in terms of profitability."
BBVA is proposing a complementary cash dividend of €0.16 per share to be paid in April. This dividend represents a 7 percent increase from the amount paid in the same period a year earlier. The total dividend for 2018 stands at €0.26 per share, which amounts to a 37 percent payout of the bank's profit, excluding the sale of BBVA Chile. BBVA's Group executive chairman also reiterated the bank's commitment to a "clear, predictable and sustainable dividend policy."
Following Carlos Torres Vila's presentation, the CEO took the floor. In his first address to the bank's shareholders, Onur Genç underscored "the solid results" posted by BBVA in 2018, "despite a complex environment and currency volatility in some of our key markets." BBVA's attributable profit stood at €5.32 billion, 51.3 percent more than in 2017.
Onur Genç also emphasized the improvement of BBVA's profitability ratios and the bank's focus on efficiency, "one of the priorities in managing the Group." In this regard, he stated that these positive trends in revenues and expenses "owe a lot to business digitization efforts."
Some tangible examples include:
Digital sales are growing "at a fast pace". In terms of economic value, in 2018 they accounted for 37 percent of the total.
Digitization boosts customer acquisition and sales growth, as is the case with credit cards in the U.S. or the payroll accounts in Mexico.
Digitization increases satisfaction levels and engagement. In terms of NPS (Net Promoter Score), which measures customer satisfaction, BBVA is ranked first in seven of the countries where it operates. In addition, churn rates among digital customers are 47 percent lower than non-digital customers.
In short, "We began our transformation ahead of the curve, and we are already reaping the benefits of this foresight," said Onur Genç.
During his presentation, BBVA's CEO also recapped the bank's performance in each country as well as their prospects for 2019.
In Spain, "the results from banking activity have been very good." The CEO underscored the area's solid performance in terms of fees and commissions, lower expenses and declining impairments and provisions. In 2018, he stressed that: "We continued to improve the profitability of our business in Spain." He also announced that the focus will remain on "improving profitability" in 2019. As for the real estate unit, Onur Genç added that the bank had managed to reduce its exposure to this activity by 61.1% last year, mainly thanks to the sale of its real estate business to Cerberus. In 2019, the Spain unit will absorb the real estate one, whose contribution to the Group's results will be marginal.
In the United States, the franchise posted "very solid results, with a significant improvement in profitability," he noted. For 2019, the BBVA CEO expects net interest income to continue to be the key driver of growth.
Regarding Mexico's results, these were "extraordinary," once again. Onur Genç stressed that they are a reflection of "BBVA's leadership" in the country — both in terms of market share and profitability.  He expects this solid growth to continue in 2019.
In Turkey, despite a highly volatile environment, operating income remained solid. Net interest income increased 30.3 percent in constant terms, while expenses grew below inflation, improving efficiency. The BBVA CEO expects "the solid operating margin performance to help us outperform our competitors in a complex macroeconomic environment."
In South America, the CEO underscored the impact of hyperinflation in Argentina and the change in the scope following the sale of BBVA Chile. In 2019, the outlook is positive for Colombia and Peru, while the impact of hyperinflation in Argentina will be much lower than in 2018.
About BBVA
BBVA is a customer-centric global financial services group founded in 1857. The Group has a strong leadership position in the Spanish market, is the largest financial institution in Mexico, it has leading franchises in South America and the Sunbelt Region of the United States; and it is also the leading shareholder in Garanti, Turkey's biggest bank for market capitalization. Its diversified business is focused on high-growth markets and it relies on technology as a key sustainable competitive advantage. Corporate responsibility is at the core of its business model. BBVA fosters financial education and inclusion, and supports scientific research and culture. It operates with the highest integrity, a long-term vision and applies the best practices.
( Press Release Image: https://photos.webwire.com/prmedia/5/237507/237507-1.jpg )
Related Links
WebWireID237507

This news content was configured by WebWire editorial staff. Linking is permitted.
News Release Distribution and Press Release Distribution Services Provided by WebWire.