Good Result: € 28 Million in Member Payments
Royal Agrifirm Group has announced its results for 2018. 'A net income of € 44.0 million, of which € 28.0 million will be distributed to our members; € 3 million more than last year. We are proud of this result,' says Dick Hordijk, CEO Agrifirm.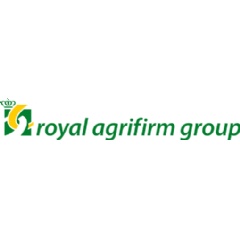 Financial targets realised: company continued to strengthen its position
The result is good, given the pressure on the cattle and pig farming sectors, most certainly in the Netherlands, and the global trade war and animal disease issues. The Better Together strategy put the focus on the customer, created greater customer satisfaction and accelerated synergy within the organisation. The specific connection with the members, with the emphasis on strong regional connections, and the strengthened cooperative model provide an excellent response to the day-to-day challenges of the Dutch food chain.
Member payment continues to increase: the Coop+ factor
The amount Agrifirm has paid its members has steadily increased in recent years. This also applies to the 2018 payment. 'Since 2012, Agrifirm has paid out more than € 135 million in member payments,' says Hordijk. In 2018, Agrifirm introduced a new financial ratio: the Coop+ factor. This factor is calculated as the ratio of the total member payments and the member company's net profit. This factor is 1.4 for 2018. This means that we pay 40 percent more to our members than we earn in profit from our Dutch members. Agrifirm is unique in this respect, because as an internationally operating cooperative, the profit payment to our members exceeds our earnings in our domestic market.
Agrifirm's financial position is extremely strong with 58.4 percent solvency and an excellent liquidity. Investments and depreciation are well balanced.
Agrifirm 2018: Major global challenges
Our customers throughout the world were faced with major challenges. In the Netherlands, the social debate continued unabated and our members invested in improvements relating to the environment and animal well-being, even though these were insufficiently offset by adjustments to the earnings model. The phosphate reduction legislation caused a decline in the number of cattle farms, while the number of pigs dropped due to farmers shutting down their operations. The impact of a very dry summer was also felt by the agricultural farming sector.
Outside the Netherlands, the meat scandal in Brazil and the African Swine Fever in China put pressure on our customers. The trade war between the United States of America and China resulted in higher costs due to import levies and in some cases due to the inability to deploy products. For the purchase of raw materials, this uncertain situation resulted in a higher risk profile and sometimes in additional costs.
The above-referenced challenges reduced Agrifirm's turnover. However profitability was maintained by focussing on large professional customers, improving margins and cost control.
In Brazil, sales volumes continued to lag to the expectations. The devaluation of the local currency was responsible for lower results. Action to strengthen management to enable it to make the right decisions relating to strategy and sales was initiated in 2018. The country has huge potential, but the development of this potential is currently lagging in the objectives. Agrifirm expects this to correct itself over the next few years. Our joint venture in the Ukraine experienced a good year, in part due to the growth of its position in the cattle sector, from which we were able to profit after many years of investment and hard work.
Exports to the Middle East and Africa continued to grow.
Acquisitions and new joint ventures
Agrifirm grew throughout the world through acquisitions and new joint ventures. To strengthen its business operations in Africa, a joint venture was established in Algeria together with Diam Grain. Together we are constructing a premix plant in Algeria to support the fast-growing local feed industry and to reduce dependence on European imports. In America, Special Nutrients, a global leader in the field of mycotoxin binders, was acquired. This way we are taking a next step in strengthening our position in functional feed ingredients.
With the acquisition of Bacutil (2017) Agrifirm managed to achieve almost full coverage in Poland. At 32 percent, the organic growth in sales volume in Poland in 2018 can only be qualified as nothing but spectacular. In 2018 a new production line was furthermore commissioned in Poland that will enable further growth in sales volumes to be realised. In the Netherlands and Belgium, we acquired the customer portfolio of Veevoeders Vanhengel, a supplier of pig feed. Production now occurs in our compound feed plant in Belgium. This way we improve plant efficiency and expand our market share. In addition, we signed a strategic agreement with Protix, a producer of insects that we are going to use as an ingredient in our feeds. This is an important step in assuming responsibility for a sustainable food production chain.
Excellent Welkoop results
The Welkoop organisation experienced an excellent year. In addition to achieving its financial objectives, the organisation was pronounced the Best Retail Chain in the category Animal Speciality Shops for the fifth time in a row. In addition, Welkoop announced that it will be constructing a new distribution centre in Apeldoorn, as the current centre in Ede is no longer adequate due to its limited expansion possibilities. New agreements have been negotiated with franchisees. Agrifirm, as the parent company, is investing significantly in the formula. All parties are satisfied with the outcome, which enables us collectively to continue to grow for many years to come.
( Press Release Image: https://photos.webwire.com/prmedia/5/237485/237485-1.png )
Related Links
WebWireID237485

This news content was configured by WebWire editorial staff. Linking is permitted.
News Release Distribution and Press Release Distribution Services Provided by WebWire.