The future of thermotechnology comes from Bosch
100 million euros to be invested in heat pumps
Wetzlar –
WEBWIRE
–
Tuesday, March 12, 2019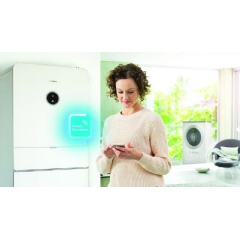 Record revenues of 3.5 billion euros in 2018
Products for digitisation, decentralisation and electrification put the company in an excellent position for the energy transition
Uwe Glock, Chairman of the Bosch Thermotechnology Division: "In the increasingly complex world of heating technology, we are the ideal partner for professional customers and believe that this complexity opens up new, shared opportunities."
Bosch Thermotechnology generated record revenues of 3.5 billion euros in 2018. In a difficult environment the company grew its revenues by 2.3 percent in nominal terms and by 4.6 percent in exchange rate adjusted terms year on year. Regionally, revenues in Turkey showed a very positive trend, but good growth was also achieved in the main markets, Germany and Great Britain. In product terms, the Residential Heating business unit was again the main growth driver, with heat pumps making the biggest contribution to the successful performance.
At the ISH Energy trade fair in Frankfurt/Main, Bosch Thermotechnology will occupy a total area of roughly 4,000 square metres in the new Hall 12, where the Bosch and Buderus brands will, for the first time, present their solutions at two neighbouring booths. "Strong brands and innovative products for digitisation, decentralisation and electrification – the three mega trends of our industry – put us in an excellent position. "In the increasingly complex thermotechnology world, we are the ideal partner for professional customers," said Uwe Glock, Chairman of the Bosch Thermotechnology Division. Under the motto "Shaping the future together", Buderus illustrates how trade partners can rely on the brand's support and expert advice when it comes to choosing, commissioning, servicing and repairing heating systems. Bosch's appearance at the ISH trade fair marks the last step in the brand transition from Junkers to Bosch: the proven heating technology expertise of Junkers is complemented by the technological expertise of Bosch. Bosch's innovation capacity gives customers access to the full range of groundbreaking indoor climate and domestic hot water solutions. The brand change thus unites the best of both worlds – integrated and fascinating solutions from a partner who makes the life of users and installers easier, more connected and more independent.
Investments in technologies of the future
Electrification is playing an increasingly important role in the heating and air-conditioning sector, with electrical solutions ranking equal to gas and oil-fired devices. "We will expand our range of heat pumps, electric hot water solutions and air-conditioning devices. We also want to make inroads into new market segments such as energy management and fuel cell based energy solutions," said Glock. The coming years will see Bosch Thermotechnology invest some 100 million euros in its heat pump operations, with the focus placed on easy-to-install system solutions with digital support, In 2018, three new product runs were started on three new manufacturing lines in Tranas, Sweden. With development centres in Tranas for Northern Europe and in Aveiro, Portugal, for Southern Europe and with a new development team in Wernau, Germany, for Central Europe, Bosch Thermotechnology is well positioned to serve the European market for heat pumps for heating purposes, which represents 95 percent of the world market. The successes of the regionally adapted portfolio are already clearly visible. "In Sweden, we have more than doubled our market share since the launch of our new exhaust air heat pumps by focusing on simplicity through standardisation as well as ease of installation and operation", said Uwe Glock.
Further development of fuel cell technology
Bosch is pushing ahead with the development of fuel cells for potential new energy systems. Together with technology specialist Ceres Power, Horsham, Great Britain, the company wants to further develop the solid oxide fuel cell (SOFC) technology. The strategic cooperation was agreed in 2018 and comprises a four percent investment in Ceres Power. The aim is to industrialise the SOFC technology through mass production and to use it for connected and decentralised energy generation. SOFC systems are to be used in cities, factories, computer centres or charging stations for electric vehicles. Uwe Glock is convinced that "the highly efficient fuel cell technology will make an important contribution to the energy transition, as it helps ensure supply security and the flexibility of the energy system." In an increasingly urbanised world, fuel cell technology is indispensable to ensure supply security: in 2050, over six billion people are expected to live in cities, i.e. 70 percent of the world population. Today already, metropolitan areas account for 75 percent of the global energy consumption. By 2035, global energy consumption will increase by 30 percent.
Going forward, it will no longer be possible to satisfy this increased demand for electricity with large, central power plants alone. The cooperation between Bosch and Ceres Power therefore aims to establish a new industry standard for the use of SOFC technology in the decentralised energy supply.
Sector coupling in buildings: The Bosch Energy Manager
The domestic energy system is becoming increasingly comprehensive, electric and complex. The Energy Manager from Bosch Thermotechnology is a system control which optimises not only the comfort for the user but also their energy costs. It helps smart-home owners to become more energy-independent and ensures that energy consumption, generation and storage are efficiently managed between different components such as heat pumps, photovoltaic systems and, going forward, electric vehicles. The Energy Manager software intelligently combines the individual components to facilitate the use of self-generated elec¬tricity and the efficient generation of heat. The Energy Manager is integrated into the Bosch Smart Home – the app allows users to keep all data under control and to easily integrate their household appliances. Smart-home residents stand to save up to 70 percent of their electricity costs thanks to efficient digital control and renewable solar energy in combination with a battery storage system.
Sector coupling in residential neighbourhoods: Electric storage systems and charging infrastructure
Intelligent sector coupling is key to meeting the demands people make on the energy supply in their neighbourhoods. Glock emphasised the importance of positioning the company as a strong supplier of integrated system solutions and services in this field: "If you want to master the energy transition, you need efficiencies in all sectors, and you don't need them one after the other but together and at the same time. For this purpose, you need efficient systems and, if pos¬sible, renewable energy sources in all sectors," he explained at the Bosch Thermotechnology press conference on the occasion of ISH. The individual components – electric storage systems, quick charging stations, solid oxide fuel cell technology and complementary energy management software – must be integrated in a smart overall system. Bosch is well positioned to achieve just that: by acquiring a 39 percent stake in ads-tec Energy GmbH in October 2018, the company has strengthened its activities in the field of electric storage systems and their management. "In cooperation with ads-tec Energy, we can offer comprehensive systems for local energy management in buildings and housing estates, thus making an important contribution to the energy transition.
"Our investment in ads-tec Energy is the perfect strategic fit for our forward-looking positioning as a digital climate and energy company," Glock said. The management of local electric energy systems is becoming increasingly established in cities and residential neighbourhoods.
Bosch Thermotechnology is a leading European manufacturer of energy-efficient heating products and hot water solutions. In fiscal 2018, the company generated sales of about 3.5 billion euros (66 percent outside Germany) and employed approx. 14,200 people. Bosch Thermotechnology has strong international and regional brands and manufactures a diversified product range in Europe, America and Asia.
Further information is available online at www.bosch-thermotechnology.com.
The Bosch Groupis a leading global supplier of technology and services. It employs roughly 410,000 associates worldwide (as of December 31, 2018). According to preliminary figures, the company generated sales from operations of 77.9 billion euros in 2018. Its operations are divided into four business sectors: Mobility Solutions, Industrial Technology, Consumer Goods, and Energy and Building Technology. As a leading IoT company, Bosch offers innovative solutions for smart homes, smart cities, connected mobility, and connected manufacturing. It uses its expertise in sensor technology, software, and services, as well as its own IoT cloud, to offer its customers connected, cross-domain solutions from a single source. The Bosch Group's strategic objective is to deliver innovations for a connected life. Bosch improves quality of life worldwide with products and services that are innovative and spark enthusiasm. In short, Bosch creates technology that is "Invented for life." The Bosch Group comprises Robert Bosch GmbH and its roughly 440 subsidiary and regional companies in 60 countries. Including sales and service partners, Bosch's global manufacturing, engineering, and sales network covers nearly every country in the world. The basis for the company's future growth is its innovative strength. At 125 locations across the globe, Bosch employs some 69,500 associates in research and development.
Additional information is available online at www.bosch.com, www.iot.bosch.com, www.bosch-press.com, www.twitter.com/BoschPresse.
( Press Release Image: https://photos.webwire.com/prmedia/7/237230/237230-1.jpg )
Related Links
WebWireID237230

This news content was configured by WebWire editorial staff. Linking is permitted.
News Release Distribution and Press Release Distribution Services Provided by WebWire.