Interview with Helena Thybell, Head of HR H&M Group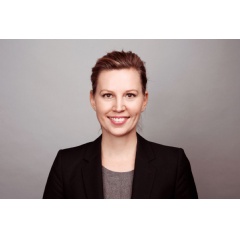 In light of the International Women's Day, we sat down with H&M Group´s Head of HR Helena Thybell to talk about gender issues and diversity. These are topics that always are high on our agenda, regardless of what day it is.
Why is (gender) equality such an important issue?
"Gender equality isn't just something that companies like us are working with – ensuring that everyone has equal opportunities is an important issue for us all. It´s of great importance from a societal perspective, from a human perspective and from a fairness perspective.
Everybody should have equal rights and possibilities, and that is worth fighting for"
But if we all are for equality, why isn´t our society more equal?
"This is such a complex question for many reasons. Historically we've not always lived in a very equal way, so it will take a systemic change to alter this. To make changes on this scale needs dedication from all corners - you need to believe in the cause and understand why it´s important to make a change. It will take time, and the work towards a more equal society is not something that will happen by itself. Complex areas like these need to be handled in a methodical way, and we need to change the conditions over time, and it might even need new legislations to really make a change.
As a global company of our size, we know that we can make a difference by driving equality forward. We also believe in addressing this issue locally. By that I mean that different markets need to emphasize different aspects of the topic. Equality and diversity, even though the core principles might be the same, mean different things to different people around the world. By looking at it from a local perspective, we believe we can increase the chance for progress and engagement from as many people as possible"
In your opinion, what question is the most important in this area?
"We all have preconceptions, and it is so easy to get stuck in a certain way of thinking that we may not even reflect on. I believe that is the core of the problem in an unequal society. We, you and I, and everybody else, need to actively try to think outside the box. Do we ask the same questions to women and men? Do we set the same requirements and terms, no matter where you come from? If not, we need to start doing so. We need to challenge ourselves and the way we think every day – it´s only then we can overcome our own barriers. You need to remember that you can make a difference and even a small change can have an impact."
Gender equality (and diversity) contributes to the company's competitiveness, profitability and growth - these are statistical facts. Is H&M Group maximizing its potential in this area?
"We have a good track record of appointing women in management positions, and we are proud that 72% of management positions were filled by women in 2018. We're proud to be demonstrating that everyone has the opportunity to have a family, and hold a management position in a big multinational company. We believe and hope, that this creates role models.
We also work actively by educating our colleagues on these issues, for example through workshops on inclusion and diversity. This is a good way of making colleagues more aware of their own preconceptions, and our aim is to make us question the society we live in. Only when we ask questions, we get answers"
How does diversity affect employee engagement?
"To create a working environment where everyone feels important, creative and happy, we need to have a diverse workforce. I believe that a diverse team will help us to deliver a better result, and it will also be a more exiting and energetic journey. I´m not saying that it will be an easier journey,  since people with different backgrounds, cultures and experiences will challenge each other in a way that maybe a homogenic group wouldn´t. But I really believe that this is something positive in the long run, this is what drives our work, our company, and our own personal development forward. When you are open to other people's perspectives, you will grow as a person and employee.
At H&M Group we allow and welcome people to be who they are. We truly believe that the best ideas and results come when you feel that you can be yourself and we always push to be as inclusive as possible. Although we see that we have high scores in this area thanks to our yearly engagement survey, there's always more work to do in this area"
Being part of our executive management team, how do you make sure that inclusion and diversity are considered when making decisions? 
"We have a responsibility to make the best decisions for the whole group, and that includes all the 71 markets we are represented in. We have grown a lot in the past and to be able to take, for example all the different cultural aspects in consideration, we must get a lot of input from the organization and the people working in it. We need to really understand the organization and all its layers when it comes to our diverse work force, not only when it comes to gender, but also diversity in ethnicity, religion, experience and so on."
Is there a particular female figure that inspires you?
"Michelle Obama! She works with equality and diversity from different angels and perspectives and she really drives the agenda forward. She is a woman, that in my opinion, really makes the best out of her situation and uses her platform in a creative way to lift these questions. She supports women and is able to influence opinion, without forcing her beliefs on someone."
( Press Release Image: https://photos.webwire.com/prmedia/7/237133/237133-1.jpg )
Related Links
WebWireID237133

This news content was configured by WebWire editorial staff. Linking is permitted.
News Release Distribution and Press Release Distribution Services Provided by WebWire.