Year of transformation: new strategy with focus on market and sustainability
Results Royal FrieslandCampina N.V. in 2018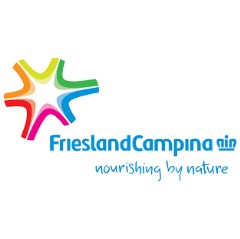 Revenue 11.6 billion euros (2017: 12.1 billion euros). Decrease mainly due to currency effects and the sale of Riedel.
Profit 203 million euros (2017: 227 million euros). Decline due to lower revenues on the sale of basic dairy, competition for infant nutrition in Hong Kong and China, incidental costs for the transformation and closures.
Cash flow from operating activities increased by 201 million euros to 619 million euros due to improved working capital.
Milk price for member dairy farmers 37.43 euros per 100 kilos of milk (2017: 40.01 euros).
New organisation structure provides for greater commercial strength.
New strategy with a focus on market and sustainability.
Important steps taken towards sustainability: greenhouse gas emissions (company and members) decreased by 5.1 percent; share of purchased raw materials from sustainably managed sources increased by 22 percentage points to 77 percent.
Sustainable Campina dairy products with the 'On the way to PlanetProof' label available in retail stores.
To download the full annual report click here.
Hein Schumacher, CEO: "For FrieslandCampina, 2018 was a year of transformation. We launched a new organisational structure and strategy. This gives the company greater focus and commercial strength while enabling us to respond faster to customer demands. We want to lead with sustainability and show this, among other things, by being the first dairy company to market dairy with an independent 'On the way to PlanetProof' quality mark."
Low basic dairy prices, infant nutrition competition and incidental charges reduced results
The operating profit decreased by 23.0 percent to 342 million euros in 2018 (2017: 444 million euros). This decline in operating profit was amongst others due to an additional loss of over 100 million euros partly caused by too low basic dairy prices relative to the guaranteed price, paid by FrieslandCampina to the dairy farmers for their milk. Additional investments in innovation, marketing, sales and distribution reduced results of FrieslandCampina in Asia.
Costs related to organisational restructuring and the announced closures of production facilities amounted to 50 million euros. To compensate, 85 million euros in cost savings were realised and a significantly improved working capital. The operating cash flow improved by 201 million euros in comparison to last year.
Turning point in the second half of 2018
In the second half of 2018, the first positive results of the initiated transformation became visible. The volumes of all business groups increased by a total of 2.3 percent compared to the first half of the year. The sale of cheese produced a positive result the second half year. To strengthen its position in cheese, FrieslandCampina completed four acquisitions in the second half of the year. A partnership agreement for the production of mozzarella was also signed. In addition, there was a strongly improved volume growth for the Consumer Dairy business group in Asia in particular.
Lower milk price
The FrieslandCampina milk price over 2018 decreased by 6.4 percent to 37.43 euros per 100 kilos of milk (2017: 40.01 euro). This included the guaranteed price, performance premium, issuance of member bonds and other supplements. The FrieslandCampina guaranteed price over 2018 was 36.05 euros per 100 kilos of milk, 5.0 percent lower compared to the previous year (37.96 euros). The decline was due to the result of lower milk prices of reference companies. The value creation (performance premium and issuance of member bonds) amounted to 0.59 euros per 100 kilos of milk (2017: 1.33 euros. The decline was due to the lower result.
Leading in sustainability
FrieslandCampina aims to be leading in sustainability. This is why the company has been working together with member dairy farmers on further reducing the ecological footprint. The total greenhouse gas emissions decreased by 5.1 percent to 12,462 kt CO2 equivalent. This decrease was caused by the increase in the quantity of sustainably generated electricity by member dairy farms. FrieslandCampina uses 100 percent green electricity in Europe, 90 percent of the company's total electricity consumption worldwide. Nearly 28 percent of all green electricity was purchased from its own members. Pasture grazing also increased to 81.2 percent, reaching the 2020 target. Through the Dairy Development Programme, over 80,000 local farmers in developing countries and emerging countries were trained in this past year. That is almost four times more than in 2017.
On the way to PlanetProof
FrieslandCampina responds to the demand for special and/or sustainably produced dairy products with flexible milk flows. An example of this is Campina dairy with the 'On the way to PlanetProof' label with extra attention for animal welfare, biodiversity and climate. FrieslandCampina is the first dairy company to place dairy products on the market under this independent label. The extra earnings benefit the members who supply milk for dairy under this label.
( Press Release Image: https://photos.webwire.com/prmedia/6/236930/236930-1.png )
Related Links
WebWireID236930

This news content was configured by WebWire editorial staff. Linking is permitted.
News Release Distribution and Press Release Distribution Services Provided by WebWire.