Sequoia project reaching for the sky to cut CO2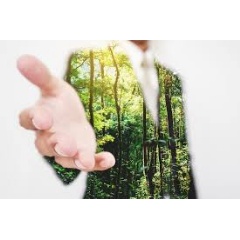 It means combining respect for the environment, respect for stakeholders - including customers and shareholders - and staying competitive. -Andrew Willson, Solvay Peroxides Research & Innovation (R&I) Director
Good Chemistry: CO2 reduction and energy excellence
Solvay has launched an ambitious plan within its peroxide chemical business unit to reduce the CO2 emissions by up to 100,000 tons per year. Project Sequoia, which takes its name from the giant Californian redwood tree, a symbol for capturing CO2, promises real benefits – to the Group, customers and the environment.
Solvay has declared a commitment to reduce CO2 emissions by 1 million tons/year by 2025, which represents a 10% annual cut. Under project Sequoia, its peroxides business has committed to reduce CO2 emissions by 50,000 tons/year by 2020 and has set a stretch target of 100,000 tons/year saving by 2025. While this target is ambitious, the business unit sees strong potential for an economic payback.
"It's a complex issue that we are trying to tackle, because it means combining respect for the environment, respect for stakeholders - including customers and shareholders - and staying competitive," says Andrew Willson, Solvay Peroxides Research & Innovation (R&I) Director and project sponsor.
Renewable harvest
To achieve the objectives, Sequoia has three complementary branches: CO2 Reduction and Capture, Energy Transition, and Energy Excellence. About half of the CO2 emissions come from the production of hydrogen. Currently, most of the onsite hydrogen is produced by steam-methane reformers.
For CO2 Reduction and Capture the business unit has a double-headed approach. On the one hand, the business is studying how to improve its hydrogen production technology to reduce CO2 at the source. 
On the other hand, the team is looking to capture and resell the CO2 as a byproduct. "We are working with external business partners such as air separation companies to capture and utilize this CO2," says Suthichai Srihawan, Project Manager, R&I Peroxides. The CO2 is then sold to the food and drink industries to keep refrigerated food fresh and to add carbonation to everyone's favorite beverages.
The Energy Transition branch of the project is about shifting the electrical energy supply to renewable sources. For example, the team is considering wind energy from a renewable developer in Finland, and solar energy installations in Thailand. "These projects are at the leading edge," says Andrew. "If we achieve these, then we will look at other markets and countries to do similar deals."
The third offshoot for Sequoia is through Energy Excellence programs to improve energy use. Solvay peroxide plants are already focused on reducing energy use, by improving the overall process efficiency and by optimizing energy consumption. "Every year we make incremental improvements across all our plants," says Suthichai.
Sustainable advantage
"Global warming and climate change are business drivers, and Sequoia represents an opportunity to achieve a competitive advantage," says Andrew. "There is also a real market for CO2, and some of these projects will pay back in a reasonable period of time. Our customers are justifiably looking for hydrogen peroxide with a lower environmental footprint, and our aim is to supply their needs!"
( Press Release Image: https://photos.webwire.com/prmedia/6/236708/236708-1.jpg )
Related Links
WebWireID236708

This news content was configured by WebWire editorial staff. Linking is permitted.
News Release Distribution and Press Release Distribution Services Provided by WebWire.