Blowing Rocks Preserve Marks 50 Years of Conservation and Protection
West Palm Beach, FL –
WEBWIRE
–
Tuesday, February 19, 2019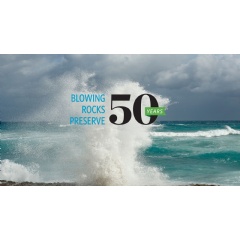 With 73 acres of meticulously restored native vegetation on a barrier island in Jupiter, Florida, the preserve represents a bridge between our legacy of land preservation and a modern laboratory showcasing the latest innovations in conservation.
2019 is a landmark year for The Nature Conservancy's Blowing Rocks Preserve, commemorating 50 years of conservation success for the renowned south Florida gem. The 73-acre barrier island sanctuary features beautifully restored coastal habitat and ancient limestone for which the preserve its named. Founded in 1969 in need of safeguarding and restoration, Blowing Rocks Preserve was transformed to protect and support fast disappearing Florida habitat and provide a natural sanctuary on Jupiter Island. The preserve is home to imperiled plants and animals, is a productive sea turtle nesting ground, and includes restored native coastal ecosystems like tropical hardwood hammock, dunes and mangroves. The most visited of The Nature Conservancy's preserves in the United States, Blowing Rocks Preserve is a treasured escape to nature and favorite spot for beachgoers, anglers, photographers and the local community, set amidst urban development and spanning across the island from the Atlantic Ocean to the Indian River Lagoon.
In celebration of the fiftieth anniversary, Blowing Rocks Preserve is hosting public special events, including "Specialty Tours" of the preserve led by subject matter experts, "Sunrise Sessions" offering exclusive early morning access to the beach for artists and photographers, and "Winter Lecture Series" events focused coral restoration, controlled burns and healthy landscapes, and protection of lands for the Florida panther. A "BioBlitz" will take place on May 18, welcoming public participation to help catalogue the many different species at the preserve. On February 6, the Winter Lecture will spotlight Florida's coral reefs, and on March 22, the Specialty Tour will focus on management of the preserve ecosystems. Throughout the year, the preserve will host invitation-only 50th Anniversary donor celebration events.
"In recognition of Blowing Rocks Preserve's fiftieth anniversary, we express gratitude to all of those who helped to forever protect this land from development and worked hard to nurture and support restoration efforts that made this the special place that thrives today," said Temperince Morgan, Executive Director, The Nature Conservancy in Florida. "We look towards the future, with plans to make the Preserve even more impactful to the community and beneficial to nature."
The preserve is the result of the determination and vision of a group of local community members who wanted to create a place for nature and people, in an environmentally sensitive area in need of care. Jupiter Island residents formed the Blowing Rocks Preserve Committee in 1968 in an effort to raise funds needed to purchase and protect the land. Spearheading the effort was Nat Reed, a donor, advocate, and then Board of Directors member for The Nature Conservancy. The establishment of Blowing Rocks Preserve in 1969 was an early victory among Nat's countless wins for the natural world. He led the 15-year legal battle to prevent the development of condominiums and apartments on this unique stretch of coastline and helped secure the land and the funds needed to establish and manage this historic location.
The preserve boasts a mile of shoreline along the ocean and along the Indian River Lagoon, where rare and imperiled habitats and healthy native plants and wildlife now prosper. Over 20 years, an extensive science-based restoration plan was implemented, and dedicated Conservancy staff along with integral partners, donors, and community volunteers supported the removal of invasive plants including thousands of Australian pines and Brazilian peppers, the propagation and planting of native vegetation, and restoration of dunes and shorelines. Culverts were created to move water from the lagoon to the tidal creek, a native plant nursery was created to support local genotypes, and a butterfly and pollinator garden was developed. Trails were maintained, and boardwalks built. Blowing Rocks Preserve has become a model for similar large-scale restoration projects.
"The contribution that the preserve and staff has provided to the conservation community on how to accomplish large-scale coastal restoration in coastal and marine environments will be one of the preserve's enduring legacy's," remarked Steve Coates, Director of Stewardship & Field Programs, The Nature Conservancy in Florida. "Blowing Rocks Preserve's influence on the surrounding community and south Florida will continue to grow as it aims to achieve another 50 years of success, with expanded focus in coastal and marine environments on conservation outreach, education, science, and stewardship demonstration."   
The preserve's ancient Anastasia limestone is more exposed along this beach than any other location on the Atlantic coast, providing nearshore hardbottom and beachside tidal pools. During extreme high tides and after winter storms, seas break against the famous rocks and force plumes of saltwater up to 50 feet skyward.
The beach is dark at night, unlike the surrounding areas of development, and is a preferred and successful nesting area for endangered green, loggerhead, and leatherback sea turtles. More than 15,000 turtle nests have been counted here from 1989 to 2018. The Conservancy's Sea Turtle Rescue Program helps to ensure that female nesting turtles and hatchlings get professional help should they get stuck in the rocks on the way to the water's edge, and has returned more than 100 adult and hatchling sea turtles to the ocean. The preserve also supports local sea turtle conservation science and research performed by partnering organizations.
Red, black and white mangroves and unique subtropical hardwoods, grasses and flowering plants including gumbo limbo trees, Jamaica caper, sea grape, wild coffee, railroad vine, and sea oats are among more than 250 plant species found here, including the state endangered giant wild pine bromeliad and beach peanut. The variety of animals includes Florida's iconic manatees, crabs, sea stars, snakes, raccoons, wading birds, shore birds, and state threatened gopher tortoise, wood stork and osprey, among others.
"Blowing Rocks welcomes more than 55,000 visitors each year, who come to enjoy the peaceful setting at the preserve," noted Cristin Krasco, Blowing Rocks Preserve Manager, The Nature Conservancy in Florida. "We're excited to launch new public events during our anniversary to showcase hidden secrets on the preserve and share information about work that The Nature Conservancy is doing on the preserve and beyond its borders."
Since 1996, the onsite Hawley Education Center has enabled visitors to learn about the unique features of the preserve and nature in Florida, view exhibits, and attend lectures and workshops hosted by naturalists and scientists. Interpretive trails and signs along the trails identify wildlife and plants. The Nature Conservancy scientists and conservation team members work onsite, giving the community opportunities to engage with both nature and staff. Annual beach clean-ups attract volunteers of all ages. More than 55,000 visitors enjoy the preserve each year and enter with just a two-dollar admission fee and free parking.
The Conservancy continues its commitment to maintaining healthy ecosystems at Blowing Rocks Preserve, providing a place for people to enjoy nature, and working to expand research and education capabilities to benefit conservation. 
#BlowingRocks50
The Nature Conservancy is a global conservation organization dedicated to conserving the lands and waters on which all life depends. Guided by science, we create innovative, on-the-ground solutions to our world's toughest challenges so that nature and people can thrive together. We are tackling climate change, conserving lands, waters and oceans at an unprecedented scale, providing food and water sustainably and helping make cities more sustainable. Working in 72 countries, we use a collaborative approach that engages local communities, governments, the private sector, and other partners. To learn more, visit www.nature.org or follow @nature_press on Twitter.
( Press Release Image: https://photos.webwire.com/prmedia/5/236093/236093-1.jpg )
Related Links
WebWireID236093

This news content was configured by WebWire editorial staff. Linking is permitted.
News Release Distribution and Press Release Distribution Services Provided by WebWire.