Booking2Cyprus offers best price to Northern Cyprus Hotels
Holiday Paradise: The best North Cyprus Hotels
Northern Cyprus –
WEBWIRE
–
Tuesday, February 19, 2019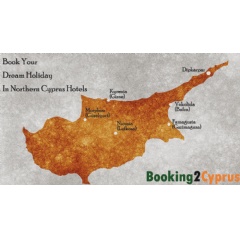 Book now pay Later!
We offer more than 100 Northern Cyprus Hotels to our customers. Book your dream holiday in Northern Cyprus Hotels. You don't need to pay now, book now pay later.
"I wish all seasons of the year in the summer, every day of the year holidays."
Be true interpreters of this line that our feelings, maybe impossible, but it is not difficult to turn our limited holidays into unforgettable memories in a dream-like facility and atmosphere.
The first issue that we have to decide on our dream holiday is undoubtedly the choice of region. It is very clear that traveling today, which has many options within country and abroad, is not as difficult as it used to be. The hotel's installment options, very affordable rates with early bookings, and many more opportunities are encouraging us to go on a holiday. Northern Cyprus hotels and entertainment sector are among the countries where you can make your holiday.
Booking2cyprus continues to offer you the most advantageous campaign and price options for a dream vacation in the most luxurious hotels in Northern Cyprus. Don't forget to follow us on our social media accounts to avoid the latest campaign and advantageous prices.
North Cyprus is a great choice with its enchanting nature for resting your mind, having lots of fun and lots of different holiday concepts. We have written the most luxurious 10 hotels of the island in detail for the young, old people who are planning to vacation in North Cyprus. Don't forget to visit Booking2cyprus before making your plan.
Here are the top 10 luxury hotels in Cyprus for a dream holiday:
 
10) Merit Crystal Cove Hotel Casino
Merit Crystal Cove Hotel Casino, which is considered to be one of the most luxurious hotels in Kyrenia and offers an Ultra All Inclusive Northern Cyprus Hotels concept, welcomes its valued guests with a spacious room portfolio from the king suite to the VIP room options.
Specifically stated that it is a pet friendly hotel; Jacuzzi, Turkish bath, sauna, bar, transportation service to the city, safety deposit box stands out with free features. 265 Standard, 62 Suites, 4 Junior Suites, 3 VIP Suite and 5 King Suite All rooms at the hotel designed by a line consisting of luxury and comfort to be lived.
At the Hotel also non-smoking, interconnected and disabled rooms available. If you are going to vacation in North Cyprus and you are looking for a hotel with many positive references in terms of customer satisfaction; we recommend adding it to your list.
 
9) Kaya Artemis Resort Casino
TripAdvisor and more other web sites that score very highly Kaya Artemis Resort Casino, also offered by Booking2Cyprus, it is one of the most luxurious and successful North Cyprus Hotels. The hotel is built on an area of 230,000 square meters by Kaya Artemis group, is possible to find everything you're looking for in this hotel.
The architecture of the historic Temple of Artemis, with its 739 rooms enriched by luxury amenities, pools, spa, beauty center, convention center, meeting rooms and all other attractive features, Kaya Artemis is an amazing hotel with an ultra all inclusive concept.
The hotel, which should be included in the list of holiday seekers, adds a different dimension to nightlife at Artemis Casino. This magnificent casino; VIP lounge, live game tables, luminous bar and special restaurant with unlimited entertainment to guests while serving guests in the area of 3,600 m².
 
 
8) Noah's Ark Deluxe Hotel & Spa
Noah's Ark Deluxe Hotel, one of the first hotels that come to mind when it comes to Northern Cyprus, is located on the unique sandy beach of the Karpaz Peninsula. This charming facility, built on 160.000 m2, besides all of the rooms overlooking the sea resorts, deluxe sea view rooms and suites designed with different serving its distinguished guests.
Staying in shape with activities going on throughout the day, you will have fun and you will not have time to get bored. In the evening, you will enjoy concerts, animations and stage shows accompanied by high-tech stage and light systems.
The hotel, which hosts famous artists and serves in an ultra all inclusive concept, is one of the best facilities in Northern Cyprus with its activities areas that appeal to everyone and all ages. 4 tennis courts, a football field, basketball courts, this charming hotel welcomes those who want to make a privileged holiday, resort with indoor and outdoor pools, among undoubtedly the best choice for a Cyprus holiday.
The acclaimed hotel casino has a private VIP area, a restaurant and a bar. Offering the highest level of quality to its guests, Noah's Ark Casino Cyprus is among the most exclusive casinos in Europe and the Middle East. Before making your holiday plan, we strongly recommend that you review the services and privileges offered by Noah birs Ark Deluxe Hotel and Spa in detail.
 
 
7) Elexus Hotel Resort Casino
Elexus Hotel Resort Casino, with its beachfront location and charming sandy beach, is undoubtedly one of the most luxurious hotels in North Cyprus. Elexus, which can be considered as the most elegant hotel of the island with its interior and exterior architecture, is a facility built on an area of 277 thousand square meters and is waiting for you dear guests in Kyrenia.
The hotel serves in full board ultra plus concept. The facility, which has the highest level of satisfaction of guests with its completely free services such as spa, indoor and outdoor pool and aquapark; it also has one of the best quality casino centers in Northern Cyprus.
The hotel welcomes famous artists and offers guests unforgettable moments, there are a total of 24 slides in the total area of 6000 m2 in the aquapark area, 10 of slides for children and 14 slides for children and adults. If you are planning to go on holiday to Cyprus, this magnificent hotel, which stands out with its architecture and superior service quality, is also recommended to Cyprus lovers.
 
 
6) Cratos Premium Hotel Casino Port Spa
Named "Premium" you may think that many facilities have premium features, but the Cratos Premium Hotel is not one of them. This facility is one of the most luxurious hotels of all time with its service and architecture.; established on an area of 105,000 square meters and fascinated by its unique features.
Cratos Premium Hotel, where you can enjoy the view from the rooms with its seafront location; Indoor swimming pool, Turkish bath, children's club, massage, fitness center are waiting for you. The resort offers many additional services, from Jacuzzi to water sports that you can use easily.
One of the important addresses of night life on the island, the facility fills the eye with its international standards casino. The hotel offers guests unforgettable entertainment with VIP & High Limit Lounge, Cratos Poker Club, table games and slot machines. Do not forget to add this glamorous hotel to your list, which is shown as one of the most luxurious 10 hotels in Cyprus and serves in full board plus concept.
 
 
5) Limak Cyprus Deluxe Hotel
Limak Cyprus Deluxe Hotel located in the Bafra region of Northern Cyprus and serving in the ultra all inclusive  concept, besides to being one of the most beautiful hotels of the island, it is considered one of the most peaceful places in Cyprus. Established in a huge area of 120,000 square meters, on the seafront, this wonderful resort offers family rooms, duplex rooms and standard rooms.
The hotel offers an aquapark with 7 slides, a great disco with free and a pool bar; many services are available free of charge to guests. You can get more information about Limak Cyprus Deluxe Hotel, which is shown as one of the top 10 luxury hotels in Northern Cyprus via Booking2cyprus.
 
 
4) Les Ambassadeurs Hotel & Casino
Les Ambassadeurs Hotel & Casino, located in Kyrenia, is one of the newest hotels in the island. It offers to guests a wonderful view and a coastline, and a 4-storey main building. At the Hotel which serves Full board plus concept, by choosing one of the standard or suite room, you can realize your dream holiday.
With its beachfront location, Les Ambassadeurs Hotel & Casino offers its guests free of charge beach vehicles such as umbrellas and sun loungers at the pier.
Offering all kinds of entertainment to its guests with its casino, the hotel also prepares a luxurious setting to relax with the spa service.
 
 
3) Concorde Luxury Resort & Casino & Convention & SPA
Concorde Luxury Resort which serves its guests with De luxe ultra all inclusive  concept is one of the most popular hotels of the island. This magnificent hotel is located in a magnificent, seaside area of 125.000 sqm. It offers pool Villa, Garden Villa, Suite and partial sea view.
Each room type has different and unique features, while many activities ranging from table tennis to water gymnastics are provided free of charge; at the same time pool bar, beach bar, disco, outdoor pool, hammam, as well as options are also available.
The hotel attracts attention with its casino, it is one of the most popular places for entertainment lovers. Concorde Casino, in a large area of 5500m2, 30 live game tables, 5 VIP games rooms, the latest technology with the latest games rich and different Jackpot content filled with 220 machines, buffet and A'la Carte  restaurant impresses its guests.
If you want to have fun and enjoy yourself in Cyprus, we advise you to visit Concorde Luxury Resort and experience the importance given to guests.
 
 
2) Merit Royal Hotel & Casino
Perhaps the most luxurious hotel in Kyrenia, Northern Cyprus and serves all inclusive concept is Merit Royal Hotel & Casino. Merit Royal, which welcomes you with its magnificent view, is the Hotel that is famous for its guests. One of the most luxurious hotels in Cyprus, you can spend a few days according to your taste with Royal and Premium room options; You can relieve all the fatigue of the year.
The hotel has a total of 118 rooms with 90 standard, 14 junior suites, 6 suites and 8 king suites designed with luxury and comfort. Merit Royal Spa, which has an area of approximately 3,500 m2, offers far-east and classical massages to its guests.
Turkish baths, saunas, indoor swimming pool, massage and skin care rooms, fitness center and a hairdresser in the center where you can relax in the finest way.
 
 
1) Kaya Palazzo Resort & Casino
Kaya Palazzo Resort & Casino, another hotel located among the most luxurious 10 hotels in Cyprus, is a wonderful facility located on the seafront in an area of 65,000 square meters in Kyrenia. The hotel, with a total of 261 rooms and serves full board plus  concept, can be an ideal place to relax with low population compared to other facilities.
The 3,500 m2 spa center, sea view rooms, mini club with unlimited entertainment for children, private rooms with pool access, the indispensable address of splendid congresses, the Palazzo Congress Center, welcomes its guests with a la carte restaurants offering the finest flavors of the world cuisine and many personalized services.
Booking2Cyprus, also strongly recommends adding Kaya Palazzo Resort & Casino to your list.
 
After you get detailed information about the 10 most luxurious hotels in Cyprus, you can make hotel and airport transfers from our website without any problems.
( Press Release Image: https://photos.webwire.com/prmedia/64802/236022/236022-1.png )
Related Links
WebWireID236022
Contact Information

Talip Tasci
GM
Digitour / Booking2Cyprus / B2C
(90) 5415581686

This news content may be integrated into any legitimate news gathering and publishing effort. Linking is permitted.
News Release Distribution and Press Release Distribution Services Provided by WebWire.