Best-Selling Author Brian Solis Challenges Us To Put Down Our Devices With New Book "LifeScale: How To Live a More Creative, Productive, And Happy Life"
WEBWIRE
–
Saturday, February 16, 2019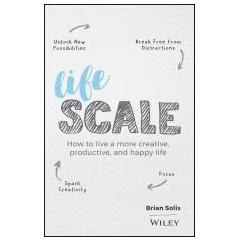 These important things don't come up in conversation when you're moving at a million miles an hour or places so much emphasis on what everyone thinks about our every move
Seven-time best-selling author Brian Solis releases his new, groundbreaking book "Life Scale:  How To Live A More Creative, Productive, And Happy Life" via Wiley on March 6.  It is available for PRE-ORDER now.
In "Life Scale," Solis teaches how to tackle the struggles of living in a world of constant digital distractions, and helps readers overcome the unforeseen consequences of living a digital life to break away from diversions, focus on what's important, spark newfound creativity, and unlock new possibilities.  Toggling between apps, networks, emails and texts comes at a tremendous cost to the actual productivity of a person's life today.   "Life Scale"provides readers the necessary tools to encourage friends and loved ones to become empowered, by breaking free from the bondage of device-addiction, multi-tasking, and the falsehoods of online validation.
As a leading digital anthropologist, futurist, author and speaker who studies the impact of disruptive technologies on business, society and culture, Solis has devoted his professional life to understanding how technology affects and shapes behaviors, norms, and society.  The inspiration for "Life Scale"came about from him realizing his own "distractions" as he originally planned to write the follow up to his 2015 book "X: The Experience When Business Meets Design," with the intended title of "A Prelude to Innovation." He could do the brass tacks research, but realized that he couldn't muster any creative energy. Even trying to write the book proposal, he realized his attention span, clarity and drive were misfiring. He then realized that like him, most may be living with distraction without realizing it or understanding its effects. It was then, that Solis decided to write an entirely new book, "Life Scale," in light of this new realization.
"I lived this digital life which I helped the world create, and I never once thought I would be affected by it," says Solis. "Yet, I realized that my whole way of thinking, creating, working and communicating had changed without me realizing it. In my frustration, I started Googling potential solutions, but they were all pretty superficial, and were more interested in treating symptoms than getting to the root of the problem. The real trouble is that even though we're all experiencing similar issues, many of us don't know we have a problem, because they largely stem from how we live day in and day out and what we value and what we think is living 'our best life' without realizing what could actually define our best life."
In "Life Scale," Solis poses the questions (when did we) "get so busy?";  "decide that being glued to our devices is normal?"; "feel constant multitasking was in our best interest?";  "realize that everyone else's life become more important than actually living our lives?"
Solis writes that truthfully, there is no guidebook for life today.  Most parents and teachers don't realize what is happening to kids, and in the adult world, people don't realize how this digital age of distraction and addiction is affecting them in the workplace and at home.
"These important things don't come up in conversation when you're moving at a million miles an hour or places so much emphasis on what everyone thinks about our every move," says Solis.  "When I started making poor decisions that affected my loved ones, I knew that I needed to be re-centered. The most beautiful part of the story is that in writing 'Life Scale,' it changed my life, because I used it to fix my life. If it can do that for me, my hope is that it can have that impact on readers."
With a loyal online audience of more than 700,000 people, Solis' work has made him a sought-after thought leader to leading brands; celebrities such as Oprah, Shaquille O'Neal and Ashton Kutcher; and more than 1,000 startups around the world. Prior to joining Altimeter, where he is currently studying digital transformation and how businesses are investing in the new digital customer experience, he was the founder and principle ofFutureWorks, where he led interactive  and social programs for Fortune 500 companies, leading brands and Web 2.0 startups.  He is also a world-renowned keynote speaker and an award-winning author of seven best-selling books, including "X: The Experience When Business Meets Design," "What's the Future of Business" and "The End of Business as Usual."  
A widely sought after speaker, Brian actively shares his vision and experiences through keynotes and presentations at conferences and events worldwide to help organizations understand and embrace the dynamics defining the rise of digital transformation, innovation, connected consumerism and digital lifestyles.
For more information visit:  https://www.briansolis.com/.
( Press Release Image: https://photos.webwire.com/prmedia/6/235984/235984-1.jpg )
Related Links
WebWireID235984

This news content was configured by WebWire editorial staff. Linking is permitted.
News Release Distribution and Press Release Distribution Services Provided by WebWire.