Daimler Trucks: record year 2018 with best-ever unit sales, revenue and earnings – further growth in unit sales expected for 2019
Stuttgart –
WEBWIRE
–
Thursday, February 14, 2019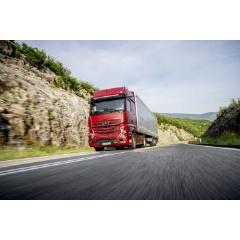 Record results for unit sales, revenue and EBIT in 2018
Double-digit growth rates in NAFTA region, Brazil and India
Fixed-cost optimization of 1.4 billion euros to take first full effect on earnings in 2019 – measures for efficiency enhancement to continue as planned
Daimler Trucks anticipates a slight increase in unit sales and aims for a return on sales of 7 to 9 percent in 2019
Martin Daum: "2018 was the most successful year in the history of Daimler Trucks. We took advantage of tailwinds in key markets and achieved new highs for unit sales, revenue and earnings. Our results for 2018 prove that we have the right products and services for the most diverse markets and regions. Our customers move the world – and our shared task at Daimler Trucks & Buses in 2019 will be to provide them with the best possible support."
2018 was the most successful year in the history of Daimler Trucks to date, with record unit sales, revenue and earnings (EBIT). Daimler's truck division increased its unit sales by 10 percent to 517,300 vehicles in the year under review – its highest unit sales (2017: 470,700). Daimler Trucks recorded double-digit sales growth rates in major markets and regions such as the NAFTA region, Brazil and India. At 38.3 billion euros, revenue was also significantly higher than in the previous year (2017: 35.8 billion euros). The division's EBIT reached another record level of 2,753 million euros in 2018, up by 16 percent on the previous year's figure of 2,383 million euros. Its return on sales was 7.2 percent (2017: 6.7 percent). The positive earnings trend was mainly the result of higher unit sales in the NAFTA region and the systematic implementation of efficiency improvements. By the end of 2018, Daimler Trucks had achieved earnings improvements of 1.4 billion euros that will be fully effective in 2019.
Daimler Trucks is cautiously optimistic for 2019: The number one in the commercial-vehicle industry anticipates a slight increase in unit sales – assuming that overall market conditions remain favorable worldwide – and aims to achieve a return on sales of 7 to 9 percent for the current fiscal year.
"2018 was the most successful year in the history of Daimler Trucks. We took advantage of tailwinds in key markets and achieved new highs for unit sales, revenue and earnings. Our results for 2018 prove that we have the right products and services for the most diverse markets and regions. Our customers move the world – and our shared task at Daimler Trucks & Buses in 2019 will be to provide them with the best possible support," said Martin Daum, Member of the Board of Management of Daimler AG responsible for Trucks & Buses.
2019: Globally well positioned for further sales growth
Daimler Trucks is well positioned for 2019 in the most important markets and regions worldwide. In North America, the undisputed market leader is about to launch the new Freightliner Cascadia – the first series-produced truck capable of partially automated driving in the United States. In Brazil, Mercedes-Benz do Brasil is once again the market leader and is benefiting from a recovering market. Mercedes-Benz will further strengthen its leading position in Europe with the launch of the new Actros in June 2019. With its BharatBenz brand, Daimler India Commercial Vehicles is the only globally active manufacturer to be successful in the Indian market. Since the start of production (2012), Daimler India Commercial Vehicles has delivered more than 100,000 trucks from its plant in Chennai. Every fifth vehicle went to one of approximately 50 export markets. With about 22,500 units sold last year, India was one of the five most important markets for Daimler Trucks. Daimler Trucks Asia will open its new Design Center at FUSO in Tokyo in March 2019. Like its sister brands Mercedes-Benz and Freightliner, the FUSO Super Great will be able to drive in partially automated mode (Level 2) from November onwards. In China, the world's largest truck market, Daimler Trucks and its joint venture partner Foton sold more than 100,000 locally manufactured Auman trucks last year.
Mercedes-Benz eActros starts emission-free transport in advance of catenary line test
Daimler Trucks has been a leader in the electrification of commercial vehicles for several years. Together with customers, it is testing possible applications in which electric mobility is economically viable and possible without a public infrastructure. As the latest example, Mercedes-Benz Trucks will start a practical test this spring with an eActros on the B462 road near Rastatt (Baden-Württemberg) together with the transportation company Logistik Schmitt. One year before the test route in the region goes into operation for trucks powered by catenary lines, the 25-ton Mercedes-Benz truck will cover a daily distance of about 168 kilometers in three-shift operation quietly and emission-free. As the next step, comparative tests will be carried out with the eActros as a semitrailer truck with higher tonnage and range in the eWayBW overhead line project, which is to start in spring 2020 after the infrastructure has been installed.
Stefan Buchner, Head of Mercedes-Benz Trucks: "Everything indicates that we are on the right track with the eActros concept. We are delighted that Logistik Schmitt is now using the eActros in the Murgtal area and look forward to further interesting findings from operational practice, also with regard to the later comparative tests in the catenary line project.
Electric trucks of all three segments in use with customers
Daimler Trucks is the only globally operating truck manufacturer to offer all-electric trucks across all segments: from the FUSO eCanter in the light-duty segment and the Freightliner eM2 in the medium-duty segment to the Mercedes-Benz eActros, Freightliner eCascadia and E-FUSO Vision One in the heavy-duty segment. With the FUSO eCanter and the Mercedes-Benz eActros, vehicles are already being tested under normal operating conditions by customers in the United States, Europe and Japan. In December 2018, Freightliner handed over the first Freightliner eM2 to Penske Truck Leasing Ltd. in the United States.
In June 2018, the division combined all its electrification activities for trucks and buses under the roof of the E-Mobility Group. The E-Mobility Group defines the strategy for all electrical components and complete electric vehicles across all brands and divisions. In addition, EMG is developing a globally uniform architecture, comparable to the successful global platform strategy for conventional drive systems and major components.
Automated and connected driving in series production
Daimler Trucks also raised automated truck driving to the next level in 2018. With the new Mercedes-Benz Actros, it presented the first series of trucks with semi-automated driving functions (Level 2) at the IAA Commercial Vehicles trade fair. The new Actros creates more safety for all road users, increases efficiency for owners thanks to the standard MirrorCam, and significantly enhances the driver's workplace. Another world premiere took place in early January 2019 at the Consumer Electronics Show (CES) in Las Vegas. With the new Freightliner Cascadia, Daimler Trucks North America (DTNA) is launching the first partially automated series-produced truck in North America. Daimler Trucks is also making partially automated driving available to its customers in Asia with the FUSO Super Great starting this year. Following the introduction of partially automated driving (Level 2), the company is now focusing on the development of highly automated trucks (Level 4). In this context, Daimler Trucks announced at the CES that it will invest 500 million euros (approximately 570 million US dollars) in the development of highly automated trucks (Level 4) in the coming years and will create more than 200 new jobs within a decade to bring highly automated trucks to market maturity.
------
*European Union, Switzerland, Norway
Further information and pictures of the Daimler Trucks Annual Press Event and of the Mercedes-Benz eActros can be found at: d.ai/daimlertrucks2019
( Press Release Image: https://photos.webwire.com/prmedia/6/235854/235854-1.jpg )
Related Links
WebWireID235854

This news content was configured by WebWire editorial staff. Linking is permitted.
News Release Distribution and Press Release Distribution Services Provided by WebWire.