New Legislation Restores Protections for Arctic National Wildlife Refuge
Audubon Urges Congress to Prevent Oil and Gas Exploration and Drilling in the Arctic Refuge
Washington –
WEBWIRE
–
Monday, February 11, 2019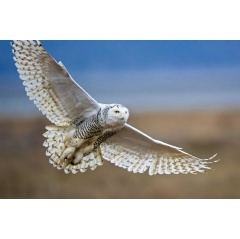 Snowy Owl. Photo: Diane McAllister/Great Backyard Bird Count
"For decades this wild and biologically diverse landscape was protected from oil and gas development by Democrats and Republicans. That protection was stripped away in the tax bill of 2017 and deserves to be restored. The Arctic National Wildlife Refuge is home to more than 200 species of birds, including the American Golden-Plover, Snowy Owl and Northern Pintail. It was shameful that Congress allowed oil drilling in America's most pristine wildlife refuge, but we can set that mistake straight," said David Yarnold (@david_yarnold), president and CEO of the National Audubon Society.
A bill introduced today in the U.S. House of Representatives would return protections to the coastal plain of the Arctic National Wildlife Refuge and make it officially off limits for oil exploration and development.
"This legislation rights a wrong and Congress needs to pass it," said Stan Senner, Vice President for Bird Conservation at National Audubon Society. "Calling the coastal plain the biological heart of the Refuge isn't just a talking point. As a biologist I can tell you that it is like no other place in America's Arctic.  There is abundant food and fewer predators and the birds that fledge here under the Midnight Sun fan out to the far corners of the planet. I have seen the coastal plain," Senner added, "and it makes no sense to drill for oil in this unique landscape. Even one season of exploration, to say nothing of full-scale development, will scar it for decades."
The bill introduced today, the Arctic Cultural and Coastal Plain Protection Act is sponsored by Representative Jared Huffman (D-CA) and Representative Brian Fitzpatrick (R-PA) and would repeal the Arctic National Wildlife Refuge oil and gas program that was included in the 2017 Tax Cuts and Jobs Act. The narrow coastal plain within the Refuge—as few as 15 miles wide – lies between the Beaufort Sea and the foothills of the Brooks Range and is often described as the biological heart of the 19-million-acre refuge because it supports more diverse and abundant wildlife than any other part of the Refuge.
Among the 200 species of birds found in the Refuge are the American Golden-Plover, Snowy Owl and Northern Pintail. Many migrate to and from six continents and all 50 states to breed in the Refuge or stop there in migration. The Refuge is an iconic American treasure on par with the Grand Tetons, Yellowstone and Yosemite. It was first protected by President Dwight D. Eisenhower, and leaders from both parties have worked together for generations to stop attempts to open the biological heart of the Refuge—its pristine coastal plain—to oil and gas drilling. (Maps available for download here, here and here.)
Within the Arctic Refuge, the narrow coastal plain contains avian habitats found nowhere else in the Refuge. Its lowland tundra, freshwater wetlands, coastal marshes, and barrier islands and lagoons are key parts of the larger Arctic ecosystem that makes the Arctic National Wildlife Refuge unique as a protected area in the United States.
Advocates for the drilling provision in the Tax Cuts and Jobs Act claimed that oil revenues from the coastal plain would offset the costs of the larger legislation, but the revenue numbers promised don't add up.  Further, by adding an oil and gas program as a purpose of the wildlife refuge and mandating at least two lease sales of no fewer than 400,000 acres each, this provision undermined the environmental and wildlife protections that typically apply to oil and gas development within the National Wildlife Refuge System. In December 2018, the Bureau of Land Management released its draft environmental impact statement (EIS) in preparation for oil and gas lease sales on coastal plain of the Arctic Refuge, with the publicly stated goal of holding the first lease sale in summer 2019.
Opinion polls consistently show high levels of national support for protecting the Refuge. A 2017 poll showed 70% of Americans oppose drilling for oil there. Last year, 37 leading Arctic wildlife scientists united to oppose drilling in the Arctic.  
About Audubon: The National Audubon Society protects birds and the places they need, today and tomorrow. Audubon works throughout the Americas using, science, advocacy, education and on-the-ground conservation. State programs, nature centers, chapters, and partners give Audubon an unparalleled wingspan that reaches millions of people each year to inform, inspire, and unite diverse communities in conservation action. A nonprofit conservation organization since 1905, Audubon believes in a world in which people and wildlife thrive. Learn more and how to help at www.audubon.org and follow us on Twitter and Instagram at @audubonsociety.
( Press Release Image: https://photos.webwire.com/prmedia/5/235694/235694-1.jpg )
Related Links
WebWireID235694

This news content was configured by WebWire editorial staff. Linking is permitted.
News Release Distribution and Press Release Distribution Services Provided by WebWire.