BT Group contributes £22.8bn to the UK economy
WEBWIRE
–
Tuesday, February 5, 2019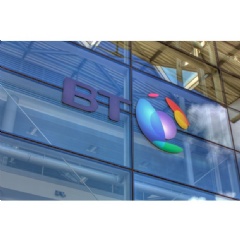 BT building with logo
BT Group is responsible for generating £1 in every £75 produced in the UK, according to an independent report published today, making it one of the single largest corporate contributors to the UK economy.
'The Economic Impact of BT Group plc in the UK' report, by Hatch Regeneris, shows that the communications company generated a £22.8 billion contribution to the UK's economy expressed as "Gross Value Added" (GVA)*, including a combined aggregate spend of £9.2 billion with UK suppliers during the 2017/18 financial year.
The report estimates that the equivalent of 290,000 full-time UK jobs are supported through BT's direct employment, its spending with contractors and suppliers and the discretionary spending of its employees. BT supported the direct employment of 82,500 people and a further 12,300 contractors, reinforcing its position as one of the UK's leading employers.
The impact across the nations and English regions is also detailed in the report. For example, in East England, BT's research and development campus Adastral Park accounts for a large part of the 12,400 BT people working in the region. In Scotland, software developers, engineers and customer service centres contribute to the 7,700 people working in the country.
Tim Fanning, Director at Hatch Regeneris, said: "Our analysis underlines how vast BT Group's contribution is to the UK economy, particularly across the nations and regions.
"BT Group is almost unique in contributing to the economies of virtually every community across the UK, supporting significant levels of GVA spend and employment opportunities per region."
The report from Hatch Regeneris comes in addition to a recent report by PWC1 which highlighted that BT Group is the 5th highest tax contributor in the UK among FTSE 100 companies, and the highest contributor among non-financial companies. The PWC report also identified BT as the largest capex investor in the UK.
Jane Wood, BT Group UK nations and regions director, said: "Few companies play as important a role in national, regional and local communities as BT Group. Not only does BT connect friends, families and businesses across the UK, but we also put premium fuel in the tank of the nation's economy. The report shows that BT generates £1 in every £75 of wealth in the UK.
"We're proud to be one of the UK's largest private sector employers and investors. Our investments, including the latest 5G mobile technology through our mobile network EE, will ensure the UK continues to be one of the world's best-connected economies.
"With more than 82,500 directly employed people spending their salaries in local businesses, from Shetland to the Scilly Isles, as well as regularly volunteering on activities such as our Barefoot tech literacy programme in schools, our people are at the heart of nearly every community."
The report includes the contribution of all parts of BT Group, including Openreach, mobile network provider EE and BT's Consumer and Enterprise divisions.
The economic impact report also highlights the positive contributions made by BT Group through the salaries and wages of employees and contractors, and the beneficial impact of its procurement and overall expenditure around the UK.
The report highlights that BT Group:
Generated £3.4 billion of employment income for its 82,500 employees and 12,300 contractors in the UK;
Provided work for a further 195,000 people through its total UK supplier spend, as well as the discretionary spending of its employees;
Employees committed more than 37,000 volunteering days in aggregate to worthy causes during 2017/18;
Is consistently one of the country's leading investors in innovation with spending on research and development in the 2017/18 financial year reaching £510 million.
The full report is available at: www.bt.com/reports
Notes to Editors
*Gross Value Added (GVA) measures the value of all goods and services produced in an economy. GVA combines wages and operating profits from companies and other organisations. Growing GVA can reflect improvements in workforce skills, productivity, R&D and innovation. The figures for BT show the value added directly through BT's services and additional value generated through BT's suppliers across the nations and regions.
1 PWC Total Tax Contribution of UK FTSE100 companies 2018. BT is:
5th highest contributor (amongst FTSE100 respondents) of UK taxes (borne and collected) – with the 4 slots above BT occupied by banks (HSBC, Lloyds, Barclays, RBS);
4th highest payer of UK wages and salaries;
2nd highest overall distributor of "value" into the UK, where value is the sum of taxes borne, taxes collected, wages and salaries paid, interest paid, and equity returns (which are available for reinvestment, dividends and pension deficit payments) ;
Highest capex investor.
About BT
BT's purpose is to use the power of communications to make a better world. It is one of the world's leading providers of communications services and solutions, serving customers in 180 countries. Its principal activities include the provision of networked IT services globally; local, national and international telecommunications services to its customers for use at home, at work and on the move; broadband, TV and internet products and services; and converged fixed-mobile products and services. BT consists of four customer-facing units: Consumer, Enterprise, Global Services and Openreach.
For the year ended 31 March 2018, BT Group's reported revenue was £23,723m with reported profit before taxation of £2,616m.
British Telecommunications plc (BT) is a wholly-owned subsidiary of BT Group plc and encompasses virtually all businesses and assets of the BT Group. BT Group plc is listed on stock exchanges in London and New York.
For more information, visit www.btplc.com
( Press Release Image: https://photos.webwire.com/prmedia/7/235316/235316-1.jpg )
Related Links
WebWireID235316

This news content was configured by WebWire editorial staff. Linking is permitted.
News Release Distribution and Press Release Distribution Services Provided by WebWire.