PSA Retail Opens the First Four-Brand Dealership, in Madrid, Spain
ēA world first and an ambition in support of the Opel brand
ēAn ambitious business development plan for Opel-Vauxhall in Europe
ēSet to join the top 10 Opel-Vauxhall dealers and aiming for the top 5 in the medium term


Strengthen intra-group multi-branding for the benefit of customers and operating efficiency
WEBWIRE
–
Thursday, January 31, 2019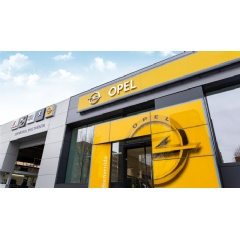 Credit: PSA Group
PSA Retail opened in Madrid the first European and global dealership bringing together the Opel, Peugeot, CitroŽn and DS brands under one roof, with distinct and clearly identified customer pathways. The site also houses a logistics hub for emov, Groupe PSAís car-sharing brand in Spain.†
PSA Retail aims to boost the multi-branding aspect of its offering, and contribute to the success of the Opel-Vauxhall PACE! plan in its core business.†
At the end of 2018, nearly 45% of PSA Retailís network in Europe was already multi-branded; the aim is to bring this percentage to at least 80% by 2021.
Operating in 21 of Europeís 30 largest cities, PSA Retail is seeking to strengthen its operating efficiency by optimising its property footprint in areas with high operating costs, while providing customers preferential access to the full breadth of the Groupe PSA brandsí complementary automobile offering.
†
A business development plan in Europe
With 18 new outlets in Europe, 2018 saw the construction of an Opel-Vauxhall development base for PSA Retail.
Working by acquisition and/or pooling, a network base was built across various countries: in the United Kingdom, with 10 Vauxhall sites in Greater London; in France, with the Paris Porte de Versailles, Saint Quentin en Yvelines and Bois Colombes locations; in Spain, with three locations in Valencia and Madrid with the Calle Sinesio Delgado site; and lastly in Switzerland, with the ZŁcherstrasse location, also opened in December.
This network, built up from scratch in just 12 months, allowed PSA Retail to sell 4,200 Opel and Vauxhall vehicles in 2018.
†
Set to join the top 10 Opel dealers and aiming for the top 5 in the medium term
In 2019, Germany, Italy and Portugal will join the countries where PSA Retail is already developing an Opel-Vauxhall distribution business. By the end of 2019, PSA Retail is set to operate a total of 25 Opel-Vauxhall outlets.
This fresh ramp-up is expected to bring volumes to 7,300 units, which would make PSA†Retail one of the Opel brandís 10 biggest European dealers in 2019.
In the medium term, PSA Retail aims to be one of the top 5 Opel-Vauxhall dealers. In January 2020, PSA Retail will also integrate the entire range of Opel and Vauxhall original parts into its 35 PSA Retail/Distrigo spare parts distribution platforms.
†
Anne Abboud, Senior Vice President of PSA Retail, said: ďThe inauguration of this four-brand dealership on Calle Doctor Esquerdo in Madrid marks big progress for PSA Retail in the business development of Opel-Vauxhall in Europe. It shows how Groupe PSAís distribution entity is contributing to the execution of the brandís PACE! plan. By the end of 2019, PSA Retail will have a network of 25 Opel-Vauxhall locations in Europe.Ē
†
Xavier Duchemin, Senior Vice President, Sales, Marketing & Aftersales of Opel, said: ďThis is yet another example of how Opel is benefitting from being a member of Groupe PSA. It makes us more efficient and unleashes Opelís growth potential. Consumers are our focal point, which is why we are starting to offer Opel models and services in places where no Opel dealerships were previously present. At the same time, we plan to continue to work on the Opel brandís identity and differentiation.
†
The Calle del Doctor Esquerdo site in short
Located in the heart of Madridís Retiro district, PSA Retailís large commercial space in the Spanish capital features 40,000 sq.m of facilities, which have been totally renovated both aesthetically and in terms of the technologies used to display the vehicles of the brands represented and to perform after-sales work.
In addition to the showrooms, providing a specific pathway for each brand, the space has a large workshop, with a team specialising in the repair and maintenance of the various models of the Peugeot, CitroŽn, DS Automobiles and Opel ranges. It is an attractive and technologically rich space designed to offer the best service to customers in Madrid.
Opelís new showroom, with a total surface area of 800 sq.m for new vehicles, has been designed to offer the best possible introduction to the technology and performance of the models of Groupe PSAís German brand. Designed as a multimedia space, the most comprehensive information on each vehicle is presented on touch screens where customers can browse the technical characteristics and all other relevant information for each car. The Opel used car department has its own space, where each vehicle has undergone a full maintenance review comprising 93 control points and comes with a guarantee of at least one year.
Opel customers can benefit from the support of a leading auto workshop in Madrid, which has spaces dedicated to fast and complex after-sales work, including vehicle electrical and electronics equipment, as well as body, metal and paintwork. The site boasts state-of-the-art diagnostic machines and the most advanced vehicle paint technology, with features such as spectrophotometers and high-performance varnishes for an optimal finish. They can also take advantage of such services as online appointment management, the possibility of financing repairs and the use of a courtesy vehicle, as well as ongoing promotions offering fixed prices for maintenance work.
†
All of these services are available across a wide span of opening hours, from 8am to 7pm Monday to Friday.
( Press Release Image: https://photos.webwire.com/prmedia/5/235115/235115-1.jpg )
Related Links
WebWireID235115

This news content was configured by WebWire editorial staff. Linking is permitted.
News Release Distribution and Press Release Distribution Services Provided by WebWire.