A Hotel's Playbook: How Hilton Atlanta is Prepping for the Big Game
1,000 pounds of chicken, a shrimp and grits bar, and lobby ambassadors
WEBWIRE
–
Wednesday, January 30, 2019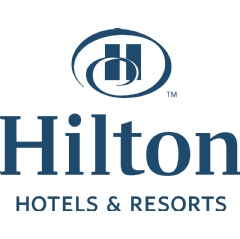 The Big Game is here, and while both teams are busy preparing to take the field in Atlanta, hotels in the area are busy preparing for the most-watched American football event of the year.
Hilton Atlanta, located just one mile from Mercedes-Benz Stadium, the center of Sunday's festivities, and within walking distance of many other pre-game activities at Atlanta's Centennial Olympic Park, is preparing to host thousands of overnight guests, proving that the teams aren't the only ones making important plays this upcoming weekend.
In fact, Brad Koeneman, general manager of the 1,249-room hotel, has been preparing for this moment since Atlanta was announced as the host city in 2016. The first thing his team did when they heard the good news? "We had a cocktail!" he said, calling the Big Game "the crown jewel of an event to come to your city."
His second move was a tactical one: "Since our hotels are a prime player wherever the game is, we've got a pretty significant playbook, so we pulled that out and started working the plan while also building on it and customizing for Atlanta," he said. To help, his team started calling properties in previous host cities, including Hilton Minneapolis, which hosted last year.
The result: a final playbook that includes a combination of tips, tricks and best practices from the past as well as new creative ideas, and that addresses everything from crowd control to the type (and amount) of food and drinks that best suit the occasion.
For Hilton Atlanta this year, that means setting up a shrimp and grits bar to please palates and pay homage to the southern host city (see the recipe below); doubling staff and adding lobby ambassadors to direct guests and improve foot-traffic flow and extending the hours of bars and restaurants to accommodate late-night cravings and celebrations. The need for late-night food and beverage options was one of the biggest tips Hilton Atlanta received from Hilton Minneapolis, with the Atlanta property extending food service until 2 a.m. and drinks until 4 a.m. There will also be a pop-up beer bar in the lobby, a giant lobby TV, vodkas infused with flavors and colors of competing teams' uniforms, and a grocery list that sounds endless (16,000 eggs, anyone?).
In fact, some of the biggest preparations are happening behind the scenes in the hotel kitchens, which are supplying food and drink for the hotel's multiple bars and restaurants including Nikolai's Roof, Trader Vic's, which is known for its iconic Mai Tai cocktail and Southern Elements, which offers traditional Southern cuisine with a contemporary twist.
If history is any indicator, it will be a heavy lift. Jordan Spiros, Director of Restaurants at Hilton Minneapolis, shared that over the course of the Big Game weekend last year, the hotel sold 6,555 beers and 8,374 cocktails.
Marco Foelske, director of food and beverage operation at Hilton Atlanta, has taken heed as he has prepared his grocery list, which may be one of the longest in the playbook and includes:
600 fish tacos
800 burger patties
1,000 pounds of chicken
2,500 chicken wings
4,000 sautéed Savannah shrimp
5,000 turkey sausages
16,000 eggs over four days
Those who are looking to get in on the culinary action but can't quite make it to Atlanta can bring the party home with one of the below recipes from Hilton Atlanta.
Southern Elements' Shrimp & Grits
INGREDIENTS
1 cup Nora Mills Grits
4 cups shrimp stock
6 oz. marinara
9 jumbo shrimp, U10
6 smoked sausages
3 tablespoons Cajun seasoning
9 sprigs parsley
3 cherry tomatoes
1 cup smoked gouda, grated
DIRECTIONS
Bring shrimp stock to a boil and add grits
Boil grits for 25 minutes, stir occasionally
Fold gouda into grits and season with kosher salt and ground pepper
Coat shrimp with Cajun seasoning
Sauté shrimp on medium-high heat, two minutes each side
Sauté sausage until golden brown each side
Heat up marinara sauce
Slice cherry tomatoes
TO PLATE:
Place 1/3 of the grits in the center of plate
Sauce plate with 2 oz. of marinara—be sure to put some on top of grits
Stack shrimp and sausage on top of grits
Garnish with cherry tomato slices and parsley
Southern Elements' Peach Cobbler
Makes 8-10 servings
Preheat oven to 350°F | Bake for 30-45 minutes
INGREDIENTS
4 cups peeled, sliced peaches
2 cups sugar, divided
½ cup water
8 tablespoons butter
1 ½ cups self-rising flour
1 ½ cups milk
¼ teaspoon ground cinnamon
DIRECTIONS
Mix 1 cup sugar, peaches and water in saucepan
Bring to a boil and simmer for 10 minutes
Place butter in a 3-quart baking dish and place in oven to melt
In a separate bowl, mix the remaining 1 cup sugar, flour and milk
Pour the sugar-flour-milk mixture over melted butter—do not stir
Spoon fruit on top, gently pouring in syrup
Sprinkle cinnamon on top
Place cobbler on middle rack and back for 30-45 minutes
About Hilton
Hilton (NYSE: HLT) is a leading global hospitality company with a portfolio of 16 world-class brands comprising more than 5,500 properties with nearly 895,000 rooms, in 109 countries and territories. Dedicated to fulfilling its mission to be the world's most hospitable company, Hilton earned a spot on the 2018 world's best workplaces list, and has welcomed more than 3 billion guests in its nearly 100 year history. Through the award-winning guest loyalty program, Hilton Honors, nearly 82 million members who book directly with Hilton have access to instant benefits, including digital check-in with room selection, Digital Key, and Connected Room. Visit newsroom.hilton.com for more information, and connect with Hilton on Facebook, Twitter, LinkedIn, Instagram, and YouTube.
( Press Release Image: https://photos.webwire.com/prmedia/5/235056/235056-1.png )
Related Links
WebWireID235056

This news content was configured by WebWire editorial staff. Linking is permitted.
News Release Distribution and Press Release Distribution Services Provided by WebWire.