Roczen Secures Top-Five Finish at Oakland Supercross
WEBWIRE
–
Tuesday, January 29, 2019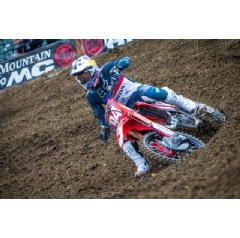 Oakland 1 -Credit: Honda-
Round four of the AMA Supercross series was held under the lights of Oakland-Alameda County Coliseum in Oakland, California, where Team Honda HRCís Ken Roczen rode his CRF450R to a respectable fifth-place finish, placing him second in the championship standings. When the gate fell for the nightís main event, Roczen came around the first turn just outside the top five. By lap six, the German had made his way into fourth and was continuing his charge forward. While he battled for third with Joey Savatgy, both riders capitalized on a mistake made by Marvin Musquin in the whoops, allowing them to sneak by and overtake second and third. On the following lap, Roczen made his pass on Savatgy to take over second. It was short-lived however, as the chaos continued and a four-way battle ensued, with riders swapping positions multiple times. Roczen relinquished two positions during the heated battle before losing one more in the final minutes of the race to take the checkered flag in fifth.
Fellow factory Honda racer Cole Seely showed flashes of speed and brilliance all day, riding smoothly and confidently through qualifying and his heat. Unfortunately, while running seventh early in the main event, Seely had a mishap in the sand section, sending him to the ground. He remounted in 20th, and for the remainder of the 20-minute-plus-one-lap race, Seely put his head down and maneuvered through the field, working his way to 11th by the finish.
NOTES
On Friday evening, Team Honda HRC riders Ken Roczen and Cole Seely, along with GEICO Hondaís RJ Hampshire and Cameron McAdoo, attended a pre-race Supercross party at Hayward, Californiaís East Bay Motorsports, where they signed autographs and posed for photos. Team Honda HRC also donated four tickets to the race, to be raffled off to some lucky fans.
During the dayís timed qualifying sessions, Roczen and Seely set the pace, recording the first- and second-fastest times of the afternoon, respectively. Roczen led the charge with a 52.709ď time, with Seely close behind with a 52.956Ē lap. They were two of only three riders to drop into the 52-second range.
Once practice concluded, Roczen made dreams come true for Paradise, California, resident Evan Shoemaker, whose family was severely affected by the devastating fire that destroyed their town last November. With the help of Fox Racing and American Honda, Roczen surprised Evan with a brand-new CRF230F adorned with Team Honda HRC-replica graphics from Throttle Jockey, plus head-to-toe riding gear, as well as some additional clothing. NBC Sports was on hand to film the emotional presentation, which was then shown during the Oakland broadcast. The family stuck around all evening, eating dinner under the Team Honda HRC hospitality truck before heading to the press box to watch the action unfold.
After four rounds, Roczen sits second in the championship chase with 81 points, just two points off the lead, while Seely is eighth with 56.
In the 250SX West class, GEICO Hondaís Cameron McAdoo had another strong showing, riding his CRF250R to his second straight sixth-place finish. Although RJ Hampshire wasnít able to celebrate his 23rd birthday with a podium finish, he showed resilience by overcoming a hard first-lap crash to finish 13th.
This week, the Honda Red Riders head back to Southern California for round five at Petco Park in downtown San Diego. On Friday from 6 to 7:30 p.m., the riders will take part in a dealer appearance at Del Amo South Bay Motorsports.
QUOTES
Ken Roczen
ďOakland started off pretty good. I felt super good in practice and was super-happy with the bike. I was confident going into the night show and happy to have first gate pick. We had a decent heat race, finishing in second. We had to do some little bike adjustments, just as the track changed. I didnít have a great start at all but fought my way up to second for a bit. I was struggling in the whoops and started feeling uncomfortable and unfortunately, I went back to fifth. Thatís not ideal but weíre leaving healthy. We lost the points lead but only by a couple points; itís a long season, so if we can take this as our worst race, thatís pretty good. Itís time to regroup and hopefully get back on the podium in San Diego.Ē
Cole Seely
ďIím pretty happy with how today went overall. Obviously, my result in the main event didnít show it as much, but we made a lot of progress. Iím not always the best at qualifying but today I was feeling good and able to get the second-fastest lap. My heat was good too. I was about fifth off the start and finished second so again had a good gate pick going into the main. †I was running top-10 in the main when I went down in the sand and got a handlebar to the side. I did what I could to make up as many positions as possible but could only get to 11th. The season is still early and I know Iím building each week, but I really want to get back toward the front and be battling for podiums.Ē
Erik Kehoe: Team Manager
ďThe guys did a good job today. I know theyíre both leaving a little dissatisfied with their main-event results, but there were positives to take away for both Ken and Cole. They both looked really strong in qualifying, scoring the top two spots, then each getting second in their heats. In the main, Ken was moving forward and got up to second at one point but was struggling in certain parts of the track, which is where a few guys got by him again. A fifth isnít what he wants but heís doing a good job keeping the big picture in mind. This is a long season so weíre just taking it race by race. Cole was also looking really good but I think he needs to work on his race-pace fitness a little toward the end.Ē
Oscar Wirdeman: Mechanic (Ken Roczen)
ďThe day started off good. Ken qualified first, which hasnít happened in a while so that was good. It was a smooth day overall bike-wise; we didnít make too many changesójust some clickers here and there. The track was really tough as it developed and the whoops were a bit sketchy. In the main, he didnít get a good jump out of the gate and was around 10th in the first turn but made some good passes on the first lap. I think he spent too much time trying to get by [Joey] Savatgy, so by the time he did, he had used up too much energy. That combined with the tough track conditions, and he just ran out of steam. Heís bummed but if your bad day is still going to be a top-five, thatís pretty good. It could be way worse. Now somebody else can have the red plate and we can chase them.Ē
Jordan Troxell: Mechanic (Cole Seely)
Today was kind of a bittersweet day. We didnít have the main event that we wanted. Coleís start was pretty good out of gate but he got jumbled around and shuffled back to ninth or 10th. He was making his way forward the first few laps but fell over in the sand and that kind of set the tone for the next 15 minutes. He was still riding well and his lap times were good until toward the end, when they fell off slightly, but I think thatís just building his race stamina. The better side of the day was we had a lot better qualifying, finishing second overall and getting the fastest time in the second session. It was his best heat race yet so thatís a positive too. We continued to make improvements on the bike so heís really happy there, which is good; we just need all of it to translate into the main event"
†
450SX Results
1.†††††††† Cooper Webb
2.†††††††† Marvin Musquin
3.†††††††† Blake Baggett
4.†††††††† Eli Tomac
5.†††††††† Ken Roczen
6.†††††††† Dean Wilson
7.†††††††† Justin Barcia
8.†††††††† Justin Brayton
9.†††††††† Chad Reed
10.†††††† Justin Bogle †
------
11. ††††† Cole Seely
13. ††††† Vince Friese
450SX Championship Points (after 4 of 17 rounds)
1.†††††††† Cooper Webb 83
2.†††††††† Ken Roczen 81
3.†††††††† Eli Tomac 80
4.†††††††† Marvin Musquin 79
5.†††††††† Justin Barcia 72
6.†††††††† Dean Wilson 69
7.†††††††† Blake Baggett 66
8.†††††††† Cole Seely† 56
9.†††††††† Justin Brayton 52
10.†††††† Aaron Plessinger 49†
( Press Release Image: https://photos.webwire.com/prmedia/5/234994/234994-1.jpg )
Related Links
WebWireID234994

This news content was configured by WebWire editorial staff. Linking is permitted.
News Release Distribution and Press Release Distribution Services Provided by WebWire.