Deutsche Telekom: splicing, milling, and digging for the network in 2019
-2,000 new mobile base stations planned this year
-Focus on German freeways, federal highways, and train routes
-Further 5G test areas
-Plans to lay some 60,000 kilometers of optical fiber in 2019
-Fiber-optic connections for 140 business parks
-Machine and sensor network to be available nationwide by end of 2019
WEBWIRE
–
Tuesday, January 22, 2019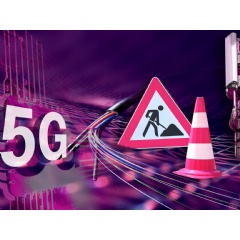 Excavators, milling machines, and construction crews will continue to upgrade Deutsche Telekom's network throughout Germany in 2019: splicing optical fibers, setting towers in concrete, and installing antennas. The installation of 2,000 new mobile base stations is planned this year, upgrading links along freeways and train routes in particular. And preparations for launching 5G are well underway. In the fixed-line network, countless cable drums with optical fiber will be unreeled: 60,000 kilometers of optical fiber are to be added to Deutsche Telekom's network in 2019, on top of the 500,000 kilometers already installed.
"We will keep working hard to make sure our customers have the best network," says Walter Goldenits, Chief Technology Officer at Telekom Deutschland. "Our technology team gives their all to ensure optimal transmission of voice and data services, in cities and in the countryside. In 2019, we will eliminate more coverage gaps, supply even more households with fast internet, and continue to get our network in shape for 5G – because 5G will be a major topic in 2019!" 
5G technology
Deutsche Telekom has already deployed initial 5G technology: the first 5G antennas in Europe have been transmitting in Deutsche Telekom's network in central Berlin under real conditions since 2018. They represent the cornerstone for a commercial 5G network in Germany. More than 50 antennas have been integrated in the live network and are already transmitting in the heart of Germany's capital city. 
Deutsche Telekom will set up additional 5G test areas in other German cities in 2019, starting in the first quarter with Darmstadt, just south of Frankfurt. A test bed at the Port of Hamburg is already delivering promising results on the use of 5G in an industrial environment. Together with the Hamburg Port Authority and Nokia, Deutsche Telekom has been operating a 5G test area around 8,000 hectares in size for over a year now, where it is being used to transmit movement data and environment data in real time, for the reliable control of traffic lights, and for virtual reality applications.
2,000 new mobile base stations
The LTE network is the foundation for 5G. It will be built out further in 2019 and its capacities enhanced. To achieve this, around 2,000 new mobile base stations will be installed, to enable fast broadband internet in more places. Rural areas are one focus of the upgrade: around half of the newly planned towers will be built in the countryside. Customers in Bavaria will benefit in particular, with over 300 new locations, along with customers in Baden-Württemberg and North Rhine-Westphalia, with over 250 new locations each. Mobile phone pacts were signed with the state governments in Bavaria and North Rhine-Westphalia in recent years. In Baden-Württemberg, Deutsche Telekom finalized the planning for an extensive digitalization project with the Stuttgart region in mid-2018.
Another focus of the mobile expansion is the coverage of freeways, federal highways, and train routes. To kick off the year, reception has been improved along the A3 autobahn around Elsterberg and along the A27 around Hamwiede, near Bremen, to cite just two examples. The goal is to provide full, gap-free coverage for voice services along all German freeways through the Deutsche Telekom network by the end of 2019. Train passengers will also benefit: upgrades alongside the rails will start in 2019 with two new mobile stations near Hamm, for example, for the train route between Dortmund and Hanover. A new base station will also be commissioned in January for the Berlin-Rostock route. 
Small cells
Deutsche Telekom will be making increasing use of small cells in its network in 2019. These small "amplifier antennas" can be used to upgrade network capacity in line with demand, wherever customers need them. Major cities like Hamburg, Berlin, and Munich will be the focus here. Public phones often serve as the locations of small cells. Things will kick off in January this year with a public phone equipped with a small cell in the historical center of Düsseldorf. In addition, lampposts and street furniture will be used to pilot alternative installation possibilities. In this context, the first small cell installed in a lamppost is already transmitting in Bad Honnef.
60,000 kilomenters of fiber-optic network
Deutsche Telekom will continue to expand its fiber-optic network in Germany this year, with planned expansion of up to 60,000 kilometers. As a result, millions more households will get modern, high-capacity broadband lines – and not only in major cities and conurbations; rural areas will benefit in particular. 
Upgrades of business parks will remain another special focus. After conducting advance marketing for 140 business parks in 2018, Deutsche Telekom will now start connecting them with fiber-optic lines this year. This work will start with the Egelsbach business park near Frankfurt. 
Fiber-to-the-home upgrades are already planned in 2019 for around 61,000 households in Bautzen, for around 47,000 households in the Märkischer Kreis district, and around 45,000 households in the northern Saxony region, for example. The first 30,000 households in and around Stuttgart are planned to be connected with optical fiber as part of a major digitalization project. The digging is scheduled to start here in the second quarter.
Another goal is to increase the speed of existing lines. This year, Deutsche Telekom will be modernizing around 5 million households, from under 50 Mbit/s to over 50 Mbit/s. 
Sensor and machine network
The sensor and machine network will also be expanded further in 2019 and will be available nationwide by the end of the year. This narrowband network (NB-IoT, or NarrowBand Internet of Things) connects machines and other objects. It has been used since 2018 to connect parking spaces, for example: so far, over 35,000 connected parking spaces in 37 German cities can be accessed with the Park & Joy app. This number is planned to be doubled or even tripled in 2019.
( Press Release Image: https://photos.webwire.com/prmedia/6/234636/234636-1.jpg )
Related Links
WebWireID234636

This news content was configured by WebWire editorial staff. Linking is permitted.
News Release Distribution and Press Release Distribution Services Provided by WebWire.