#TheFirstSecond by Sam Anthamatten: Guiding and freeriding, the fine line
The last gesture before departure, slipping on a mask or goggles, plunges us into our "bubble". This special, intimate moment, laden with experience and emotion, is "The First Second": it reveals the human factor underlying the athlete and outdoor enthusiast. Share this inside look with Julbo...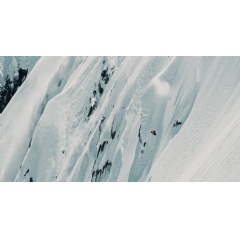 "To make mad lines, you have to be radical!"
#TheFirstSecond by Sam Anthamatten: Guiding and freeriding, the fine line
"To make mad lines, you have to be radical!"
Samuel Anthamatten : Guiding and freeriding, The Fine Line : https://www.youtube.com/watch?v=yGp6_9WhJPM
A specialist of the high mountains, Sam is a dedicated freerider, but behind his instincts as a skier, there's also a guide: it's his job and his culture. For each line, there's an inner struggle between safety and risk. Getting the balance right is tricky, as freedom is also at stake. Through his sport, he lives and perpetuates the iconic image of the Zermatt guide.
Does a line in the high mountains equal total freedom?
I'm a freerider and I'm also a mountaineer. I can climb mountains using a technical style. Exploring mountains all over the world, finding a way in, and skiing a cool line is my specialty! I know I wouldn't be the fastest or the craziest. Double-corks are for youngsters and eternal optimists.
When you're out on a freeride day or an expedition, you're exposed to a certain amount of danger. So I make sure I'm in good company. This year, I'm doing another big project with Jérémy [Heitz]: we have pretty much the same way of thinking when it comes to skiing and decision-making, and that's important if you want to push the envelope.
An automatic process kicks in when you approach a line, and you make decisions minute by minute. When I'm ready to drop, I feel some tension but it's as if all the decisions had already been made in terms of snow, speed and turns. And when it comes to how you handle the line, it's your imagination that brings that to life! When you put your goggles on, it's "go time"! You relax because you know you're happy with the risk you're taking. As soon as you start to ski, there's a great feeling of freedom because everything's working right!
Who takes control, the guide or the freerider?
We're often operating in a gray area: we're looking for extremes like cool, steep slopes facing north with little light. As a guide, you don't have the same rules and often I should say "no", we'll go somewhere else, but as a freerider, I want to ski it! To make mad lines, you have to be radical! It's a tricky balance. Sometimes it stops you doing things, and sometimes it gives you the opportunity to make the right decisions and stay alive. It's a constant battle in my mind.
When it comes to danger and risk, friends listen more closely to what I say, and my experience adds a certain pressure. If anything happens, it's the guide, me, who's responsible. You have to be honest. The mountains are very honest and if you make a mistake, you pay for it quickly!
When do you feel the tension mounting?
Your vision of a line often starts from an image you've seen. And the tension's there as soon as you have the idea. It increases when you pack your bags and when you arrive at the mountain hut. You think about all the different factors: the weather, your friends and so on. You don't sleep well. At night, I dream of the descent and that's just another way of preparing for it mentally. You can have doubts and also dream of what can go wrong! The next day you might have flashbacks of your dreams. It can be very intense and not easy. Sometimes, it takes two days or more to analyze everything, and to get all the options in your head!
What does being a guide mean to you?
I was born and raised in Zermatt. There's a fantastic tradition of guiding here. When we were younger, we spent a lot of time in the mountains with guides, and we felt they were guys who could climb anywhere. I really wanted to be like them! The guides were my heroes...
( Press Release Image: https://photos.webwire.com/prmedia/7/234435/234435-1.jpg )
Related Links
WebWireID234435

This news content was configured by WebWire editorial staff. Linking is permitted.
News Release Distribution and Press Release Distribution Services Provided by WebWire.