Berlinale Co-Production Market: Bringing Together Partners for 37 New Feature Film Projects
WEBWIRE
–
Thursday, January 10, 2019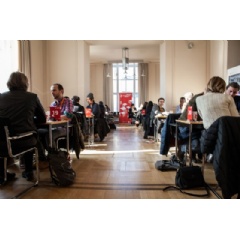 From February 9 to 13, 2019, the 16th edition of Berlinale Co-Production Market invites 600 international producers and financiers to come together to explore new partnerships. This time out, 37 new feature film projects whose producers are looking to team up with co-production partners from other countries have been chosen to participate. In addition, five exceptional production companies will be presented in the scope of the Berlinale Co-Production Market's "Company Matching" programme.
In more than 1,300 arranged one-on-one meetings during the Berlinale Co-Production Market, international co-producers, representatives from world sales companies and broadcasters, distributors, public funds and financiers from all over the world meet with producers from the selected projects, which hail from a total of 30 countries. The Berlinale team plans the meetings according to the concrete needs of each individual project.
The success of this elaborate matchmaking approach is reflected in the sizeable amount of projects featured in previous editions that have made it to completion. In 2018 alone, 16 of these films were screened at international A-list festivals and in cinemas, and one film has already been announced for Berlinale 2019, to be shown in the Panorama section: To thávma tis thálassas ton Sargassón (The Miracle of the Sargasso Sea) by Syllas Tzoumerkas. Two of the film's producers will be presenting their new projects at this year's Berlinale Co-Production Market: Maria Drandaki from Athens-based Homemade Films and Ellen Havenith from the Dutch production company PRPL.
For the official project selection, 22 highly promising feature film projects were chosen from a total of 325 submissions, with budgets ranging from 750,000 to 6.5 million euros. These projects will be presented by internationally experienced producers who are bringing along production support from their native countries, or have at least secured 30% of their proposed financing by this point.
In the category "Berlinale Directors", three promising projects from directors who have had films featured at the Berlinale previously will have the opportunity to forge partnerships for their new projects at an early financing stage.
In the scope of "Rotterdam-Berlinale Express", two film projects will participate at CineMart Rotterdam as well as at Berlinale Co-Production Market, one of which is simultaneously part of the "Talent Project Market".
At the "Talent Project Market", organised in co-operation with Berlinale Talents, a total of eleven up-and-coming producers will present their projects, which were selected from a further 226 submissions.
With a total of 20 female filmmakers represented, 48.6% of the selected projects will be realised under the direction of women. This includes female filmmakers from all parts of the world, such as Marcela Said from Chile, Elina Psykou from Greece, Júlia Murat from Brazil, Wang Yichun from the People's Republic of China and Tallulah H. Schwab from Norway/The Netherlands, who have all previously contributed feature-length films to the Berlinale programme, and last but not least, Berlinale prize winner Carla Simón, who previously participated in the "Talent Project Market" with her multi-award-winning debut project Estiu 1993 (Summer 1993) and is appearing this time with not one but two projects as a director. In addition, there are new projects waiting to be discovered also from male directors like Stefan Ruzowitzky, Uberto Pasolini, Thanos Anasthopoulos, Christian Schwochow, Santiago Mitre, Boo Junfeng, Arab and Tarzan Nasser as well as TEDDY AWARD winner Alex Anwandter.
Aside from the meetings with potential partners, the producers of the selected projects also have the chance to compete for renowned awards featuring monetary prizes, namely the Eurimages Co-Production Development Award (20,000 euros), the VFF Talent Highlight Award (10,000 euros) and the ARTE International Prize (6,000 euros).
The firms presented in the "Company Matching" programme come from Germany, Greece, Hungary, Mexico and Switzerland. The roughly 600 other participants are also welcome to request individual one-on-one meetings with them, in order to share information and ideas on a structural level or on the basis of project slates and initiate potential longer-term collaborations.
A multi-faceted framework programme additionally offers the participating producers space for networking and news on current production topics.
The main partners of the Berlinale Co-Production Market are MDM – Mitteldeutsche Medienförderung and the Creative Europe - MEDIA Programme of the European Union.
The Berlinale Co-Production Market is a part of the European Film Market. Co-operation partner and primary event location is the Berlin House of Representatives (Abgeordnetenhaus), which is situated right across from the European Film Market at the Gropius Bau.
Official Project Selection 

Berlinale Co-Production Market 

2019 
(In Alphabetical Order According to Production Company):
- Compartment Number Six (D: Juho Kuosmanen), Aamu Film Company, Finland
- Alcarràs (D: Carla Simón), Avalon PC, Spain
- The Hunt for the Puma (D: Marcela Said), Cinéma Defacto, France 
- Rule 34 (D: Júlia Murat), Esquina Filmes & Bubbles Project, Brazil
- Hinterland (D: Stefan Ruzowitzky), FreibeuterFilm, Austria & Amour Fou Luxembourg, Luxembourg 
- Paradise (D: Bijon), Goopy Bagha Productions, Bangladesh, & Razor Film Produktion, Germany
- The Kidnapping (D: Wang Yichun), Huace Pictures & Voilà Pictures, People's Republic of China
- Reshma Shera (D: Megha Ramaswamy), Jar Pictures, India
- The Property (D: Dana Modan), July August Production, Israel & Extreme Emotions, Poland
- Apollo (D: Arab and Tarzan Nasser), Les Films du Tambour, France 
- Petite Fleur (D: Santiago Mitre), Maneki Films, France & La Uniòn de los Rìos, Argentina
- Home Away (D: Thanos Anastopoulos), Mansarda Production, Italy & Fantasia Audiovisual, Greece
- A Responsible Adult (D: Shira Geffen), Marker Films, Israel
- Chica_Chile_Norway (D: Ingvild Søderlind), Miso Film Norge, Norway
- Je suis Karl (D: Christian Schwochow), Pandora Film Produktion, Germany
- Dominion (D: Boo Junfeng), Peanut Pictures, Singapore 
- The Souls (D: Tallulah H. Schwab), PRPL, The Netherlands
- Nowhere Special (D: Uberto Pasolini), Red Wave Films, United Kingdom
- For Real (D: Benjamin Cantu), Rohfilm Factory, Germany
- Farewell o Earth (D: Ask Hasselbalch), Snowglobe, Denmark
- Slash/Back (D: Nyla Innuksuk), Stellar Citizens & Scythia Films & Mixtape VR, Canada 
- Happy Sheep (D: Valéry Rosier), Wrong Men, Belgium
"Berlinale Directors" Projects:
- A Golden Shotgun (D: Alex Anwandter), Araucaria Cine & Panchito Films, Chile
- From Malta to Oblivion (D: Axel Petersén), Flybridge, Sweden
- Patrimonial Fears and Other Symptoms (D: Elina Psykou), Homemade Films & StudioBauhaus, Greece
"Rotterdam-Berlinale Express":
- Stillborn (D: Olga Chajdas), Apple Film Production, Poland
- Peaches (D: Jenny Suen), White Sea Pictures (P: Jenny Suen), Hong Kong & Salty Pictures, People's Republic of China (see also "Talent Project Market")
"Talent Project Market" – Projects and Selected Production Talents 
(In Alphabetical Order According to Production Company):
- Three Brothers (D: Francisco Paparella), 3 Moinhos (P: Ana Alice De Morais), Brazil & Río Azul Films, Argentina
- Each of Us (D: Anne Zohra Berrached, Carla Simón, Meritxell Colell), Alhena Production (P: Eva Pauné), Spain
- Livramento (D: Lillah Halla), Arissas Multimidia (P: Clarissa Guarilha Santos), Brazil 
- Kullu Men Allah (D: Rotem Kaplinsky), Black Sheep Film Productions (P: Alona Refua), Israel
- Bufis (D: Mahad Ahmed, Vincenzo Cavallo), Cultural Video (P: Vincenzo Cavallo), Kenya
- Wolf (D: Nathalie Biancheri), Feline Films (P: Jessie Fisk), Ireland
- The Driver (D: Lusine Sargsyan), Illusion Production (P: Ophelia Harutyunyan), Armenia
- In-Law (D: Dar Gai), Jugaad Motion Pictures (P: Dheer Momaya), India
- Autobiography (D: Makbul Mubarak), KawanKawan Media (P: Yulia Evina Bhara), Indonesia
- Like a Limbless Tree (D: Tunç Davut), Tekhne Film (P: Sinem Altindag), Turkey
- Peaches (D: Jenny Suen), White Sea Pictures (P: Jenny Suen), Hong Kong & Salty Pictures, People's Republic of China
"Company Matching" (In Alphabetical Order According to Company):
Bord Cadre films, Switzerland
Heretic, Greece 
One Two Films, Germany
Pimienta Films, Mexico
Proton Cinema, Hungary
( Press Release Image: https://photos.webwire.com/prmedia/6/233976/233976-1.jpg )
Related Links
WebWireID233976

This news content was configured by WebWire editorial staff. Linking is permitted.
News Release Distribution and Press Release Distribution Services Provided by WebWire.