St. Antonius Hospital in Nieuwegein/Utrecht, The Netherlands Has Studied 500 Sarcoidosis Patients Using the Ventripoint Heart-Analysis System
Toronto –
WEBWIRE
–
Tuesday, January 8, 2019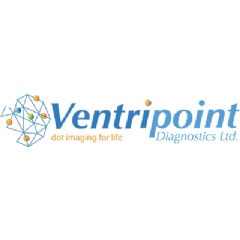 Ventripoint Diagnostics Ltd. ("Ventripoint" or the "Company", TSXV:VPT, OTCQB:VPTDF) is pleased to announce that Dr. M.C. Post, MD, PhD Cardiologist and Dr. Marloes Huitema, MD, PhD candidate Cardiology at St. Antonius Hospital in Nieuwegein/Utrecht, the Netherlands, are using the VMS System to study patients with sarcoidosis, an inflammatory disease that affects multiple organs in the body, including the heart.
Using the Ventripoint VMS System, Dr. Huitema has studies approximately 500 sarcoidosis patients with an interest in early detection of pulmonary hypertension in sarcoidosis. To date, the study has found almost 20 patients with confirmed pulmonary hypertension. They will continue to monitor the right-ventricular function of these patients, using the Ventripoint solution, to better understand the progress of the disease.
"The right heart is difficult to assess, and in patients with pulmonary disease, this challenge is even more difficult. Ventripoint provides a solution that allows us to overcome these barriers and might be an alternative to MRI, which is costly, time consuming and not possible for all patients.  Furthermore, in those patients with pulmonary hypertension, the Ventripoint technology gives us an ability to repeatedly evaluate the right-ventricular dimensions with a rapid, inexpensive, non-invasive procedure to determine therapeutic efficacy," commented Dr. Marloes Huitema, MD Cardiology at St. Antonius Hospital.
There are many potential applications for the VMS technology; providing confidence in the volumetric measurements of patients with accuracy comparable to cardiac MRI is its strength.
  
About Sarcoidosis and Pulmonary Hypertension
Sarcoidosis is a multi-organ disease characterized by local inflammations (granulomas), particularly in the lungs and lymph nodes.  Sarcoidosis has an unknown cause and affects about 50,000 people a year in the United States and 150,000 to 200,000 people have chronic sarcoidosis.  Pulmonary hypertension occurs in 6% to 74% of patients with sarcoidosis with large differences around the world. Pulmonary hypertension is a serious complication leading to early mortality. The most common treatments include anti-inflammatory agents, and sometimes pulmonary vasodilators, which might help lower pulmonary arterial pressures, improve breathing and functionality, and enhance overall quality of life. Eur Respir Mon, 2005, 32, 13–22.
 
About St. Antonius Hospital Nieuwegein
St. Antonius Hospital is the largest non-academic training hospital in the Netherlands that provides top clinical care. Top clinical care is highly specialized care, such as cardiac surgery and care for patients with interstitial lung disease or pulmonary vascular disease, which requires specialized facilities, often with a separate funding framework. This highly specialized care usually has a supra-regional function. This means that patients outside the region also come to St. Antonius Hospital for this care.     
About Ventripoint Diagnostics Ltd.                                                              
Ventripoint's technology is a leading Artificial Intelligence (AI) approach known as Knowledge-Based Reconstruction (KBR), used to create applications to monitor heart disease, a leading cause of death worldwide. The VMS+ is the first cost-effective and accurate AI tool for measuring whole heart function using conventional ultrasound.  The Company has developed a suite of applications for all major heart diseases and is actively commercializing the approach to improve cardiac care. 
Neither the TSX Venture Exchange nor its Regulation Services Provider (as that term is defined in policies of the TSX Venture Exchange) accepts responsibility for the adequacy or accuracy of this release. 
Forward Looking Statements:
This news release contains forward-looking statements and forward-looking information within the meaning of applicable securities laws. The use of any of the words "expect", "anticipate", "continue", "estimate", "objective", "ongoing", "may", "will", "project", "should", "believe", "plans", "intends" and similar expressions are intended to identify forward-looking information or statements. The forward-looking statements and information are based on certain key expectations and assumptions made by the Corporation. Although the Corporation believes that the expectations and assumptions on which such forward-looking statements and information are based are reasonable, undue reliance should not be placed on the forward-looking statements and information because the Corporation can give no assurance that they will prove to be correct.  Since forward-looking statements and information address future events and conditions, by their very nature they involve inherent risks and uncertainties. Actual results could differ materially from those currently anticipated due to a number of factors and risks. Other factors, which could materially affect such forward-looking information are described in the risk factors in the Corporation's most recent annual management's discussion and analysis that is available on the Corporation's profile on SEDAR at www.sedar.com. Readers are cautioned that the foregoing list of factors is not exhaustive. The forward-looking statements included in this news release are expressly qualified by this cautionary statement. The forward-looking statements and information contained in this news release are made as of the date hereof and the Corporation undertakes no obligation to update publicly or revise any forward-looking statements or information, whether as a result of new information, future events or otherwise, unless so required by applicable securities laws.
( Press Release Image: https://photos.webwire.com/prmedia/5/233874/233874-1.png )
Related Links
WebWireID233874

This news content was configured by WebWire editorial staff. Linking is permitted.
News Release Distribution and Press Release Distribution Services Provided by WebWire.