Americana Week | January 2019
New York  –
WEBWIRE
–
Thursday, December 27, 2018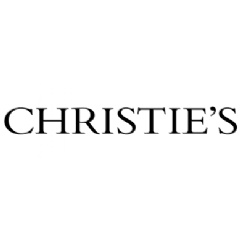 Christie's is pleased to announce Americana Week 2019, a series of auctions, viewings and events, to be held January 12-18. The week of sales is comprised of Chinese Export Art Featuring the Hodroff Collection, Part IV on January 17, Important American Furniture, Folk Art, Silver and Prints on January 17-18, Outsider and Vernacular Art on January 18 and a special single owner collection Little Cassiobury: The Collection of Susan Lyall on January 16.
Object highlights across the week include a stunning example by Ammi Phillips Girl in Red Dress with Dog ($800,000–1,200,000), a Queen Anne Carved Walnut Compass-Seat Side Chair from Philadelphia, circa 1750 ($200,000–300,000), a rare oil painting attributed to Lamqua, Portrait of Houqua, circa 1840-1870 ($40,000-60,000), and an American parcel-gilt presentation tray depicting the Brooklyn Bridge, made by Gorham in 1889 for the 25th wedding anniversary of the bridge's engineer Washington Augustus Roebling ($60,000-80,000). Outsider and Vernacular Art features Henry Darger's two-sided work 148 At Jennie Richee During Fury Of Storm Are Unsuccessfully Attached [Sic] By Glandelinians / 149 At Jennie Richee Narrowly Escape Capture But Blengins Come To Rescue from The Collection of Eugenie And Lael Johnson ($250,000-500,000) and an untitled Carlo Zinelli double-sided piece from The Estate Of Larry Dumont ($8,000-12,000).
In all, Americana Week 2018 will offer over 1,000 carefully curated lots across the four live auctions and one online auction. In conjunction with the sales, Christie's will host the annual Eric M. Wunsch Award for Excellence in the American Arts on Wednesday January 16 at 6pm honoring the Decorative Arts Trust and Thomas Jayne. Before the Wunsch Awards there will be two lectures, one given by Peter M. Kenny, the Co-President of Classical American Homes Preservation Trust on Revisiting the Classical Furniture of Honoré Lannuier & Duncan Phyfe at 4pm and the other in partnership with Preservation Long Island about Elias Pelletreau, the Long Island Silversmith and Entrepreneur, 1726–1810 at 4:30pm.
Public Exhibition | January 12-17
Americana Week 2018 | Overview of SalesLITTLE CASSIOBURY: THE COLLECTION OF SUSAN LYALL | JANUARY 16 | 10AM
On January 16 Christie's will offer Little Cassiobury, New York: An English Country House in America, a single-owner sale held during Americana Week, featuring fine English and Irish furniture, Chinese works of art and furniture, as well as British paintings and decorative art. 
Set upon 24 acres in Bedford Hills, New York, the 'Little Cassiobury' estate was built by the American antiques dealer and anglophile Mrs. Harriet Hooper who salvaged the Tudor bricks from Cassiobury Park, Hertfordshire upon its demolition in 1927. Susan Lyall purchased Little Cassiobury, Bedford Hills, more than 80 years after its construction, and she mirrored the taste and spirit of its original owner by meticulously restoring and preserving the interior – filling it with a collection of antiques and fine art procured during her many years living in England. For a number of years she lived at Swinbrook House, Oxfordshire, the former home of the Mitford sisters. The Collection of Susan Lyall brings together works that echo the heritage of Little Cassiobury's less-than-modest beginnings. 
Highlights include a strong selection of Irish furniture, such as a wonderful Williams and Gibton Irish William IV Mahogany Four-Pedestal Extension Dining Table, circa 1835 ($60,000-100,000) and a near pair of Irish George II mahogany side tables, circa 1735 ($30,000-50,000). Other highlights include an elegant pair of Huanghuali 'Official's Hat' armchairs, Guanmaoyi, 7017th-18th century ($100,000-150,000) and a Chinese Huanghuali corner-leg side table, 18th-19th century ($50,000-70,000). Also on offer are two superb works by Sir Alfred James Munnings KCVO, PRA (1878-1959) and a majestic work titled The fleet, under the command of Rear-Admiral Charles Watson and Commodore William James, approaching Geriahon 12 February 1756 for the final showdown with the pirate Tulagee Angria, by Dominic Serres R.A. (Auch, Gers 1719-1793 London), oil on canvas ($30,000-50,000).
CHINESE EXPORT ART FEATURING THE HODROFF COLLECTION, PART IV | JANUARY 17 | 10AM
Chinese Export Art: Featuring The Hodroff Collection, Part IV will offer 281 lots of classic Chinese export porcelain and paintings. Christie's is honored to auction the fourth part of the magnificent Leo and Doris Hodroff Collection, one of the largest and most comprehensive collections of Chinese export porcelain in private hands. On offer from the group is a five-piece 'Parrot on a Perch' garniture, Quianlong period, circa 1740 ($25,000-40,000). The sale also features more than 70 lots from scholar, dealer and collector Antoine Lebel, which is led by a set of three graduated French royal armorial ecuelles and covers, Yongzheng period, circa 1733, ($25,000-40,000).
The top lot of the sale is a rare oil painting attributed to Lamqua, Portrait of Houqua, circa 1840-1870, depicting the powerful and wealthy Chinese merchant whose portraits were treasured acquisitions for leading Western visitors to the China coast in the beginning of the 19th century ($40,000-60,000). A very rare 'Beggar's Bennison' armorial punchbowl, circa 1765, from the Collection of the Fort Ligonier Association is another sale highlight ($30,000-50,000). This unique bowl displays the coat of arms, probably of Sir Thomas Wentworth, twice on the exterior and the interior of the bowl reveals a roundel inscribed 'The Beggar's Bennison' enclosing the crest of this libertine men's society. Other sale highlights include a massive pair of painted enamel plaques from the Qianlong period ($30,000–50,000) and a pair of famille verte triple-gourd vases from the Kangxi period ($7,000-10,000).
CHINA FROM CHINA
Online Sale, 14 – 23 January
Also on view together with the live auction will be an online sale of Chinese export porcelain, China from China, which will be open for bidding January 14 – 23. Featuring 125 lots of platters, bowls, tureens, vases and mugs in a variety of styles and color palettes the sale provides an excellent opportunity for new collectors with estimates ranging from $300 to $3,000.
IMPORTANT AMERICAN FURNITURE, FOLK ART, SILVER AND PRINTS | JANUARY 17-18 | 3PM & 2PM
In a two-day session from January 17 – 18 Christie's will offer the sale of Important American Furniture, Folk Art, Silver and Prints. This season includes an impressive selection of 295 lots. Folk art highlights include Ammi Phillips, Girl in Red Dress with Dog ($800,000-1,200,000) from the artist's Kent period when Phillips lived and worked in Kent, Connecticut; it aligns closely with three other examples from this period in style and composition. Edward Hicks' The Peaceable Kingdom ($800,000-1,200,000) is a "Middle Kingdom" masterpiece from his series of more than sixty paintings that depict his interpretation of the prophecy of Isaiah; a similar piece in composition and period belongs to the National Gallery. Among furniture highlights are a Queen Anne Carved Walnut Compass-Seat Side Chair from Philadelphia, circa 1750 ($200,000-300,000), a Chippendale mahogany block-and-shell carved tall-case clock from Providence, RI circa 1785 with a dial signed by Seril Dodge ($ 100,000–150,000) that has been revered as a Rhode Island masterpiece for more than seventy-five years and a carved and painted oak 'Hadley' chest with two drawers ($30,000– 50,000) that closely relates to nine other known examples. Acquired in New Hampshire in the late nineteenth century, this chest has been in the family of the current owner for more than a hundred years.
Highlights from the American Silver offered in the sale include a strong selection of works by important 19th century makers such as Tiffany & Co. and Gorham Mfg. Co., reflecting a time in America when silver craftmanship started to test the boundaries of employing mixed-metals, as exemplified by a mixed-metal ale serving tray, circa 1880 ($30,000-50,000) and a water pitcher, circa 1880 ($30,000-50,000). Another highlight of the Silver session is a monumental silver Renaissance Revival jardinière centerpiece, made by Tiffany circa 1907, design attributed to Paulding Farnham ($60,000-90,000). Also on offer is an 1870 Gorham silver ice bowl commemorating the purchase of Alaska from Russia and depicting an iceberg with icicles and polar bears ($15,000-25,000), and a Gorham presentation tray finely engraved with a view of the Brooklyn Bridge made for Washington Augustus Roebling, the lead engineer of the project ($60,000-80,000).
OUTSIDER AND VERNACULAR ART | JANUARY 18 | 10AM
The Outsider and Vernacular Art sale on January 18 will be the largest to date with 162 lots on offer. The auction features stunning examples by masters in the category, including rare and important works by Bill Traylor, Thornton Dial and Henry Darger, which come directly from prestigious collections including The William Louis-Dreyfus Foundation, The Collection of Eugenie and Lael Johnson and The Estate of Larry Dumont.
Collector and philanthropist William Louis-Dreyfus was particularly fascinated by works by self-taught artists. He focused his attention on James Castle, Bill Traylor, Nellie Mae Rowe, Thornton Dial, and Willie Young, among others. Louis-Dreyfus regarded the work of his favorite self-taught artists with the same intense enthusiasm as he did anything else in the collection and acquired their work in depth. To realize Louis-Dreyfus' vision of deploying his art for social good, proceeds from works sold by the William Louis-Dreyfus Foundation will support the activities of the Foundation as well as the Harlem Children's Zone. Highlights offered in this upcoming sale include Bill Traylor's Fighting Dogs, 1939-1942 ($50,000-80,000), James Castle's Untitled Construction (Large Blue Jacket) ($20,000-40,000) and a mixed media sculpture by Judith Scott, Untitled, 1992 ($12,000-18,000). To learn more about the ongoing initiative and exhibition this past September please click here.
The top lot this season is Henry Darger's monumental 148 At Jennie Richee During Fury Of Storm Are Unsuccessfully Attached [Sic] By Glandelinians / 149 At Jennie Richee Narrowly Escape Capture But Blengins Come To Rescue ($250,000-500,000), which comes from The Collection of Eugenie and Lael Johnson, Chicago-based collectors who amassed blue-chip holdings of works by Outsider artists. Eugenie has stated that she became captivated by Outsider Art because she "was impressed by [the artists'] lack of self-critical filters and directness of expression," because, from her own art practice, she understood "how self-consciousness could get in the way of the process." Additional highlights include works from The Namits Collection, led by the astounding 1992 Thornton Dial construction, Sneakin' In ($25,000-50,000), and works by A.G. Rizzoli, a masterful architectural draughtsman-turned-artist with very little auction history, from The Collection of Bonnie Grossman.
About Christie's
Christie's, the world's leading art business, had global auction, private and digital sales in the first half of 2018 that totalled £2.97 billion / $4.04 billion. Christie's is a name and place that speaks of extraordinary art, unparalleled service and international expertise. Christie's offers around 350 auctions annually in over 80 categories, including all areas of fine and decorative arts, jewellery, photographs, collectibles, wine, and more. Prices range from $200 to over $100 million. Christie's also has a long and successful history conducting private sales for its clients in all categories, with emphasis on Post-War & Contemporary, Impressionist & Modern, Old Masters and Jewellery.
Alongside regular sales online, Christie's has a global presence in 46 countries, with 10 salerooms around the world including in London, New York, Paris, Geneva, Milan, Amsterdam, Dubai, Zürich, Hong Kong, and Shanghai.
*Please note when quoting estimates above that other fees will apply in addition to the hammer price - see Section D of the Conditions of Sale at the back of the sale catalogue.
*Estimates do not include buyer's premium. Sales totals are hammer price plus buyer's premium and are reported net of applicable fees.
( Press Release Image: https://photos.webwire.com/prmedia/6/233494/233494-1.png )
Related Links
WebWireID233494

This news content was configured by WebWire editorial staff. Linking is permitted.
News Release Distribution and Press Release Distribution Services Provided by WebWire.