Stedin and GE Power Mobilize New Technology to Manage Increasing Renewable Generation in the Netherlands
-First-in-Europe implementation of new GE technology to improve management of grid reliability and increase efficiency
-Stedin and GE to address complexities of increasing renewable energy, including the risk of grid imbalance and congestion
​
Amsterdam –
WEBWIRE
–
Tuesday, December 11, 2018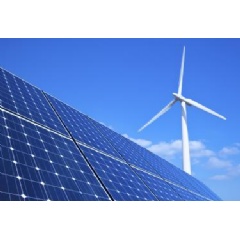 Today GE (NYSE: GE) and Stedin, one of the leading distribution network operators (DNOs) in the Netherlands, went live with the first European implementation of Transmission Forecast (T-Forecast) software from GE's Grid Solutions. Part of the Digital Energy portfolio, this new solution forecasts power flow across transmission and distribution and is built to help manage increasing levels of renewable energy generation.
Electrical grids were constructed to manage a uniform flow of electricity primarily powered by coal, petroleum and natural gas. The growth of distributed energy resources (DERs) – such as renewable wind and solar energy which ebb and flow based on weather patterns – coupled with the onset of micro-grids and storage alternatives, have increased the variability and complexity in energy flow. Renewable energy's variability creates new stresses on the grid, including overload and congestion.
Based on GE's DER Orchestration solution, the T-Forecast software enhances electric power flow look-ahead visibility at the point of interconnection. This allows both Stedin and the transmission system operator (TSO) in the Netherlands to better manage the variability and intermittency of renewable energy generation. The T-Forecast software leverages the TSO's Balance Responsible Parties declarations and machine learning technologies to compute a reliable forecast of the power flow at 39 primary substations. This supports Stedin's compliance with regulations associated the EU's "third energy package" (directive 2009/72/EC and regulation (EC) 714/2009), in particular the codes related to forecasting load flows in the electrical grid.
Stedin is also focused on flexible deployment initiatives – enabling flexible generation and consumption – as an alternative to grid reinforcements. With GE's T-Forecast solution, Stedin is able to predict where flexible deployment is necessary, thereby lowering the risk of an unbalanced grid or local overload, even when levels of decentralized generation are high and ensuring a stable electricity supply.
"We are excited to deepen our relationship with GE through the implementation of the T-Forecast software solution. With this new technology, we will be able to better predict the energy load flows in the electrical grid, and in turn, we can increase efficiency and reliability for our customers," said Peter Hermans, CTO of Stedin. "As renewable energy usage continues to increase, this technology provides a seamless path for future required functionalities and market interactions, including using flexibility for congestion management."
"We are pleased to work with Stedin in delivering GE's first implementation of T-Forecast technology in Europe," said Steven Martin, chief digital officer, GE Power. "A joint view of forecasting with high accuracy allows the TSO to balance their transmission grid while allowing Stedin to avoid congestion at the DNO level."
T-Forecast is architected as a flexible and open modular solution, based on micro-services, meaning it can be easily updated and inserted into any business process with other services, through orchestration, to support multiple use cases. This modularity also enables it to be "pluggable" onto any SCADA from any provider. With its intuitive user experience, T-Forecast delivers actionable insights for managing the interconnections between the Netherland's transmission and distribution grids, which helps to prevent disturbances and interruptions.
In 2016, nearly 90 percent of new power added to the electric grid was made up of renewable sources in Europe. With two of Europe's three largest new windfarm projects and strong solar power growth, the Netherlands is playing a key role in driving Europe's rapid shift away from fossil fuels. The country is also experiencing an increase in electric vehicle (EV) adoption in alignment with the Dutch government's long-term energy plan which mandates a phase out of all internal combustion engines by 2035.
About GE
GE (NYSE: GE) drives the world forward by tackling its biggest challenges: Energy, health, transportation—the essentials of modern life. By combining world-class engineering with software and analytics, GE helps the world work more efficiently, reliably, and safely. For more than 125 years, GE has invented the future of industry, and today it leads new paradigms in additive manufacturing, materials science, and data analytics. GE people are global, diverse and dedicated, operating with the highest integrity and passion to fulfill GE's mission and deliver for our customers.www.ge.com
About GE Power
GE Power is a world energy leader providing equipment, solutions and services across the energy value chain from generation to consumption. Operating in more than 180 countries, our technology produces a third of the world's electricity, equips 90 percent of power transmission utilities worldwide, and our software manages more than forty percent of the world's energy. Through relentless innovation and continuous partnership with our customers, we are developing the energy technologies of the future and improving the power networks we depend on today. For more information please visit www.ge.com/power,
About Stedin
Working together towards a lifeworld full of new energy. This is the goal that Stedin works towards every day. To ensure that our more than two million customers can live and work in the most densely populated and industrialised region of the Netherlands: the province of Utrecht and the larger part of the province of Zuid-Holland. A service area with a particularly complex energy infrastructure and a high dependence on energy. With some 3,000 employees, we are working on a sustainable energy supply with more and more local production. A future-proof system that will continue to be reliable and affordable and can be passed on from generation to generation.
( Press Release Image: https://photos.webwire.com/prmedia/6/232732/232732-1.jpg )
Related Links
WebWireID232732

This news content was configured by WebWire editorial staff. Linking is permitted.
News Release Distribution and Press Release Distribution Services Provided by WebWire.