Cultivating Innovation and Co-Creation
The Case for Employee-Led Innovation
WEBWIRE
–
Thursday, November 29, 2018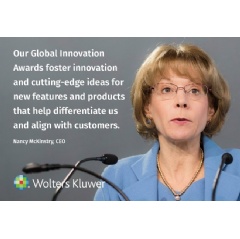 We took a deep dive into some of our creative innovation games and learned about five principles that helped Wolters Kluwer teams create award-winning customer solutions
As exciting technologies emerge and promise new frontiers in corporate culture, many organizations are experiencing a rekindled passion for knowledge and creativity. From innovation ecosystems to unconventional work-life hacks, corporate culture is having a moment. However, although innovation beyond traditional R&D has become the new norm, only 46 percent of businesses dedicate funds to innovation strategies. At Wolters Kluwer, investing in our culture and engaging employees in creative processes allows us to continually anticipate the needs of physicians, nurses, lawyers, tax professionals and finance and regulatory professionals. Customers and employees both play a crucial role in developing new industry-leading solutions through co-created activities such as our organization-wide innovation contests. In this piece, we look at five principles that have helped our innovation teams co-create customer-centered solutions.
1. Formalize your innovation
More often than not, managers make the mistake of introducing innovation activities as unconstrained activities with no discipline. "You need to have a very disciplined process so you can leverage the energy of your employees' creativity, allowing everyone to be a part of it," says Brian Diffin, CTO of Global Technology with Tax & Accounting (TAA) Wolters Kluwer, who runs the annual Code Games. Allowing the customer to judge the innovation brings home the change, according to Brian.
"Innovation has always been part of our DNA, everything we do is customer-focused. The Code Games was a groundswell from within our office just when hackathons were first starting in the professional space, we thought running a hackathon too would help customers understand this was an event based on innovating," recalls Brian. In the four years since TAA founded Code Games in Dallas, Texas, the participation has grown over 2.000 percent. Today, real-time motivational Tech Talks are hosted and broadcast at the flagship location to the over 800 TAA employees that participated in 2018.
Our company's Governance, Risk & Compliance division (GRC) has its own version of the Code Games. The ROCKathon competition, which started as a fun event in 2016 where employees had creative freedom to design and code anything they wanted, also found benefits in formalizing their idea pipelines.
"In the last two years, we've started focusing more on getting people's best ideas on how to make things better, whether they be ideas on our customer focus or operational efficiencies. We asked: what could, and, should we do differently to be better on the whole?" says Steve Swenson, VP of Product Platforms and Development. Asking and iterating on these questions has seen the ROCKathon competition evolve into an international, company-wide idea hackathon tournament.
The Global Innovation Awards (GIA) is our organization's largest innovation competition and sees 75 percent of winning ideas brought to life. Now in its eighth year, the tournament follows a highly formalized procedure where ideas fall into three categories: core business innovation, game-changers, and internal processes.
2. Frame your business challenge
When looking to solve business challenges through new ideas, you need a game plan to find the right problems you want to tackle.
"Sometimes the developers are not in touch with customers on the level they need to be to come up with ideas, meaning they struggle to get ideas validated or ensure they are innovating around the right problem," says Steve Swenson of the ROCKathon team. His team asked product managers for pain points they would like to see solved for customers. About a week before the hackathon, a "menu" of problem areas and product managers was released to the participants.
"What's really improved the impact of the solutions submitted was refining the categories and programs that spark innovative technology ideas around real-world problems our customers are seeing," says Art Tyzska, VP of Partnerships and New Products at Wolters Kluwer (GRC), who co-runs the ROCKathon.
The GIA takes a different approach when framing business challenges. Any one of our 19.000 employees can pitch an idea in the categories: core business, game changers or internal processes. This year, over 300 solutions were submitted. The original concept behind GIA was to give ideas that were already being funded, company-wide recognition and exposure.
3. Build interdisciplinary teams
Over 80 percent of the Fortune 100 conduct hackathons. Hackathons shorten innovation cycles and bring together groups of individuals with a diverse set of ideas, encouraging serendipitous advances. The key to implementing creative ideas at Wolters Kluwer involves creating the right team of engineers and customer experts.
Enablon, a world-leading risk management software, is a Wolters Kluwer Legal & Regulatory (LR) business unit that now has its own hackathon, the Enablon Customer Innovation Challenge. Launched in Paris and Chicago in June 2018, the challenge collected ideas from 50 of its customers. The customers were then paired up with employees after which they embarked on design sprints.
Code Games has a similar setup. "Originally the teams were made up of just developers and coders, and what was crucial [to our success] was when we realized the commercial mindset was missing. So now product management is part of each team which underscores our customer focus and the commercial mindset," states Brian.
In a similar vein, the most significant GIA learning to date has been to open the competition and give everyone - from salespeople to communications professionals - an opportunity to pitch a brainchild that could go on to see global adoption.
4. Test your hypothesis
The ROCKathon team has introduced a tollgate process (a control point where projects are reviewed) to test the solutions throughout the organization and directly with customers. This method allows product ideas and features to be considered by management teams who also assess revenue opportunities. They have also introduced a Product Innovation Champion who works with team members, "they go out to customers and evaluate the value of an idea or product to build a business case to make marketable solutions," says Art.
Code Games teams get to evaluate their solutions at the TAA iLab, an incubator with the sole focus of understanding customer pain points and testing innovations to address them. The process involves validating pain points, developing proofs of concept, and working with development and product management teams to fine-tune them.
GIA organizers take a different approach. Wolters Kluwer thought leaders are asked to advise and lobby for GIA pitches within each division. This helps the teams explore pricing and go-to-market strategies. "GIA helps Wolters Kluwer foster innovation and discover cutting-edge ideas for new features, products, and services that help differentiate us from our competition and align with the customers we serve," says Nancy McKinstry, CEO, and Chairman of the Executive Board. An external group of judges also helps finalists assess real-world potential in a ceremony not dissimilar to Dragon's Den. This year, innovation leaders such as Leslie Benning, Anne Berkowitch, and digital media pioneer Martin Nisenholtz participated as external judges.
5. Engage your team
Spurred on by the disruptive prowess of startup culture, businesses are experimenting with different intrapreneurial journeys in the hopes of engaging employees and uncovering their nascent ideas. However, according to a recent Gallup poll, 69 percent of North American workers feel they aren't working to their full potential.
"The ROCKathon is much more about innovation than a traditional innovation taskforce can be. Yes, it's about getting people's ideas, and that's a great thing, but "The engagement we build with team members is unique and we see this reflected in the surveys they fill out each year… The ROCKathon is much more about innovation than a traditional innovation taskforce can be. Yes, it's about getting people's ideas, and that's a great thing, but people look forward to these events," says Steve.
The Code Games team created a campaign to keep the momentum going with the Traveling Innovation Icon – a statue that "visits" global offices to meet the groups driving innovation. 
From practicing new skills to learning how to create business cases, participants in innovation competitions experience the satisfaction of seeing their ideas come to life. "The Innovation Awards are one of my favorite times of the year in the company because innovation is integral to our way of thinking," says Nancy McKinstry.
Successful employee-led innovation
Wolters Kluwer Legal & Regulatory is also a global sponsor of the 2019 Global Legal Hackathon (GLH2019), with LR employees around the world participating and supporting the innovation event as hosts, mentors, judges, and participants. GLH2019 brings together representatives from law firms, corporations, non-profit associations, universities, tech innovators, and others, to create rapid development of tech solutions to advance the legal industry, and improve the practice of law and access to legal services. The initiative encourages innovators in the legal world to work in a dynamic and decentralized way on opportunities and challenges across the legal industry.
The reckoning for big companies and their culture of innovation is upon us. Our organization's success in transforming and innovating solutions that protect the public's health, prosperity, safety, and legal rights is the result of a culture of innovation among our employees. Today, our innovation in user experiences and workflows allows 8 to 10 percent of our company's annual revenues to be invested in new or enhanced products. Innovation contests require happy and creative employees. Formalizing innovation pipelines, interdisciplinary teams and co-creating the prototypes in collaboration with customers – these are all factors that contribute to successful employee-led innovation.
( Press Release Image: https://photos.webwire.com/prmedia/6/232081/232081-1.jpg )
Related Links
WebWireID232081

This news content was configured by WebWire editorial staff. Linking is permitted.
News Release Distribution and Press Release Distribution Services Provided by WebWire.