$5.87 Billion U.S. Fertility Clinics & Infertility Services Market Growing Strongly
WEBWIRE
–
Thursday, November 29, 2018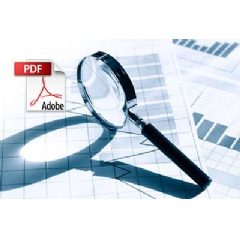 Insightful Market Research
"U.S. Fertility clinics will be posting heady growth for some time."
Nov. 29, 2018 --Tampa, FL - Marketdata LLC, a leading independent market research publisher covering service markets since 1979, has released a new 132-page report entitled: U.S. Fertility Clinics & Infertility Services: An Industry Analysis .  This market study investigates demand for and the dollar value of the services of: fertility clinics, sperm banks, egg donation, fertility drugs, and surrogacy programs.  It's a loosely regulated but high growth healthcare sector that's poised to grow strongly. The study estimates industry revenues from 1988 to 2023 Forecast. 
 
"The number of Assisted Reproductive Technology (ART) cycles performed by U.S. fertility clinics has been growing strongly since 2014 – estimated to total a record 333,600 IVF procedures this year, and demand is growing from the ranks of 7+ million infertile American women, many of which delayed childbearing due to careers. Medical tourists from Europe and China, and gay couples are two other growth.areas.", according to Research Director, John LaRosa.
 
 
Major Findings:
 
Market Value…  Marketdata analysts estimate that the U.S. infertility services market will reach $5.87 billion this year, up 21% from 2016. The Great Recession hardly impacted this business, despite the fact that IVF is an elective and costly procedure, paid for with disposable income out-of-pocket. Marketdata forecasts 7.0% average annual growth in revenues through 2023, to $7.93 billion.
The market is comprised of about 500 fertility clinics, 100+ sperm donor banks, the egg donors market, fertility drugs, and 1,700 reproductive endocrinologists – all competing for the business. ART / IVF procedures performed by fertility clinics are worth $4.1 billion of the total.
This market is largely untapped, as 75% of potential clients are not using infertility services. Only 15% of U.S. women have used fertility drugs, only 5.5% have tried artificial insemination, and only 1% have used IVF. However, the number of IVF cycles performed has grown from 70,000 in 1997 to an estimated 333,600 in 2018.
The global market for fertility drugs is worth $976 million, controlled largely by EMD Serono. The U.S. market is worth about $600 million, and is a mature market segment growing 6% annually. As IVF procedures' success rates improve, less of these medications are needed.
Studies indicate that up to 15% of couples of childbearing age of 20-44 in the United States are clinically infertile (about 15% of women and 10-15% of men).
Only one "chain" of fertility clinics, IntegraMed, exists, as most programs are small regional operations or are part of a hospital or University. Most are privately owned. IntegraMed operates some of the industry's top fertility clinics—capturing 7.6% of market revenues.
This industry is ripe for consolidation and venture capital and private equity firms are very interested. The industry is fragmented and is affected by recessions.
The egg donor/frozen eggs market is growing strongly, estimated to be worth $182 million this year, propped up by high demand from non-U.S. patients in Europe and the Middle East.
The potential from China cannot be overlooked. It is huge, as there is a shortage of clinics and qualified doctors in that country. Chinese patients traveling to the U.S. for treatment have fueled much of the industry's strong growth since 2014, and should continue to do so through 2023.
ART is not regulated by the federal government and is only lightly supervised by state agencies. Only 15 states mandate that insurers cover fertility treatment, so there is lots of untapped potential.
Around 1.5 million ART (assisted reproductive technology) cycles are performed worldwide, with 800,000 done by clinics in 39 European nations and several hundred thousand in the U.S. It's estimated that Chinese clinics may do another 800,000 per ye
 
"Women who use infertility services are more likely to be Caucasian, college educated, older than 30, have higher incomes, and never have given birth or been married.  However, the high price of IVF cycles ($12,400 each cycle, sometimes requiring multiple cycles), plus fertility drugs, exams and diagnostic  tests, deters many. The total price tag can top $50,000 or more. Only 15 states mandate insurance coverage, so most pay out-of-pocket.", according to Research Director, John LaRosa.
 
 
Editor's Note :   U.S. Fertility Clinics & Infertility Services: An Industry Analysis , November, 2018, is an independently researched study that is 132 pages long, has 34 Tables, and costs $1,395. It is also sold by individual chapters. Free brochure and table of contents available. John LaRosa available for interviews. Contact: Marketdata Enterprises, 7210 Wareham Drive, Tampa, FL  33647. (813-971-8080). Email: marketdataent@yahoo.com
 
A 20 pp. Overview Summary Report is available for $99.
( Press Release Image: https://photos.webwire.com/prmedia/51609/232044/232044-1.jpg )
Related Links
WebWireID232044
Contact Information

John LaRosa
Research Director
Marketdata LLC
(1) 813-971-8080

This news content may be integrated into any legitimate news gathering and publishing effort. Linking is permitted.
News Release Distribution and Press Release Distribution Services Provided by WebWire.