Ambitious UK-US Antarctic research mission begins
A team of UK and US polar scientists are about to embark on one of the largest joint Antarctic missions for more than 70 years. It's the first field season of a five-year quest to understand the contribution that the Thwaites Glacier in West Antarctica will make to global sea level. Support teams will cover about 7,000km in extremely cold and hostile conditions as they get field camps and supply depots set up and ready for the arrival of science teams.
WEBWIRE
–
Monday, November 19, 2018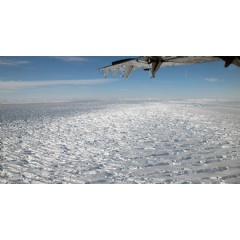 Reconnaissance flight over the Thwaites Glacier
"This is a tremendously exciting mission, and a fantastic example of how two nations can combine their scientific and operational expertise to tackle one of the big questions facing society today and in the future."
Currently, the amount of ice draining into the sea from this West Antarctic Ice Sheet glacier accounts for around 4% of global sea-level rise. Scientists are concerned that a collapse of the Thwaites Glacier could significantly raise global sea levels.
The mission is urgent. Scientists need to understand whether the glacier is likely to begin to collapse within the next few decades or within centuries. The £20 million research collaboration, funded by NERC and the US National Science Foundation (NSF), involves over 100 scientists and support staff.
Thwaites Glacier is extremely remote and difficult to reach. It is equidistant from the US McMurdo Station and the UK's British Antarctic Survey (BAS) Rothera Research Station. Each research station is more than 1,600km away from the study sites on the glacier. Getting science and support teams to where they need to be is a massive joint operation involving tractor traverses, aircraft operations and ship-borne support.
Professor David Vaughan, Director of Science at BAS, is the UK's lead scientific coordinator. He said:
"This is a tremendously exciting mission, and a fantastic example of how two nations can combine their scientific and operational expertise to tackle one of the big questions facing society today and in the future. I've been working in Antarctica for over 30 years and for much of that time we've known that Thwaites Glacier holds the key to a much better understanding of sea-level rise. This is our first chance to get a deeper understanding of this 'wild card' in West Antarctica. I believe that this joint effort will make a real difference to our ability to provide governments with the right information for policy and business actions that will help protect coastal cities, ecosystems and vulnerable communities in the future."
Lead US scientific coordinator Dr Ted Scambos of the University of Colorado Boulder said:
"Thwaites is this massive glacier - so large that even from a plane you can't see across it - and everything about it is telling us that it is unstable. Its speed has increased, its surface has dropped, the front of it has retreated inland and it is resting on ground that used to be deep seabed. We've learned a lot of this from satellites and aircraft, but to go further in understanding how this glacier will evolve in the coming decades, we need to go there. This is the first year of an effort that will return several times in the next few years, bringing instruments we can place on the snow, in the ice, on the land and in the ocean, so that models that forecast ice changes and sea level rise will produce a better picture of the future."
The five-year programme begins in November 2018 and continues until 2023. During the coming Antarctic field season, a suite of scientific investigations will take place at sea, in the air and on the ice.
In early 2019, four large tracked vehicles, 14 snow mobiles, many sledges, two living cabooses, fuel and nearly 5,000 days of food will be off-loaded at the ice edge by BAS's logistics ship RRS Ernest Shackleton, with support from the Royal Navy polar patrol ship HMS Protector. A team of field support staff will then establish a depot before traversing south to set up two additional camps.
Over 20 researchers will set sail in late January on the US icebreaker Nathaniel B Palmer. Research teams on board will map the seafloor - using swath bathymetry - around the ice front of Thwaites Glacier to see how the shape of the bed affected the glacier's behaviour in the past. They will collect sediment cores from the seabed, which will reveal the extent to which past glacier retreat has been driven by interactions with the ocean, and will deploy ocean gliders and autonomous vehicles to collect data to discover how the glacier interacts with the ocean today.
Tagged Weddell and elephant seals that haul out on nearby islands will capture data about their behaviour and the ocean conditions where they dive. Science teams will collect samples of rock, penguin bones, algae and shells from nearby islands to carbon date them so they can determine how sea level has changed in the past 5,000 years. All this information will improve reliability of the ice sheet models that are used to predict future sea level change.
Scientists will travel through the US McMurdo research station to identify field sites for hot water drilling, radar and seismic investigations for future field seasons. In addition, BAS will fly its Twin Otter aircraft, equipped with airborne radar, to collect data on the ice thickness and for estimating the sea-bed depth. A team will fly in lines across the glacier to identify the best sites for future on-ice field work.
Throughout the November to February field season, ski-equipped LC-130 Hercules aircraft, flown for NSF by the 109th Airlift Wing of the New York Air National Guard, will deliver fuel from NSF's McMurdo Station deep into West Antarctica and establish camps in preparation for next season's major land-based work.
Notes
1. The International Thwaites Glacier Collaboration projects are:
GHOST - Geophysical habitat of subglacial Thwaites
Sridhar Anandakrishnan (Penn State University) and Andy Smith (BAS)

Using seismic and radar methods on the ice, GHOST will investigate and quantify the sediment, hydrology and bedrock underlying the glacier.

MELT - Melting at Thwaites grounding zone and its control on sea level
Keith Nicholls (BAS) and David Holland (New York University)

This project will measure the melting at the ice-ocean interface of the glacier, to understand the processes involved and its potential for triggering increased sea-level rise.

TARSAN - Thwaites-Amundsen regional survey and network
Karen Heywood (University of East Anglia) and Erin Pettit (University of Alaska Fairbanks)

Measuring ocean circulation and thinning beneath the floating part of the glacier using state of the art technology such as autonomous underwater vehicles (AUVs) and automated land-ice stations, TARSAN will investigate how the ocean and atmosphere are affecting the glacier.

GHC - Geological history constraints on grounding line retreat in the Thwaites Glacier system
Joanne Johnson (BAS) and Brent Goehring (Tulane University)

Sampling bedrock beneath the ice sheet, GHC will identify if and when the glacier retreated in the past, how it recovered, and how it is currently responding to environmental conditions.

TIME - Thwaites interdisciplinary margin evolution
Slawek Tulaczyk (University of California, Santa Cruz) and Poul Christoffersen (Scott Polar Research Institute)

Using a variety of techniques such as radar and seismic analysis to understand the margins of the glacier, TIME will investigate what controls its width and speed.

THOR - Thwaites Glacier offshore research
Julia Wellner (University of Houston) and Robert Larter (BAS)

Investigating sediments deposited in the seas near the glacier, THOR will reconstruct past changes in environmental conditions and the glacier's response to these, thereby adding context to our projections of future change.

DOMINOS - Disintegration of marine ice sheets using novel optimised simulations
Doug Benn (University of St Andrews) and Jeremy Bassis (University of Michigan)

The DOMINOS team will use computer modelling to examine calving and associated processes that could cause the rapid retreat and collapse of the glacier.

PROPHET - Processes, drivers, predictions: Modelling the history and evolution of Thwaites Glacier
Mathieu Morlinghem (University of California, Irvine) and Hilmar Gudmundsson (University of Northumbria)

By combining existing computer simulations of ice and ocean near the glacier, PROPHET will improve models to reduce the uncertainty in the projection of the glacier's behaviour and subsequent contribution to sea-level rise in the future.

SCO - Thwaites science coordination office
David Vaughan (BAS) and Ted Scambos (University of Colorado)

Working for the eight ITGC projects, the SCO will integrate for efficiency and effectiveness, foster wider scientific collaboration, and deliver crucial science outcomes to key stakeholders.
2. NERC is the UK's main funder of environmental science. Our work covers the full range of atmospheric, Earth, biological, terrestrial and aquatic science, from the deep oceans to the upper atmosphere and from the poles to the equator. We coordinate some of the world's most exciting research projects tackling major environmental issues. NERC is part of UK Research & Innovation, a non-departmental public body funded by a grant-in-aid from the UK government.
3. BAS, an institute of NERC, delivers and enables world-leading interdisciplinary research in the polar regions. Its skilled science and support staff, based in Cambridge, Antarctica and the Arctic, work together to deliver research that uses the polar regions to advance our understanding of Earth as a sustainable planet. Through its extensive logistic capability and know how, BAS facilitates access for the British and international science community to the UK polar research operation. Numerous national and international collaborations, combined with an excellent infrastructure, help sustain a world-leading position for the UK in Antarctic affairs.
4. The US Congress in 1950 established the National Science Foundation "to promote the progress of science; to advance the national health, prosperity and welfare; to secure the national defense; and for other purposes." NSF is vital because it supports basic research to create knowledge that transforms the future. With an annual budget of $7·8 billion (fiscal year 2018), NSF funds discovery, learning, innovation and research infrastructure to boost US leadership in all aspects of science, technology, engineering and mathematics (STEM) research and education. In contrast, other federal agencies support research focused on specific missions, such as health, energy or defense.
( Press Release Image: https://photos.webwire.com/prmedia/7/231499/231499-1.jpg )
Related Links
WebWireID231499

This news content was configured by WebWire editorial staff. Linking is permitted.
News Release Distribution and Press Release Distribution Services Provided by WebWire.