Proof that London and Silicon Valley are global hot spots for innovation
Research study reveals the two hubs are leading in the development of Artificial Intelligence, Fintech and Cybersecurity technologies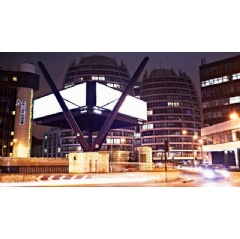 London and Silicon Valley are two of the world's leading hubs for tech start-ups, according to an in-depth Innovation Mapping Report released by intelligence platform, Quid. The two regions are often cited as top global destinations for innovation, but this comprehensive study offers concrete proof to their claims, revealing that they top the charts for start-up growth, global investment and research into the development of cutting edge technologies.
The research illustrates the attractiveness of both London and Silicon Valley to global investors, with the findings showing that the two regions tech companies are receiving significantly higher levels of total funding and more investment deals than other global tech hubs such as Paris, Berlin and Tel Aviv.
Over the past ten years, Silicon Valley has dominated the start-up investment landscape, receiving over $110bn worth of venture capital and private equity funding. London is also showing strong growth, attracting $34.2bn in growth capital, more than three times the amount of total funding received by other tech hubs such as Paris ($8.9bn), Berlin ($9.1bn) and Tel Aviv ($3.5bn). So far in 2018, London start-ups have raised $5.6bn worth of VC and private equity investment, significantly more than the total amounts raised in Paris ($2bn) and Berlin ($1.6bn)1.
Silicon Valley (32) and London (16) also lead the way for the number of start-up IPOs over the past ten years when compared with the likes of Berlin (5), Paris (4) and Tel Aviv (4).
According to the report, the two tech hubs are increasingly creating companies across some of the most exciting areas for innovation, with almost half (47%) of all start-up companies in Silicon Valley and London falling into seven fast growing technology sectors – MedTech; Fintech; AI; Gaming; AdTech; Cybersecurity and Smart Cities.
London and Silicon Valley are also at the forefront of developing new ideas and innovations, with the research showing that both hubs have seen a marked growth in the volume of patent applications for new technologies and products across the seven key sectors identified in the report (Fintech, AI, MedTech, Cybersecurity, Gaming, Smart Cities, AdTech).
The strength of the two innovation hubs for research and development are also highlighted in the report, with the findings revealing an increasing number of research papers have been published by the two hubs' world-class universities. Both hubs' universities have a particularly strong research focus in areas such as MedTech and Artificial Intelligence.
The innovation report has been released to coincide with this year's Silicon Valley Comes to the UK – a series of events taking place across London, Oxford and Cambridge this week, bringing together investors, entrepreneurs and business leaders from both ecosystems.
Other key findings from the report include:
While Silicon Valley continues to lead the way for total amount of investment across all sectors, London has seen huge growth in investment levels with a CAGR in investment of almost 50% between 2014-2017 – see slide 10.
Fintech is the dominant area for investment across both hubs – London fintech companies have raised $9.3bn over the past 10 years, with investment levels reaching a record high of $2.3bn in 2017 – see slide 21 and 22
While the number of new companies from Silicon Valley has stagnated during the last few years, the percentage of new companies emerging in London across the seven sectors identified has increased. London's market share of the start-up landscape across both hubs peaked in 2016 at 38%, compared with 27% in 2008 – see slide 24
The volume of new patent applications in both innovation hubs has increased over the last seven years across the seven sectors analysed. In 2018, the total number of patents stemming from both London and Silicon Valley for the sectors identified has already surpassed 700, compared with just under 200 applications five years ago (2013) – see slide 32
There has been an increasing number of technology focussed academic papers published annually by London and Bay Area universities and educational institutions - London consistently outperforms the Bay Area in terms of number of academic papers published – see slide 36




Rajesh Agrawal, London's Deputy Mayor for Business said: "London and Silicon Valley are leading the way in generating cutting-edge ideas and creating world-beating companies in the fields of Artificial Intelligence and MedTech. The success of our tech communities are built on the shared values of openness and diversity, so it's vital we continue to work together to encourage the flow of business, talent and investment between our two regions."

Bob Goodson, CEO of Quid and guest speaker for SVC2UK added: "As the founder of a technology business with a presence in both London and Silicon Valley, I've experienced first-hand the fantastic spirit of innovation and entrepreneurship in both regions. Our research demonstrates that London and Silicon Valley share strengths in a number of exciting sectors such as Cybersecurity and AI and it shows there are lots of opportunities for collaboration. While Silicon Valley has a strong tradition of producing some of the world's leading tech companies, the research also suggests that London is gaining ground and should also be considered a leading global destination to scale a tech business."

Fintech was identified as an important growth area for both London and Silicon Valley, with the data showing that financial technology companies were a leading source of investment and start-up growth across both hubs. With its global financial centre, London is particularly strong in this field, with Fintech start-ups accounting for 48% of all London tech companies across the seven sectors identified. Almost 50% of all investment made into the UK capital's tech businesses since 2008 in the seven sectors analysed went into London's Fintech companies. 2018 has already seen large investment deals for London's fintech businesses including Monzo ($110m) and Revolut ($250m).

Both hubs also have fast-growing AI and machine learning communities, with the report showing that the growth of AI companies in London and Silicon Valley has outpaced other tech cities such as Berlin, Paris and Tel Aviv over the past 10 years. AI also emerged as one of the largest sectors for new products and services and represented 31% of all innovation patents filed over the last five years.

Nicole Quinn, Partner, at Silicon Valley based investment firm Lightspeed Venture Partners and guest speaker at this year's SVC2UK programme said: "London and Silicon Valley offer lots of opportunities for entrepreneurs and investors alike. Both tech hubs are now producing innovative companies of genuine scale that are world leaders in creating disruptive technologies and it's no surprise to see that start-ups from both regions are attracting high levels of investment from the global investor community. I am excited to be part of this year's Silicon Valley Comes to the UK programme as it provides a great opportunity to bring together likeminded people from two of the world's leading tech ecosystems."

Janet Coyle, Director SVC2UK at London & Partners added: "Today's research offers further proof that London and Silicon Valley are hot beds for innovation, talent and research. But while we share equal strength's, there's still a lot we can learn from each other and by building even stronger links between the two hubs we can provide mutual benefits for entrepreneurs and businesses on both sides of the pond. It's important that we share ideas and best practices on how we can help our businesses to scale and this will be a key focus for the SVC2UK programme this year."

Notes to Editors

Refers to private equity and venture capital funding for all companies from 2008-2018 – see slide 11 in report. Quid analysis based on Capital IQ and Crunchbase data.
About the Innovation Mapping Report
This bespoke report was undertaken by intelligence platform, Quid on behalf of London & Partners.
The report provides an in-depth analysis of London and Silicon Valley's start-up ecosystems based on the following research questions:
To what extent are Silicon Valley and London leading the way in terms of technological innovation?
How have Silicon Valley and London grown in the past 10 years as technological innovation hubs?
In what areas can Silicon Valley and London work together in order to continue to lead the world in technological innovation.
The report is being released to coincide with the Silicon Valley Comes to the UK 2018 event programme taking place in London, Oxford and Cambridge.
The full report findings can be viewed here: https://quid.app.box.com/s/zamx2wpwtwm4ow88alyr3ty9rmwxqgv9
Report Methodology
Quid assessed 5 key cities known for innovation in technology to understand key strengths across 7 sectors. The 5 innovation hubs identified were: Silicon Valley, London, Paris, Berlin, Tel Aviv.
Using Quid's companies database (1.8M companies sourced from CapitalIQ and Crunchbase), we were able to look at all companies founded in these innovation hubs in the last 10 years that have received - $1 million in investment.
Quid's AI and Natural Language Processing then classified these companies into sectors based on the language used to describe them in their business descriptions.
This allowed Quid to identify companies which fell into 7 key areas of technological innovation: (AI, MedTech, FinTech, Gaming, AdTech, Cybersecurity, and Smart Cities).
Using both metadata and Quid propriety metrics, Quid compared these cities to assess overall strength of innovation in the start-up space.
Once it was identified that London and Silicon Valley were leaders in these areas of innovation, Quid performed a deep-dive analysis to assess these areas of innovation
across different stages of commercialisation, including analysing academic research, patent findings and market trends
About Quid
Quid is a research platform that searches, analyzes, and visualizes the world's collective intelligence to help answer strategic questions. We power human intuition with machine intelligence, enabling organizations to make decisions that matter. Quid was named by CNBC as one of the 50 Most Disruptive Companies in the World (2017), by Deloitte as one of the 500 Fastest Growing Companies in North America (2017), and by the World Economic Forum as a Technology Pioneer for contributions towards the future of the Internet (2016-2018).
About Silicon Valley Comes to the UK
SVC2UK is a not-for-profit programme run by London & Partners together with volunteers, advisers and partners. It was founded by Sherry Coutu, Reid Hoffman and Ellen Levy. Now in its twelfth year, SVC2UK brings together the top entrepreneurs and VCs from Silicon Valley with students, early-stage CEOs, serial entrepreneurs, and policymakers in the UK with the singular goal of inspiring entrepreneurship, innovation, and economic prosperity. The annual summit takes place in November each year with prominent serial entrepreneurs from Silicon Valley visiting London, Oxford and Cambridge.
This year's SVC2UK programme will see 12 events hosted across London and Cambridge with guest speakers, high-level networking events mentoring for CEOs of scale-ups and dinners involving leading figures from Europe and Silicon Valley's technology sectors.
( Press Release Image: https://photos.webwire.com/prmedia/7/231127/231127-1.jpg )
Related Links
WebWireID231127

This news content was configured by WebWire editorial staff. Linking is permitted.
News Release Distribution and Press Release Distribution Services Provided by WebWire.