Karen Millen CEO, Beth Butterwick, on partnering with Pentland Brands and becoming a lifestyle brand
WEBWIRE
–
Wednesday, October 17, 2018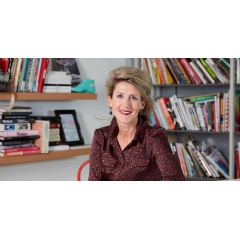 We spoke to Beth Butterwick about her vision for the Karen Millen brand and the recently announced licensing partnership with Pentland Brands, which will see Pentland delivering the Karen Millen footwear offering.
How would you describe the Karen Millen DNA?
The brand is 37 years old and if you look at how Karen Millen set up the business, from the start it was about acute attention to detail. Karen talks about making clothes that make you stand up straight, that you feel really good in. Fast forward to now and we've just reestablished our brand strapline: 'creating confidence through distinction'.
Our DNA continues in terms of our atelier ethos, when Karen Millen started, there were no premium high street retailers, so she literally created looks influenced by the couture houses and was one of the first people to develop the premium offer.
All the brand strands that she set up, in terms of price, quality and fit, still stand today; but I think what we're trying to do now is modernise the brand, so it can go from being a 90's party brand to catering for the modern, global woman across the 58 countries and 6 continents we're now in.
How would you describe the Karen Millen consumer?
Our modern woman is always on, she's never off, she's self-assured and sassy but has had ups and downs in her life. She's looking for clothes that she can have as timeless pieces in her wardrobe, and that's what we do. We're not a slave to fashion, but we definitely focus on style through detail.
If we were to have a brand muse, I always say to my team that it would be Victoria Beckham. If you look at her in the 90's she was the Spice Girl, she was the footballers wife, she was wearing Herve Leger and the tight clothing that Karen Millen was synonymous for in the 90's. Then you see her now as she's got older, she's been confident enough to have adapted her style, so she does dressed down, she does dressed up, but she's looking for clothes that allow her to be a chameleon depending on what mood she's in, and that's representative of our customer too.
Why did you decide to look for a footwear licensee?
It's very interesting because if you go back to when Mosaic bought the business in 2004, Karen Millen had actually grown the footwear and accessories side of the business to around 25% of the mix. But no one was really doing it then, and certainly luxury hadn't developed its fashion credentials, it was still quite traditional.
Over time we've decreased that mix quite substantially. When you talk to the customer now she wants Karen Millen to be a destination lifestyle brand, and I recognise that we can't do all things well. That's the reason that we want to partner, and are so excited about partnering with Pentland.
What makes a successful licensing partnership?
I think you've got to have a similar DNA and values. You've got to go people that really understand what they're doing, to experts, and I think the other thing from a cultural point of view is to be working really closely together as a partnership. So while we'll trust Pentland to do the bits they do really well, I think back to some of the licensing partnerships Karen Millen have done in the past, and it was almost like 'well, leave them to it', so to make this successful we've appointed a head of design for license partnerships to closely support Pentland.  
She's going to support with all our design information at the beginning of the season to set the partnership up, but also offer ongoing support. We'll want Pentland Brands to have the autonomy around the design and sourcing, but we'll want to work closely with them from strategic point of view in market, and I think that's what'll make a partnership work.
How does this new relationship fit into your overall strategy for Karen Millen?
Product and product extensions is our top growth lever, footwear and bags are about 10% of the mix now. My vision is that all women round the world feel like they have to have a Karen Millen pair of shoes or a Karen Millen bag, and even if they can't afford the whole outfit that's their way of showing that they love the brand.
So when I talk about this woman who wants a car to bar outfit, she wants to dress down at the weekend, she wants holiday style, we can complete the outfit. I'm really looking forward to the fact that Pentland are the experts and are going to work with us to reach an incredible range of touchpoints in her life.
What Pentland resources will bring the most value to your business?
Footwear has to be a key add on purchase to our customers' outfit, but we're not specialists and so we're leveraging a business that's been doing it for ages, that understands the sourcing, the design and the style but will also give us really good distribution channels as well.
I think design expertise, sourcing expertise, business planning expertise and certainly product placement in markets as well. It's really that professionalism from end to end.
What are the main differences for you and your team now you're joining forces with the Pentland footwear team?
It's difficult isn't it, when people have to let go of things they've done, even if they're not doing them very well. For me, the focus has to be being the best we can be at clothing, whilst we work closely with Pentland to enhance those products with the footwear as well.
The reason we've appointed someone that works with the licensing partners is to make sure we give Pentland the right information. So I think we're going to stop doing the things we didn't do very well and from a communication point of view work very closely. And then, looking forward, celebrate together successful delivery of an amazing footwear range.
What sets you apart from the competition and what are the key pieces we can expect to see from the new season offering for the Karen Millen brand?
We're on a journey, if you look at how women are dressing now, they're not dressing in tight, trussed up, non-flexible clothing; style has changed towards a more relaxed, feminine, easy look. So the overarching direction of change is that we need to get comfortable and become experts in the more relaxed soft suiting and separates, that's number one.
The things that Karen Millen will really stand for this season are coats, knitwear and dresses, these are about 70% of the sales mix. Karen Millen are amazing at bold print and bold colour, so we'll showcase that attention to fabric and fit.
Some of the big things that are coming through are amazing leathers, we do buttery leathers really well. We've got an amazing collection of coats, in checks, in shearlings, in soft teddy fabrics. And then sequins are really big for this season, we've gone sequin-tastic and so party and going out will be very big.
What do you feel are the biggest opportunities and challenges ahead for Karen Millen in the retail sector?
I think the biggest opportunities for us, and I'll pick two, are the fact that we want to become more than just a clothing brand, we want to be a lifestyle brand. We'll develop other partnerships which will allow customers to have a piece of Karen Millen in their home, a piece of Karen Millen in their wardrobe. That's through the other licensing partnerships which will allow us to do the product extension part of our offering.
The second is really ramping up our digital proposition, and I don't just mean selling online, I mean in terms of the customer first, customer journey. We've got 13 different websites in 7 different languages, and it's really joining up from a global point of view our product reach to those different markets and also our marketing reach through the digital proposition.
Challenges, well the market is very tough, people are tending to spend less on clothing as part of their disposable income. So, I say to my team every day 'we've got to get used to it, change is the new norm'. We're focused on navigating our organisation through rapid change and staying agile in order to react to different markets. 
The first footwear collection from the Karen Millen, Pentland Brands partnership will be A/W 2019. 
( Press Release Image: https://photos.webwire.com/prmedia/7/230182/230182-1.jpg )
Related Links
WebWireID230182

This news content was configured by WebWire editorial staff. Linking is permitted.
News Release Distribution and Press Release Distribution Services Provided by WebWire.