José María Álvarez-Pallete calls on Europe to recover its digital leadership
The Chairman and CEO of Telefónica participated in the annual FT-ETNO Summit
Brussels –
WEBWIRE
–
Tuesday, October 16, 2018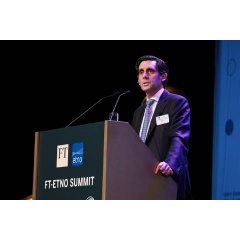 The Chairman and CEO of Telefónica, José María Álvarez-Pallete, in Brussels at this year's edition of the FT-ETNO Summit.
5G and Data Economy are opportunities that need the right industrial policy behind them for Europe to achieve its digital vision
Financial Times ETNO Summit - José María Álvarez-Pallete: https://www.youtube.com/watch?v=yK6Gql2Ai0A
If Europe wants to play a key role in the global digital ecosystem and become a competitive connected continent, "it needs to catch up. We need a twenty-first century digital regulation" said the Chairman and CEO of Telefónica, José María Álvarez-Pallete, in Brussels at this year's edition of the FT-ETNO Summit.
In his introduction to a panel about European telecom infrastructure investment, José María Álvarez-Pallete reviewed all the challenges facing European operators and emphasized the great responsibility of European policy makers in accelerating the digital transition of Europe. Equally, he underlined the importance of breaking away with the obsolete network regulation that continues to hamper the ability of European telecommunication companies to invest and innovate.
Álvarez-Pallete highlighted the importance of the ICT sector (Information and Communication Technology) for the economy in Europe, which contributes over 5% to the region's GDP and accounts for over 700,000 jobs[1].Despite being a critical force for growth and innovation, returns in the telco industry have declined over the last 6 years. Mobile data traffic is growing 59% every year while European sector revenues have fallen from $444 billion in 2012 to below $370 billion last year. However, this is not a "sector issue worldwide" pointed out Álvarez-Pallete: "in other regions of the world this isn´t the case. So, it doesn´t look like the right incentives are in place in Europe". Also, capital intensity is rising in the sector due to the need to deploy next generation networks and buy spectrum
While other regions are shifting gears towards a less interventionist approach, in a quick changing world, the Electronic Communications Code, recently approved by the EU, will not be the game changer the sector expected. Álvarez-Pallete warned that European telco operators are "losing ground" versus -less regulated- tech giants and global telecom operators.
New opportunities to "connect" Europe that can´t be missed: 5G and the Data Economy
However, it is not too late. Looking ahead, progressive 5G network deployments will significantly increase connectivity capacities, allowing greater throughputs and lower latencies and helping digitalize the overall economy.
At the same time, the European Commission estimates the value of the EU data economy to more than double from 2015 levels to reach €739 billion by 2020, representing 4% of the overall EU GDP.
José María Álvarez-Pallete warned that Europe can't afford to repeat past errors if it wants to seize these opportunities. "It is not too late, this is an opportunity that can´t be missed but needs the right industrial policy behind these deployments", he said. The Chairman and CEO of Telefónica also called for "deregulation of the sector", arguing that the same services should be governed by the same rules and obligations, ensuring a level playing field between all the players in the digital ecosystem.
He also emphasized the importance of having spectrum for the long-term and called for it to be available and paid at the right time and at the right price without additional license conditions that distort competition, place heavy burdens on operators and drain resources from the deployment of the cutting-edge networks required for Europe to stay competitive. For this, Europe needs an investment friendly regulation that enables investment agreements, easing and promoting deployments and fostering innovation in use cases. Preserving the ability to innovate is also key, and the ability of the telecom sector to process data under more flexible grounds is a crucial element to unlock value for customers and European companies.
Finally, Álvarez-Pallete was confident that if the challenges set out are faced "the future for European telecoms is bright", with everything this implies for the competitiveness of the European economy and the well-being of society.
This year edition of the FT-ETNO Summit -organised by the Financial Times and the European Telecommunications Networks Operators´ Association- will gather today in Brussels leading policymakers, regulators, industry executives and investors from Europe and beyond to discuss and debate progress towards harmonised TMT rules, and Europe's role in an ever more connected world.
[1] Source: Eurostat (Information & communication industry contribution to European GDP).
( Press Release Image: https://photos.webwire.com/prmedia/7/230123/230123-1.jpg )
Related Links
WebWireID230123

This news content was configured by WebWire editorial staff. Linking is permitted.
News Release Distribution and Press Release Distribution Services Provided by WebWire.