Practising for Bepicolombo's Epic Escape to Mercuriy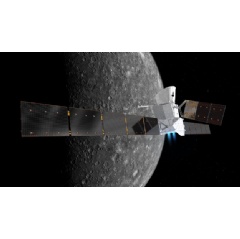 BepiColombo at Mercury
The international BepiColombo spacecraft will soon take flight, on a complex journey to the innermost planet of the Solar System, Mercury. Encompassing nine planetary flybys and travelling a total distance of nine billion km over a period of seven years, this will be one of the most intricate journeys ever flown by mission teams at ESA's ESOC mission control centre.
With launch set for 20 October, flight controllers led by Operations Manager Elsa Montagnon are now busily preparing for the start of what will be Europe's first mission to Mercury — the smallest and least explored terrestrial planet of the Solar System.
"Mission teams have spent months simulating BepiColombo's unique and complex journey," explains Elsa.
"Taking turns, in 12-hour shifts, we have been practising the spacecraft's various launch and early mission processes and manoeuvres in real-time so we are prepared for every possible eventuality."
BepiColombo is a joint mission between ESA and the Japan Aerospace Exploration Agency (JAXA). The mission comprises two science orbiters: ESA's Mercury Planetary Orbiter (MPO) and JAXA's Mercury Magnetospheric Orbiter (MMO).
The ESA-built Mercury Transfer Module (MTM) will carry the orbiters to Mercury using a combination of solar electric propulsion and gravity assist flybys.
After its arrival at the planet of extremes in 2025, it will spend at least a year in orbit gathering data on Mercury's composition, density, magnetic field and exosphere, as well as probing the planet's interaction with solar wind.
Before the science begins, however, the multi-module spacecraft has to safely escape Earth, switch on, and receive instructions from mission control on where to go next.
A Rock Road
Europe's space scientists have identified BepiColombo as one of the most challenging long-term planetary projects ever flown, as Mercury's proximity to the Sun makes it difficult for spacecraft to reach without being pulled into the star's enormous gravity.
Animation visualising BepiColombo's journey to Mercury: http://www.esa.int/ESA_Multimedia/Videos/2017/07/Animation_visualising_BepiColombo_s_journey_to_Mercury
"To get to Mercury without being subsumed by our giant star, the spacecraft will make a series of nine planetary flybys; circling Earth once, Venus twice, and Mercury itself six times," explains Andrea Accomazzo, Flight Director for BepiColombo.
"Unlike missions that take spacecraft to the outer regions of the Solar System, the Mercury Transfer Module will use the gravity of these inner planets, in combination with the thrust provided by electric propulsion, to slow the spacecraft down."
The Sun's huge gravity field acts as an enormous gravity 'well'. Getting a spacecraft to Mercury, and therefore close to the Sun, means dropping it into this steep well – the difficulty comes in ensuring the spacecraft ends up at Mercury and not at our gigantic star.
"The closer we get to the Sun the more we are constricted in our path," explains Frank Budnik from the Flight Dynamics team.
"For example, BepiColombo's large solar arrays need to be tilted at just the right angle to get enough sunlight to power the high-energy demand of the propulsion system and keeping the spacecraft running. At the same time, they mustn't get too much sunlight, or they could be beyond their limits."
"There is only a small corridor in which the solar arrays can be operated to fulfil both of these constraints."
BepiColombo will launch at 01:45 GMT (03:45 CEST) on 20 October, on board an Ariane 5 rocket. After the spacecraft separates from the rocket's 'upper stage', teams at ESOC will take control, sending commands to the spacecraft to get it into normal operational mode — a process that is expected to take about four days.
This period, dubbed the 'Launch and Early Orbit Phase' (LEOP), sees the control systems and instruments switched on, and their health and proper functioning assessed.
This is a risky time when the satellite is unusually vulnerable — not yet fully functional but still exposed to the hazards of space.
Simulating the scene
In preparation for this vital period, mission control teams have spent months simulating every expected scenario — the perfect LEOP, launch and separation of the satellite from the launcher, as well as a whole host of scenarios in which something goes wrong.
Establishing contact between the spacecraft and mission controllers has also been rehearsed.
Deep space ground stations across three continents will support this mission, with ESA's global antenna network maintaining links to and from BepiColombo throughout the journey. 
"BepiColombo is one of the world's most ambitious interplanetary missions, and it could not be in safer hands," says Rolf Densing, Director of Operations at ESOC.
"With decades of collective experience and hundreds of hours of simulation practice, teams at ESA's mission control are ready to set out for the rocky planet."
Go to esa.int/live to watch the launch live from 03:15 CEST.
#WeFly
( Press Release Image: https://photos.webwire.com/prmedia/7/230063/230063-1.jpg )
Related Links
WebWireID230063

This news content was configured by WebWire editorial staff. Linking is permitted.
News Release Distribution and Press Release Distribution Services Provided by WebWire.