#TheFirstSecond by Armel Le Cléac'h: alone, face to face with myself
WEBWIRE
–
Wednesday, September 26, 2018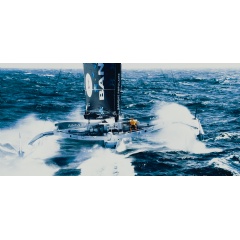 © Maxime Moulin
The last gesture before departure, slipping on a mask or goggles, plunges us into our "bubble". This special, intimate moment, laden with experience and emotion, is "The first second": it reveals the human factor underlying the athlete and outdoor enthusiast. Share this inside look with Julbo...
"I am the last man aboard. Alone, face to face with myself..."
Armel Le Cléac'h: alone, face to face with myself #TheFirstSecond
For Armel, the desire to win has always been as strong as the passion for sailing itself.
If he has succeeded in racking up a succession of wins, it is above all because he is able to establish a strong relationship with the whole team, of which he feels himself to be an extension... But for this lover of heroic fantasy, this seafarer engaged in a Dantean struggle with the ocean, each process leading to a new start constitutes a new confrontation with the unexpected, with his own will and with his leading adversary: himself.
When did you first develop a taste for victory?
Armel: "When I was nine, I finished my first regatta in the middle of the pack, and at the awards ceremony I felt a very clear and keen desire: to be the one receiving the cup.  A year later, I crossed the finishing line in the lead. On the water, I transcend myself, I really live a race, a battle; I commit myself deeply as regards demands and hard grind…"
And how do you prepare for your victory?
Armel: "There's no use saying 'I will win!' on the day before the race.  You have to commit yourself a long time in advance, because you are ambitious... From the outset, you must convince yourself that you can do it. I go step by step. After my first Figaro solitaire, I did not say to myself: I'm going to do the Vendée Globe'. I first wanted to win the Figaro. It is by going from stage to stage, from level to level that I feel able to do more difficult, longer races. That's how I am, I suppose; I'm not a daredevil, I don't go out of my way to tempt fate…"         
But first and foremost, to do a solo race you need to work with a team in which you have a shared confidence; you can't achieve anything on your own!  There's a lot of preparation time. On land, I perhaps find it harder to be the leader. There, I'm not in the midst of the conflict, of the debate. Even if I know what I want, I am trusting!
Winning a Vendée Globe means three years of work and ten years of your life with all the people with whom it has been prepared, who have been close to and supported you. I am the last relay runner in the team."
Is solo sailing the ultimate hard trial?
Armel: "Face to face with the ocean, you have to adapt to the unexpected and not merely succumb to it which is not always straightforward when you're on your own. You can quickly slide into a very negative mood… You are always anticipating what will happen in 1 hour, in 5 hours, in 3 days! And then in a matter of a few minutes, you can be confronted with a breakage, with a distress call and so you change course for a rescue... You are no longer anticipating, but reacting with your reflexes, and you've no idea how it will end!
I know there will be other victories, but there will also be defeats and failures, accidents such as a capsize; such is the life of a sailor! Mentally, will I be able to hold firm? For now, I know that life is made of highs and lows, of races abandoned, breakages, and also victories... I like to watch the boxing scene for example, where you have sportsmen who lose but who bounce back and who win once more. I make use of this.
I am the last man aboard the boat, where you are face to face with yourself. My main adversary is myself."
What do you dream about while at sea?
Armel: "Dreams on a racing boat are often crazy, sometimes about stressful situations, like in TV series... Sometimes at sea I've woken up from a nightmare with a yell!"
Who are your heroes?
Armel: "I read Tolkien's Lord of the Rings at quite a young age: the story of a fairly simple individual who goes off to live incredible adventures and eventually returns home. I felt I did something similar with my first round-the-world…"
And your next adventures?
Armel: "Today, I have the good fortune to be sailing on a large 32 m trimaran, a boat that flies along... I am preparing it for the Route du Rhum, with the objective of finishing first.
And beyond that, a record for sailing around the world… That's a new story waiting to be written!"
( Press Release Image: https://photos.webwire.com/prmedia/7/229233/229233-1.jpg )
Related Links
WebWireID229233

This news content was configured by WebWire editorial staff. Linking is permitted.
News Release Distribution and Press Release Distribution Services Provided by WebWire.